Currently surfacing all over: handmade ceramic and cement tiles in bold, simple patterns. Here are 10 standouts. 
Note: Each of our picks is available in a variety of colors; we've selected black and white for maximum graphic impact.
Above: Circulos, a cement design by Original Mission Tile, is made by hand in Mexico. The eight-by-eight-inch tiles are available in more than 60 colors; $14.44 per square foot at Great Britain Tile. 
Above: Part of the Kelim series by Swedish designer Mats Theselius, Woody is a reed-inspired pattern shown here in Kohl and Milk. Made in Morocco, the 20-by-20-centimeter tiles are SEK 1,500 per square meter ($16.40 per square foot). Contact Marrakech Design for ordering information.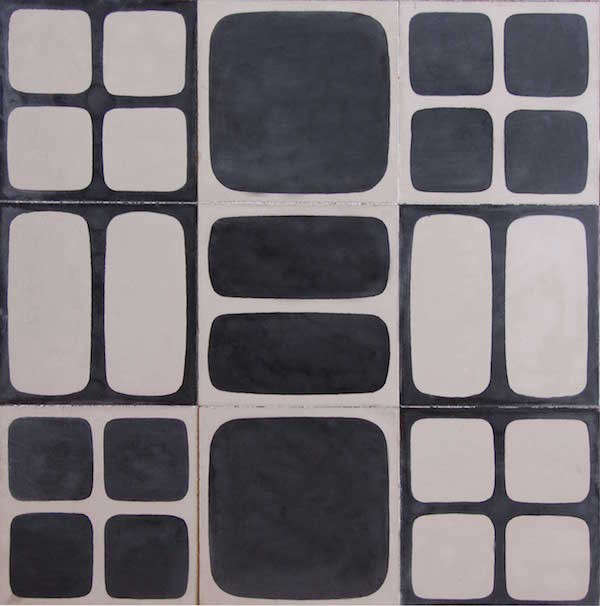 Above: Popham Design's Squarish tiles comes in five pattern variations; three of them are shown here. The 20-by-20-centimeter cement tiles are made outside of Marrakech and available in several colors. Contact a Popham stockist to purchase. 
Above: Wisconsin company Sabine Hill specializes in concrete tiles, and all of its work is made in the US, including the harlequin-esque Bluff pattern. Contact Filmore Clark to purchase. 
Above: Maison Artistry's terracotta tiles are made and painted by hand in Temecula, California. The six-by-six-inch Arabesco pattern, shown here, lines a shower wall in Design Sleuth: Maison Artistry Tiles. Arabesco is $63 per square foot; contact Filmore Clark to purchase. See more of the collection in our post Tile & Countertop: Maison Collection at Filmore Clark.
Above: RedBank is a new line of terracotta tile from the tile and fixtures powerhouse Waterworks. Made and painted by hand in the US, the tiles, including Isoceles, shown here, are customizable by color and pattern. Contact Waterworks to purchase. 
Above: Origins is a collaboration between Clé Tile of Sausalito, California, and artist Forrest Lesch-Middelton, who makes (and weathers) each tile by hand in his Petaluma, California, studio. Seljuk, shown here, is available in four- and six-inch squares starting at $16.50. Visit Clé Tile to order; for individual tiles to use as artwork or coasters, go to Lesch-Middelton's Etsy shop.
Above: Fireclay Tile's Contemporary Collection is made in California using clay composed of 70 percent recycled materials (such as discarded glass bottles and porcelain bathtubs and toilets). The Isosceles pattern is available in four colors, including Dark, shown here; $35 per 6-by-12-inch tile. 
Above: Dandelion hexagonal tile from Swedish designers Claesson Koivisto Rune is 20-by-23 centimeters and comes in a variety of colors, including Almost Black. Prices start at SEK 1,625 per square meter ($17.80 per square foot). Contact Marrakech Design for purchasing information. 
Above: Native is the latest tile collection from Remodelista favorite Commune. Malmo Zebra is shown here. The rectangular tiles come in a variety of sizes, starting at $22 per square foot; visit Exquisite Surfaces to purchase, and see more in Living in Black and White: Commune's New Concrete Tiles. 
Whatever you're on the hunt for, our 10 Easy Pieces series has you covered: 
You need to login or register to view and manage your bookmarks.