It's a given: At some point in your life you will need a light-emitting fixture (for reading, for cooking, for illuminating a sad corner in your apartment). Bring an industrial edge–and a bit of a manly vibe–to your space with these timeless wall lights.
Above: From venerable British company Anglepoise, the aluminum Type 75 Mini Wall Light, designed in 2013 by Sir Kenneth Grange, has an adjustable shade and works on a wall or ceiling. Also available in white and brushed aluminum, it's $90 at Y Lighting. A larger Type 75 Wall Light is available for $110.
Above: Atelier de Troupe, a California lighting studio to watch, makes the Torche Sconce from darkened steel and brass; $575. Read about the design in our post Handmade Elegance in LA.

Above: Another Atelier de Troupe standout, the Petite Navire Sconce, $525, is part of the Navire Collection inspired by fixtures on old yachts.
Above: Dyke & Dean's glossy take on the classic Anglepoise: the Original 1227 Brass Wall Lamp has brass detailing and a cloth-covered woven cord; £125 ($189.45) from Dyke & Dean. Read about the young Hastings, England–based duo here.  
Above: Another British classic, the Bestlite BL7 Wall Sconce in charcoal black and brass is $399 at Horne. The design is also available in a range of other finishes, including all brass and in black with chrome detailing.
Above: From Belgian design collection Zangra, the Wall Light in Painted Steel is €31 ($36.83). For more on Zangra, go to Belgian Basics Arrive Stateside.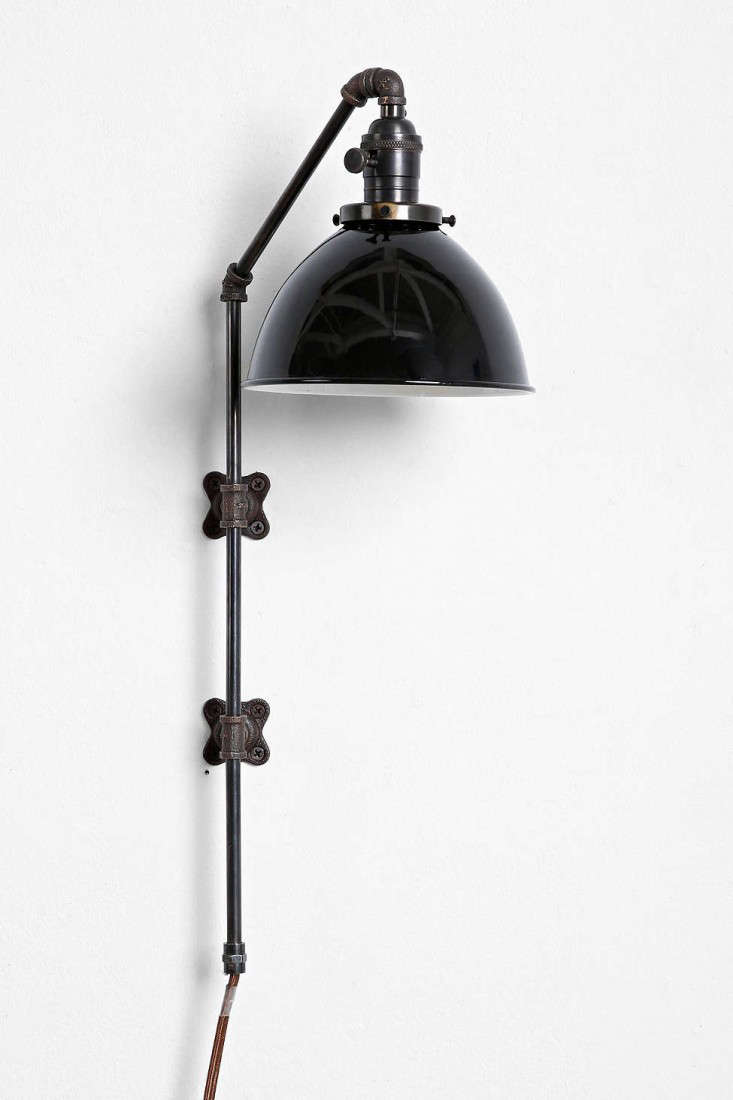 Above: Urban Outfitters' Flea Market Rx Brass Sconce with a porcelain enamel shade and antiqued fitting is $249.
Above: The made-to-order Shaded Wall Sconce is $95 from Las Vegas–based duo Onefortythree; it's hand-bent steel with a powder-coated finish. (Take a look at Onefortythree's Brass TP Holder.)
Above: Inspired by barn lights, the Factory Modern No. 6 Sconce from Schoolhouse Electric is made from hand-spun steel and is available in black, white, and yellow; $159.
Above: The most elegant of all? The modern classic AJ Wall Sconce by Arne Jacobsen features a shade that tilts up and down. Available in eight colors, it's $946 at DWR. Jacobsen designed the original AJ Lamp in 1960 for the SAS Royal Hotel in Copenhagen–take a look at the hotel's preserved Arne Jacobsen Suite.
More ways to get switched on? Go to our Lighting posts, including:
And go to Remodeling 101 for advice on everything from How to Install Flattering Lighting in the Bath to Electrical Outlet Placement.









(Visited 35 times, 1 visits today)