If there were a fire in the house, these are the kitchen tools we would take with us; 10 simple, low-tech implements for stirring, grinding, measuring, peeling, grating that we couldn't live without.
Above: Francesca uses the 12-inch Olivewood Mixing Spoon everyday for making everything from scrambled eggs to pasta sauce; $12 at Brook Farm General Store.
Above: While living in Japan, Sarah picked up a Porcelain Ginger Grater (the best way to grate ginger); $9.47 at Amazon.
Above: A small 7-inch Stainless Egg Whisk is part of Janet's kitchen arsenal; it's perfect for small kitchen mixing jobs; $2.95 at Sur La Table.
Above: Julie's top pick is the Porcelain Mortar and Pestle with pour spout; the unglazed surface facilitates efficient grinding; $49.95 at Williams-Sonoma.
Above: Le Creuset's Silicone Spatulas are everything rubber spatulas of old weren't: they're heat resistant (up to 800 degrees), odor resistant, dishwasher safe, and feature comfortable round handles. We like the classic white (other colors available); $12 each at Sur La Table.
Above: Cuisipro's Stainless Steel Odd Sized Measuring Spoons are remarkably useful for non-standard, but frequently used measurements. Their oval shape is great for fitting into standard spice jars; $14 at Sur La Table.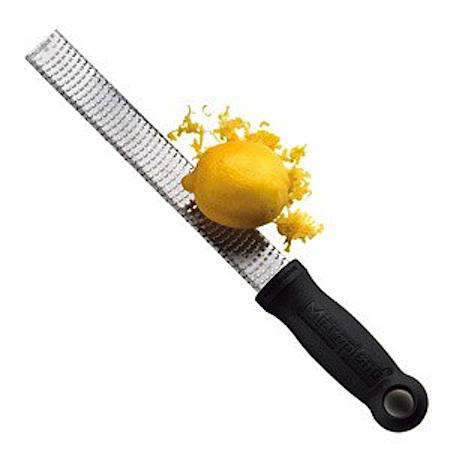 Above: Sarah swears by the Microplane Zester Grater for adding a dash of citrus to almost any dish; $14.95 at Cooking.
Above: Christine, who lives in London but spends the summer in the US, has to move between imperial and metric measurements constantly. The Mix n Measure Measuring Cup combines the most common kitchen measurements into one utensil. The 350ml/16oz cup includes measurements for teaspoons and tablespoons, cups, ounces, grams, and milliliters; £8.95 at Summerhill & Bishop.
Above: Janet's indispensible kitchen item is the Cuisipro Locking Tongs with a locking mechanism (they stay closed for storage, preventing utensils tangle). The 9.5-inch-length is $10.99 at Amazon.
Above: Perfex Salt & Pepper Mills are classic, simple, and functional; made of aluminum with heavy-duty burr grinders; $90 each at Williams Sonoma.
Above: Izabella finds KitchenAid's Stainless Steel Euro Peeler indispensable; she likes its large, high-carbon, cutlery-grade, stainless-steel swivel blade; $8.99 at Amazon.
(Visited 17 times, 1 visits today)