Struggling with your lighting scenario? We can sympathize; flattering overhead lighting is a challenge. If you're not a fan of the pockmarked ceiling effect you end up with when you install recessed lighting, here are 10 can't-go-wrong modern surface-mounted fixtures, courtesy of the members of the Remodelista Architect and Designer Directory.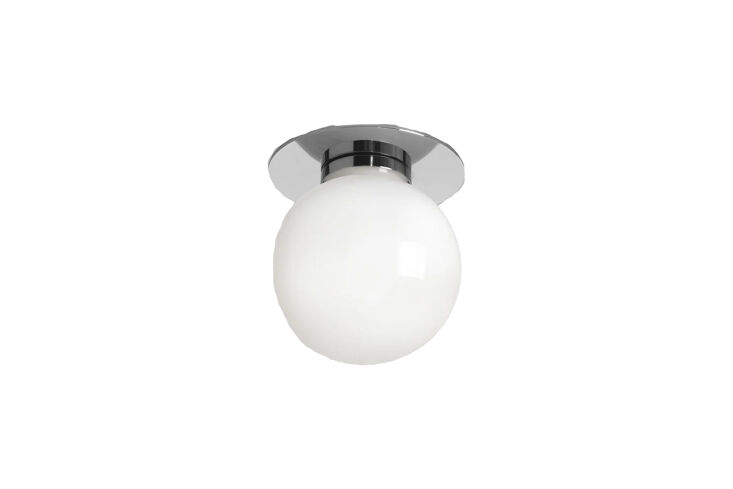 For more architect expertise, see Paint Colors with Cult Followings: 10 Picks from the Remodelista Architect & Designer Directory, and 10 Architects' Tricks for Creating a European-Inspired Interior.
N.B.: This post was originally published on July 6, 2016. We have updated it with new and additional product selections and current pricing.
(Visited 6,641 times, 8 visits today)
Frequently asked questions
What are some of the architects' favorite modern surface mount fixtures?
Some of the architects' favorite modern surface mount fixtures include the PH5 Pendant Lamp by Poul Henningsen, the Tube wall sconce by Michael Anastassiades, the Aplomb wall light by Lucidi & Pevere, the LED Ceiling Light by Tobias Grau, and the IC ceiling/wall light by Flos.
Who designed the PH5 Pendant Lamp?
The PH5 Pendant Lamp was designed by Poul Henningsen.
What is the style of the Tube wall sconce?
The Tube wall sconce has a sleek and minimalist style.
Who designed the Aplomb wall light?
The Aplomb wall light was designed by Lucidi & Pevere.
Who is the designer of the LED Ceiling Light?
The LED Ceiling Light was designed by Tobias Grau.
What is unique about the IC ceiling/wall light?
The IC ceiling/wall light has a unique design featuring a spherical glass lamp balanced on a delicate metal frame.
Where can I find these modern surface mount fixtures?
You can find these modern surface mount fixtures at various lighting retailers, both online and in physical stores. Additionally, you may also find them on the respective designer's official websites or authorized reseller websites.
Are these fixtures suitable for residential use?
Yes, these fixtures are suitable for residential use and can add a touch of modern elegance to any home.
Can these fixtures be used outdoors?
Most of these fixtures are designed for indoor use only. However, it is always recommended to check the manufacturer's specifications or consult with a lighting professional to determine if they can be used outdoors.
Do these fixtures come with a warranty?
The warranty for these fixtures may vary depending on the manufacturer and retailer. It is advisable to check the warranty information provided by the seller or contact the manufacturer directly for accurate warranty details.