This week we're combing through the Remodelista archives for some of our all-time favorite summer stories. Here's one:
A few summers back, Julie realized she had to do something about the neglected guest bedroom in her Wellfleet, Massachusetts, summerhouse if she wanted repeat visitors. Formerly used as a study, the room had seen better days: The shelves were lined with dusty academic tomes, the baby blue walls and ceiling were peeling, and the closet interior and ancient iron radiator hadn't been painted in decades (if not a century).
For advice on achieving the perfect summery seaside palette, using Behr paints from the Home Depot,  Julie called in Remodelista contributing editor and Cape Cod neighbor Justine Hand for a consultation (Justine's pitch-perfect cottage in Orleans, Massachusetts, is featured in our first book, Remodelista: A Manual for the Considered Home). Justine is a genius with color, so the two pored over the Behr palette (which includes hundreds of options) and chose a watery pale blue/green Behr River Mist for the walls, an all-purpose, can't-go-wrong Behr Linen White for the ceiling and trim, and a cheery, sunny Behr Bicycle Yellow for the closet interior.
Photography by Justine Hand for Remodelista.
Join us for a tour.
After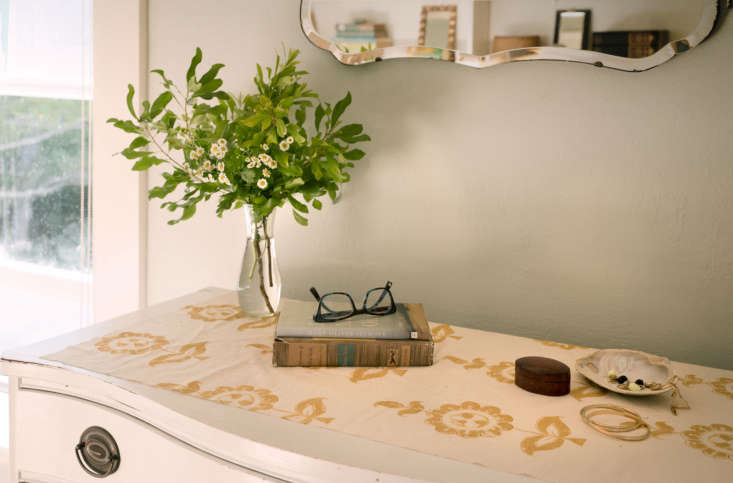 The Palette
Above, L to R: Behr River Mist, Behr Linen White, and Behr Bicycle Yellow.
Before
N.B.: This story is an update; the original post ran on August 1, 2018, as a sponsored post and is reappearing here as part of our Summer from the Archive issue.
(Visited 8,062 times, 1 visits today)
Frequently asked questions
What is this article about?
This article is about a summer bedroom makeover done by Home Depot in Cape Cod.
What were the challenges faced in the room?
The challenges faced in the room were lack of natural light, odd angles, and outdated decor.
What was the color scheme for the makeover?
The color scheme for the makeover was blue and white with accents of gold and natural fibers.
What kind of furniture was used in the makeover?
The furniture used in the makeover was a white bedframe, blue nightstands, a blue and white striped armchair, and a white desk.
What kind of lighting was used in the makeover?
The lighting used in the makeover included a chandelier, bedside lamps, and a task lamp on the desk.
What other decor items were used in the makeover?
Other decor items used in the makeover included a woven rug, blue and white patterned bedding, throw pillows, and wall art.
Where can I shop for these items?
These items can be found at Home Depot and other home decor stores.
Can I recreate this makeover in my own bedroom?
Yes, this makeover can serve as inspiration for your own bedroom makeover and you can use similar color schemes, furniture, and decor items.