De Rosee Sa are a hands-on London architecture and design practice. Led by husband-and-wife duo, Max De Rosee and Claire Sa, they recently completed a lakeside cabin for De Rosee's parents that the team not only designed but also built themselves. What's more, De Rosee's environmentalist father milled the wood himself from trees on the property that had been felled in a storm several years earlier. Total budget: £25,000 ($36,281)—it pays to have an architect in the family.
Photography by Will Scott, courtesy of De Rosee Sa.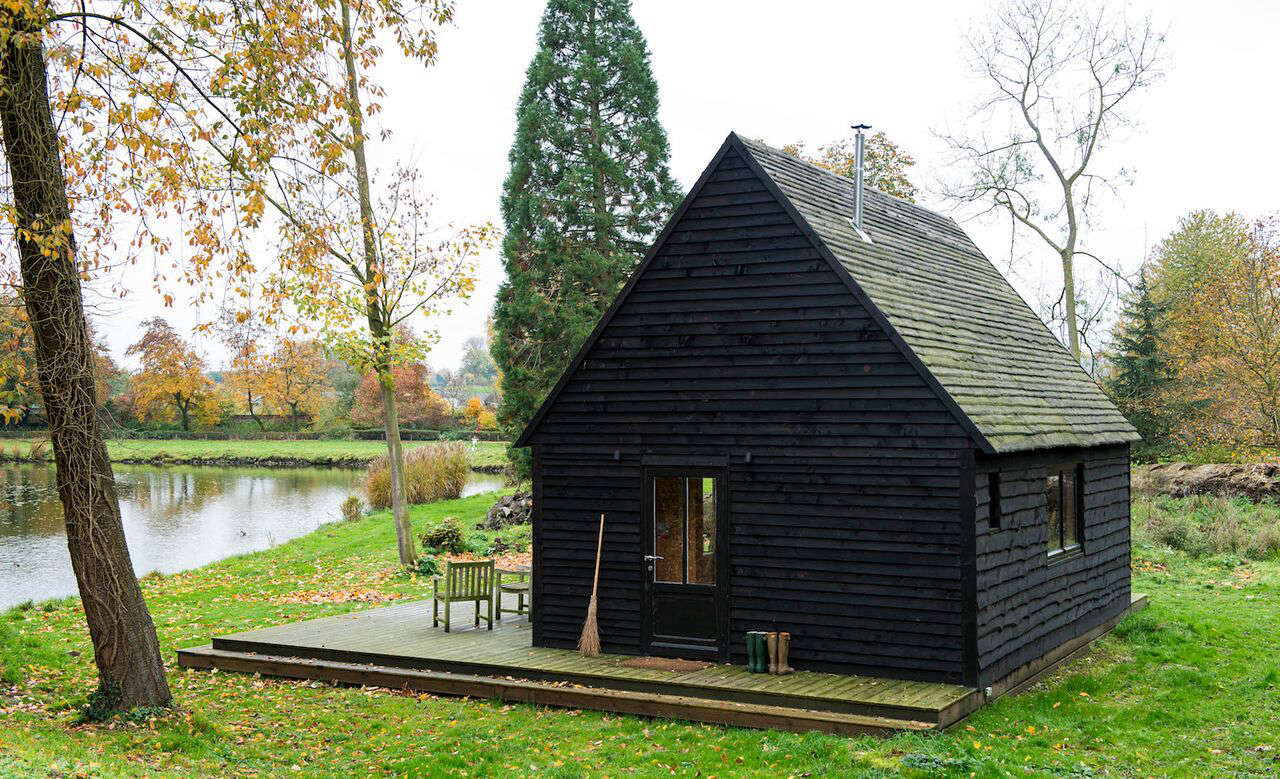 Above: The structure sits on the edge of a lake surrounded by fields and woods in the Belgian village of Nouvelles, not far from the French border.
Above: The design replaced a dilapidated building on the property. "The brief was to create a woodland cabin that could function as a guesthouse for working, sleeping, and socializing," says De Rosee. "It needed to be lightweight, simple, and economical."
Above: The live-edge cladding is shiplapped spruce treated with the firm's secret formula: "It was blackened and sealed with recycled tractor oil donated by a local farmer"—which gives it an almost shou-sugi-ban torched lumber look.
Above: Members of the firm took many weekend trips to Belgium to work on the construction. "We not only designed it, but also shed a lot of sweat and a bit of blood in the process," says De Rosee. "We now have an increased respect for builders."
Above: The cabin has glazed doors on three sides and double windows on the fourth.
Above: The western elevation has a cleverly integrated pocket porch. The terracotta roof tiles of the village are visible in the distance.
Above: The porch is used as an outdoor mudroom.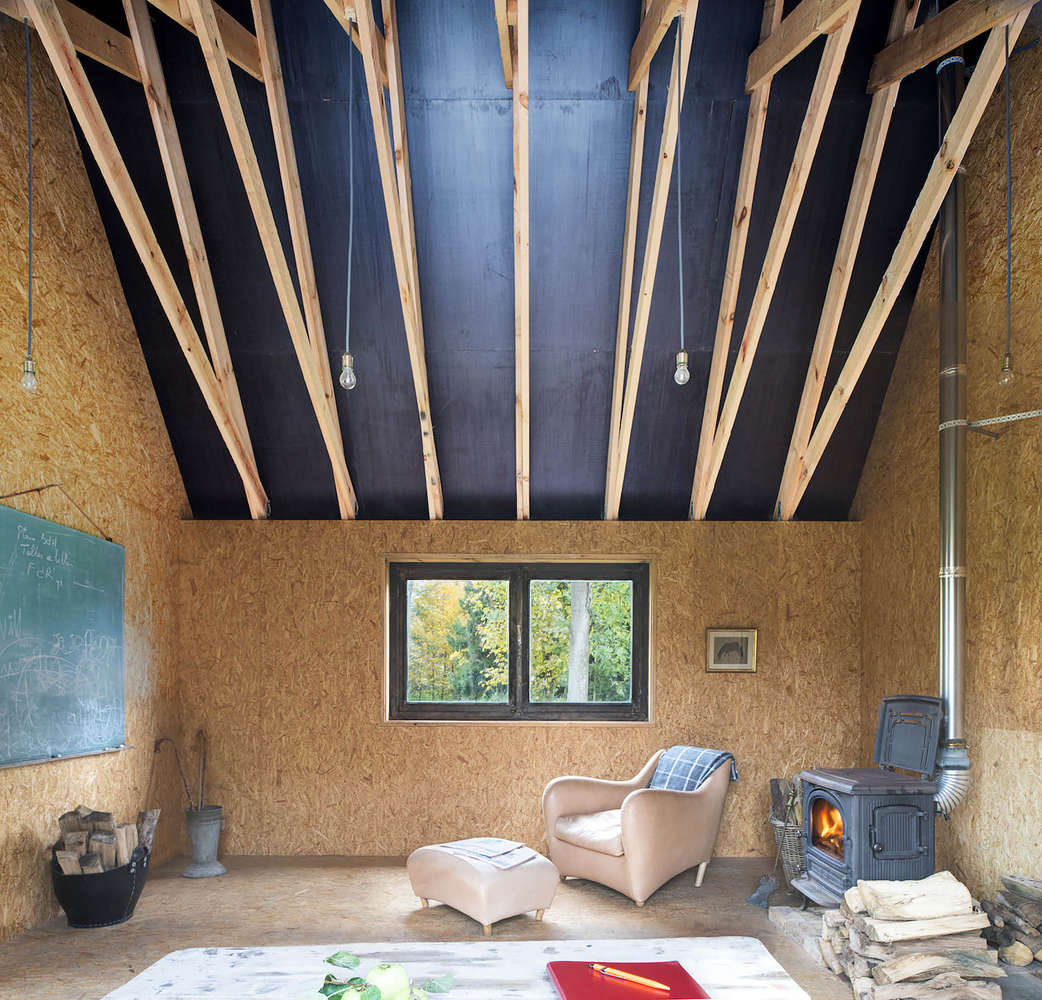 Above: Thanks to the soaring ceiling, the 35-square-meter (approximately 376-square-foot) interior feels surprisingly spacious; it's heated by a wood stove. De Rosee Sa's materials list includes "concrete strip foundations, a suspended timber floor on brick dwarf walls, and internal OSB [oriented strand board] cladding." 
Above: Trussed scissor rafters rise from the side walls and the OSB lends texture and modernity to the space.
Above: Hansel and Gretel may come calling.
Above: The floor plan details the large living space and the adjoining small bedroom, bath, and work areas.
Go to Cottage & Cabins to see more of our favorites, including 10 Summer Cabins from Members of the Remodelista Architect/Designer Directory.
(Visited 616 times, 3 visits today)
Frequently asked questions
Who is the architect of Woodland Cabin?
The architect of Woodland Cabin is de Rosis SA Architects.
What is the style of Woodland Cabin?
The style of Woodland Cabin is modern and minimalistic.
What is the total square footage of Woodland Cabin?
The total square footage of Woodland Cabin is 1,066 square feet.
What materials were used to build Woodland Cabin?
Wood, glass and steel were the primary materials used to build Woodland Cabin.
How many bedrooms does Woodland Cabin have?
Woodland Cabin has two bedrooms.
What is the location of Woodland Cabin?
Woodland Cabin is located in Suffolk, England.
Does Woodland Cabin have any outdoor space?
Yes, Woodland Cabin has a small garden and a deck outside.
Can I rent Woodland Cabin for a vacation?
No, Woodland Cabin is a private residence, and it is not available for vacation rentals.
Is Woodland Cabin energy-efficient?
Yes, Woodland Cabin is highly energy-efficient, with a number of features like solar panels and an air-source heat pump.
Are pets allowed in Woodland Cabin?
It depends on the owner's preferences, but generally, pets are not allowed.