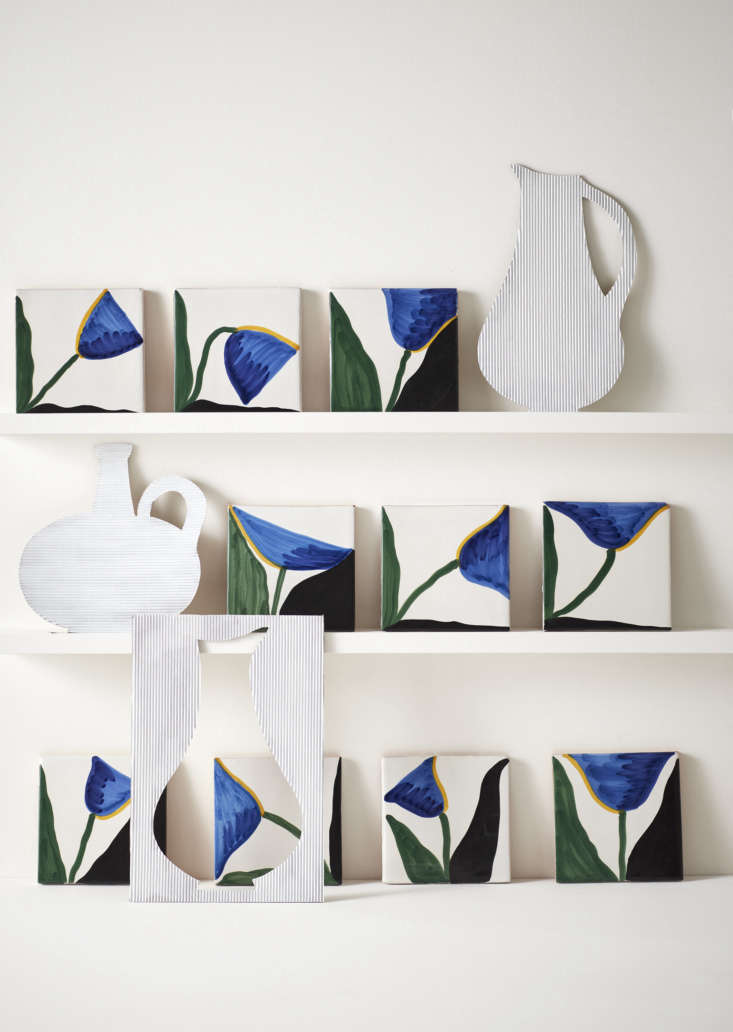 Where's Wayne Pate? We keep up with our favorite itinerant artist on Instagram (@waynepate), where he chronicles his work along with his whereabouts—of late, Paris, Brooklyn, Shelter Island, and now Wellington, New Zealand. Pate's fanciful geometric imagery references the School of Paris, and lends itself well to all sorts of applications. Two years ago, Studio Four NYC introduced a Wayne Pate collection of fabric and wallpaper: see Bloomsbury in Brooklyn. Saved NY recently came out with a group of Wayne Pate cashmere blankets and pillows. And last week, Sarah Watson of Balineum in London debuted Pate's first ceramic tiles.
"Putting Wayne's work onto tiles has long been on my list," Watson tells us. Working during the pandemic with a far-flung team, including artisans outside of Naples, Watson poured over Pate's paintings on paper and canvas, and came up with an initial edit; from there, she and Pate created a group of nine patterns that straddle the line between art and decor. Take a look.
"Due to the intricacy of the production, these tiles are most suitable for smaller-scale projects," says Watson, who writes on Instagram (@sarah_balineum): "Really looking forward to seeing how clients use these—a border only or on repeat for a whole wall? Laid vertically or horizontally? I'm certainly imagining a row as a kitchen backsplash (with a skirt sink)."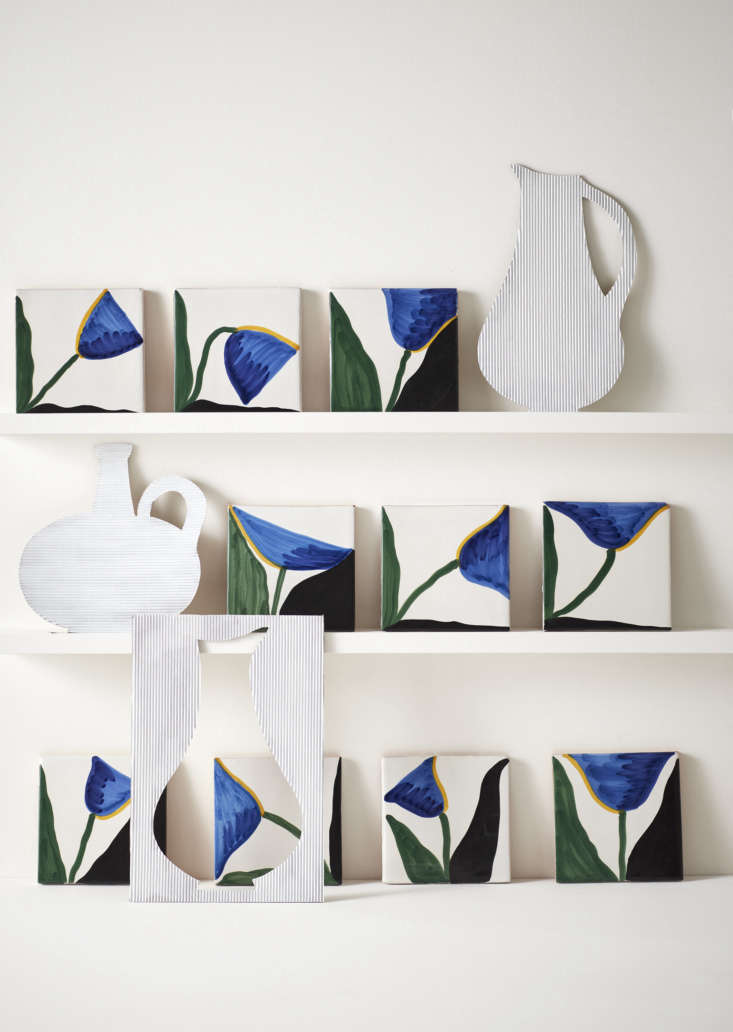 Above: The patterns are both representational and abstract, all in the same painterly language. The rectangular tiles are 150-by-200 millimeters and sell for £28.80 each. Balineum makes everything to order, and though it sells to both the public and the trade, its main clientele are designers looking for custom solutions. 
The square tiles measure 150-by-150 millimeters; £21.60 each. "Yes, we do sell single tiles," Watson tells us. "But we don't hold stock and generally only have samples on hand. For those willing to wait, we can make single tiles. It's best to email us with a list of which tiles you are interested in; we'll come back to you with lead times and prices, including shipping."
In addition to tiles, Balineum offers its own line of bathroom sinks, lighting, mirrors, cabinetry, and hardware. See our 2011 Shopper's Diary on how the company came to be.
For more tiles, browse the Remodelista Kitchen and Bath Tile Archive, including:
(Visited 390 times, 1 visits today)