Traveling through Europe in recent years, designer Lindsay Tusk and chef Michael Tusk noticed "different variations on the same theme" of an informal and energetic style of dining in Paris, Venice, and San Sebastian Gambero. So the Tusks, known in San Francisco for their restaurants Quince and Cotogna, came up with the idea for Verjus, a bar à vin and cave à manger (eat-in cellar) with a "high-fidelity atmosphere full of gusto, spontaneity, and excitement," says Lindsay Tusk. An all-day menu with ingredients sourced from within Marin County is paired with wine from independent vignerons who farm land organically and with a sense of terroir.
The design is as invigorating as the natural wine, with custom steel and millwork, encaustic cement tile, antique furniture from Pierre Chapo and others, and vintage lighting from Luigi Caccia Dominioni and Gino Sarfatti. Here we outline some of the key ideas that Tusk and her team put into practice to evoke 1960's-era France by way of California in 2019.
Photography courtesy of Lindsay and Michael Tusk.
1. Bring it home.
Tusk liked the "easy, convivial style of dining with its wine, food, energy, and culture" of restaurants like Juveniles and L'Avant Comptoire in Paris, Enoiteca Mascareta in Venice, and the pintxo bars of San Sebastian Gambero. In order to promote a similar casual, drop-in atmosphere, the design had to follow suit with an open layout, varied seating (or standing space), and the infusion of sophisticated color. Taking note of why an idea has flourished in Europe but remained absent in the US, for example, is part of the travel experience, with curiosity and observation leading to something new back home.
2. Hit the flea market.
Tusk didn't miss a flea market while abroad. Twice each year, she visits the Mercanteinfiera in Parma, Italy (with over 1,000 antiques dealers) and Paul Bert Serpette at the Puces de Paris Saint-Ouen (flea markets in Paris's Saint-Ouen). Rather than constructing a space chock full of new design (which can feel more like a showroom than a restaurant), it was important to Tusk to integrate vintage and antiques. "I think it creates more of a comfortable and residential environment with a greater sense of permanence," she says. "Mixing vintage pieces add a period design reference to the more contemporary elements."
3. Nix the barstools.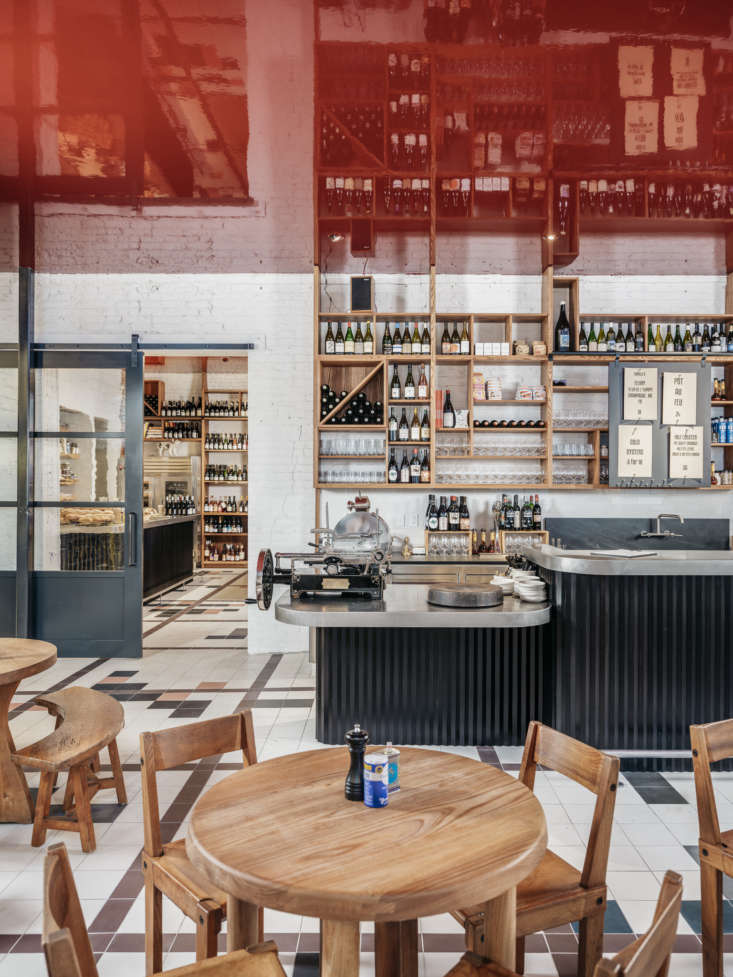 It's true that Europeans are known for their never-ending dinners, but if you drop in for an apéro in Paris or an espresso in Milan, you'll notice that everyone is standing at the counter. That drop-in, standing counter experience was something the Tusks wanted to bring to Verjus, so at the bar that runs the length of the restaurant, you won't find a single barstool in sight.
4. Find ideas in uncommon sources.
For the menu now positioned above the partially open kitchen, Tusk was inspired by theatre marquees, light boxes, and the work of British artist Isaac Julien. Beneath the menu is a custom steel sliding ladder: another nod to the old-fashioned theatre marquee.
5. Think like a graphic designer (and create your own tile pattern).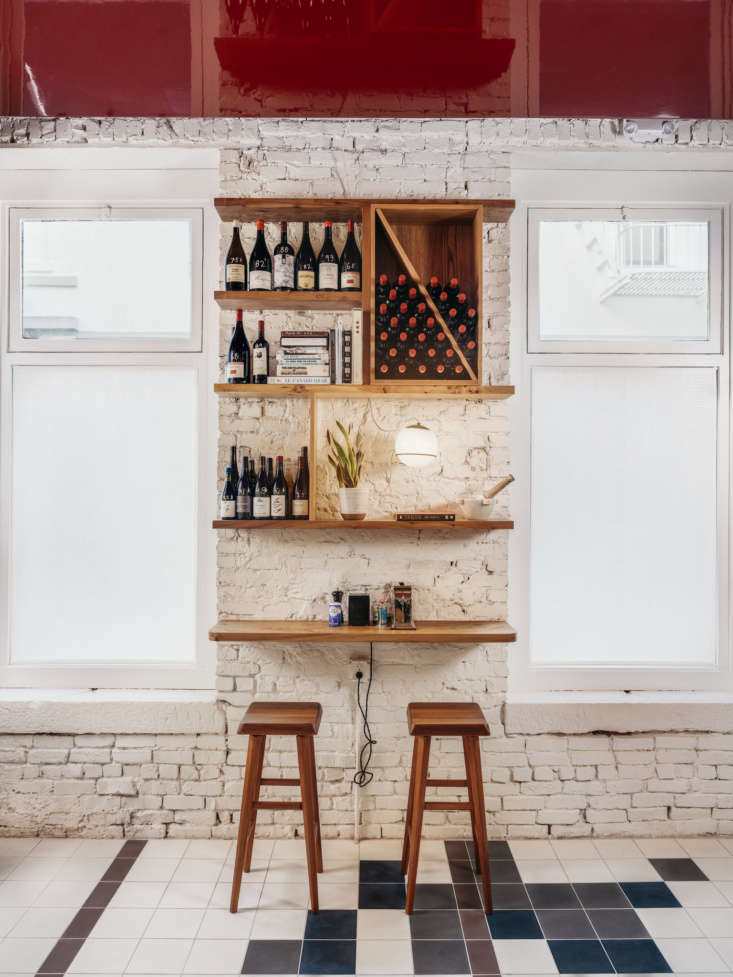 The encaustic cement floor tiles from Lindsey Lang Design in white, black, burgundy, and pink. The goal was to connect the kitchen, dining room, and wine shop with one continuous, directional, and connecting pattern. The unique pattern of colored groupings appears as if it was casually random and pleasingly inconsistent, but the forethought in design works to direct and guide, almost subconsciously, from one space to another.
6. Gloss up the ceiling.
Something we started noticing early last year was the slow trickle of the high gloss ceiling trend. It opens up a space (particularly for a lower ceiling) and adds a dose of dimensional color. Tusk chose Fine Paints of Europe 7180 in Ecobrilliant finish, "a burgundy shade that one associates with wine." The colorful gloss ceiling contrasts with the more matte brick walls painted with Benjamin Moore White Dove.
7. Like the design of a midcentury master? Look to their children for more.
Most of the dining furniture at Verjus is vintage by Pierre Chapo, the midcentury Parisian furniture designer. When Tusk was looking for the perfect height stool to pair with a 14-foot long English pine farm table from 1860, she reached out to Pierre Chapo's son, Fidel Chapo, who has taken over his father's workshop and still reproduces some of his original designs under the name Meubles Chapo ("Chapo furniture"). (We've seen a similar pattern with designers like Gesa Hansen, Mariah Nielson, Benjamin and Thomas Cherner, and others.)
8. Mix 20th with 19th century.
Verjus is located in the historic Eclipse Champagne Building at the base of the Transamerica Pyramid in San Francisco. The building dates back to the 1850's, San Francisco's Gold Rush and Barbary Coast eras, so while Tusk was focused on 1960's France as the core inspiration, she blended the two centuries by way of antiques. Seen here is an 1890's glass cabinet originally from an apothecary in Florence, Italy (sourced at the Mercanteinfiera in Parma).
9. Create an eat-in kitchen with booth seating.
To create the cave à manger (eat-in cellar) in the adjoining wine shop, Tusk had a custom corner booth made from locally-sourced elm by artisan Michael Mellon in San Francisco (the curved bench is a Pierre Chapo design). (The eat-in kitchen booth is one of our favorite ideas we called out in our post on interior design trends.)
10. Even the pantry deserves design.
The wine shop features charcuterie, preserves, vinegars, and conserva made up of 30 different types of tinned fish and shellfish. Rather than merchandising these into a one-dimension shop, they're displayed on stainless steel counters, hanging from S-hooks, and set into alcoves. The takeaway is to keep your pantry as organized and beautiful as a shop (and vice versa), whether out on open shelving or behind cabinet doors.
For more restaurants with genius design ideas see our posts: