In 2001, Jill Wenger moved from Texas to Seattle, Washington, and, at the age of 26, opened Totokaelo, a retail shop devoted to women's fashion by under-the-radar designers. Thirteen years later, Totokaelo has grown into a cultural landmark; it now occupies a large storefront on Capitol Hill, and has added home goods and men's fashion to its lineup.
The enterprise was Jill's first job, and while today she's busy collaborating on designs with artists all over the world, she still has a hand in every decision at Totokaelo. The storefront and newly established office space, for example, were conceptualized and executed by Jill herself. During the first ten years of business, everyone worked out of the stockrooms in the back of the original Totokaelo store. "Anywhere there was space, someone claimed it and tossed their laptop down," Jill recalls. As work conversation–and concentration–proved increasingly difficult, Jill began to look into acquiring a dedicated office space, a decision, she says that was "less about brand evolution and more about gaining much-needed thinking space."
So when the second floor in the historic building next door to the Totokaelo shop opened up, Jill jumped at the opportunity. The building dates back to 1908 and was restored in 2008; the ground floor is home to the popular Oddfellows Cafe and Bar. Totokaelo's new offices now occupy what was originally a ballroom. "The buildout was simple," says Jill, "we were handed an empty shell."
Photography by Michael A. Muller for Remodelista.
Above: "I work best in clean, calm, and vibrant spaces–spaces where you stay energized but maintain focus, " says Jill. "I like white because it's bright and reflects natural light through a room. Painting desks and objects white eliminates visual blocks, so that heaviness just disappears."
Above: The lofted portion of the converted ballroom is home to Jill's own office with custom-built shelving by woodworker Joel Kikuchi. Jill found the pair of orange velvet lounge chairs while thrifting and modified the legs with three-inch fir dowels.
Above: The office chairs are inspired by the classic Eames Aluminum Management Chair in tobacco-colored Vicenza leather.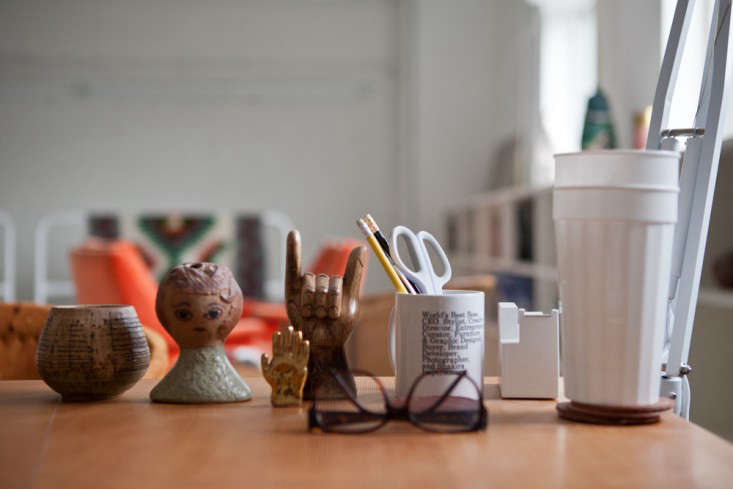 Above: Ceramics sculptures decorate Jill's desk along with a mug that sums up her role at Totokaelo: "World's Best Boss, CEO, Stylist, Creative Director, Entrepreneur, Curator, Graphic Designer, Buyer, Brand Developer…"
Above L: "The floor paint is standard white epoxy floor covering," says Jill, "it's super durable and I love it on concrete and wood alike." Above R: A wool felted rug designed by Totokaelo's editorial creative director, Ashley Helvey.
Above: The bright orange chairs and a woven rug thrown over the stair rail are among the few color accents in the office.
Above: The wooden side table is by LA design studio Commune. Part of their modular Environment collection, it's made of oak accented with sheets of brass. On the table is a copy of the Russian Criminal Tattoo Encyclopedia, Volume I.
Above: In the main work space, the desks were designed by Jill in collaboration with Seattle woodworker Joel Kikuchi. Each is made from a piece of white-painted wood balanced on two putty-colored filing cabinets. "In the middle is a custom sawhorse ('pony') that I designed a few years back to meet the need for simple desks and tables. Joel made it from three-inch fir dowels."
Above: Ceramic mugs, a stoneware vase, and a list of inspiring Tumblr sites.
Above: Everything from the exposed brick walls to the antique chandeliers received a white coating.
Above: Below Jill's lofted office, a series of conference rooms are walled off by sliding doors of light-blue-tinted glass with handles made of fir.
Above: Each conference room is equipped with furniture and accents from Totokaelo Art-Object. The oxidized copper pendant lights are Medium Hanging Lanterns by LA ceramicist Stan Bitters.
Above: The white clamp-base desk lamps were sourced from a local office supply store.
Above: Every desk accessory–from tape dispenser to paper collator–is considered.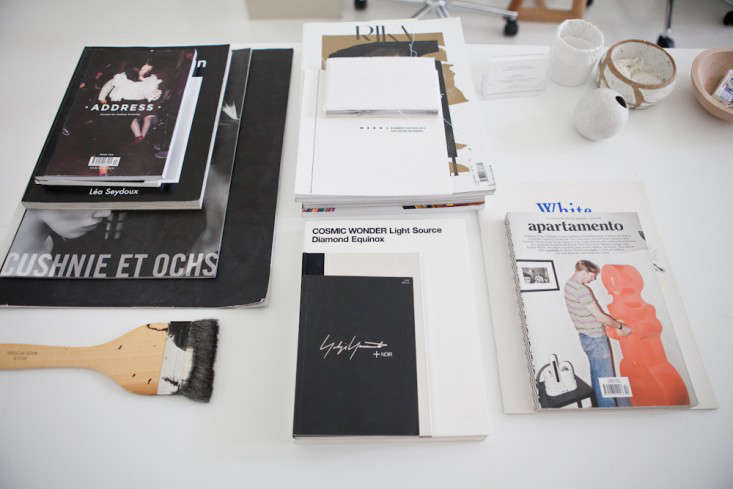 Above: Stacks of printed material include Address magazine, The Gentlewoman, Rika Magazine, and look books from Cushnie et Ochs, Cosmic Wonder Light Source's Diamond Equinox collection, and Yohji Yamamoto + Noir.
Above: A row of leather slingback chairs by Santa Cruz artist, physicist, and genealogist Dan Wenger (no relation to Jill). Totokaelo carries Wenger's similarly shaped Lotus Chair and Lotus Stool.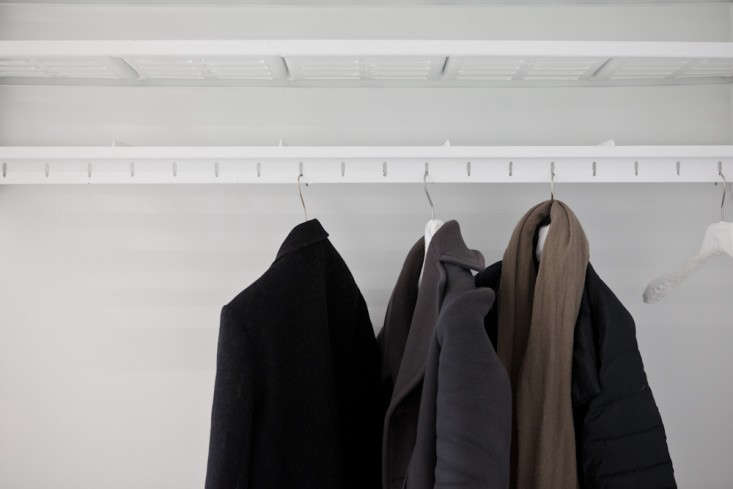 Above: A small coat closet also received a coat of white paint.
Have a look at Totakaolo products we've recently featured, including Color-Drenched Bath Linens from Portugal. For another Capitol Hill point of interest, see Living in an Architectural Landmark, Seattle Edition. And visit some Seattle Edible Urban Gardens on Gardenista.
(Visited 184 times, 1 visits today)