Those of us with laptops work at our kitchen tables, in bed, on trains, and all points in between. But having a desk to call one's own is a Pavlovian thing: It allows the real creativity to happen. For workers and dreamers who are short on space, here are 11 compact examples at all points on the price spectrum.
Above: Desk Three by UK craft furniture company Another Country is made of natural beech and has a central drawer, round edges, and a trestle base; £895. It was awarded a Design Guild Mark in 2014 for excellence in design, and is also available in oak and in a range of colors. Learn about Another Country in Shopper's Diary.
Above: Modeled after school desks, the single-drawer Orson Compact Desk by UK designer Matthew Hilton has a hardwood top (walnut with a Danish oil finish is shown here) and cast-iron legs. A cable management system is incorporated into the top, which is also available in oak with a white oil or Danish oil finish; $2,965 at Future Perfect, which also offers companion storage trays and a pencil holder.
Above: The Blue Dot Stash Desk, $399, has a pencil drawer that can be installed on either the left or right side. It's available in white ash (shown), gray with a walnut top, and ash with a black finish.
Above: TabLED, a prototype by furniture and interior designer Vladimir Stajic of Belgrade, Serbia, won an ICFF Studio Award at Accent on Design, in New York City last spring. The worktable has a hidden metal substructure and incorporates an LED light into the top support. Inquire about availability.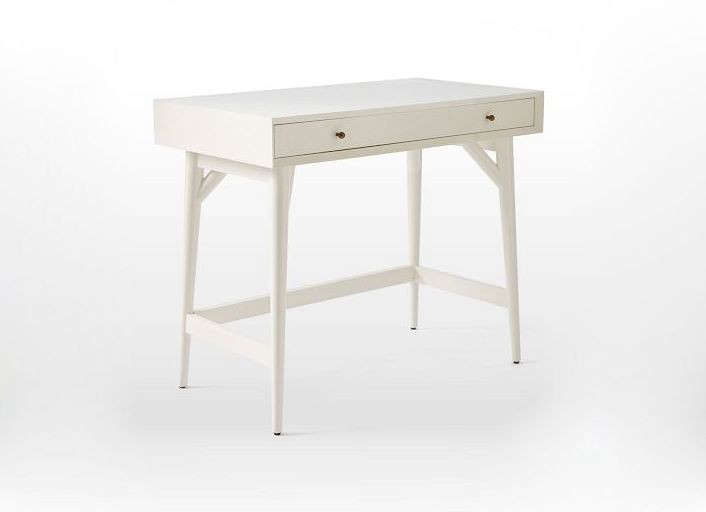 Above: The Midcentury Mini Desk, $399 from West Elm, is a downsized interpretation of the store's Midcentury Desk. It's made of FSC-certified eucalyptus and is available in white, black, and a natural wood finish.
Above: Designed by artist Josef Albers in 1927 when he was a teacher at the Bauhaus Weimar–and featuring a geometry reminiscent of his famous paintings–the Albers Desk was recently put back into production in Germany. It has a side wing that flips up, as shown, to allow two people to collaborate; $5,000 at the MoMA Store.
Above: The Georg Console Table and Stool from Design Within Reach is the work of contemporary Copenhagen designer Christina Liljenberg Halstrom. It's made of raw oak–for those who desire a protective finish, Halstrom recommends soaping the wood–and, at only 13 inches deep, works well as a hallway desk or entry table; $599, stool with wool cushion with leather strap included.
Above: The Alex Desk from Ikea, $159, has built-in details for keeping cables and cords out of sight; it comes in white and gray.
Above: The A-frame White Desk by UK designer Alex Swain is made of FSC-certified birch plywood and has a tilting worktop with a pencil tray; £515 ($848.50).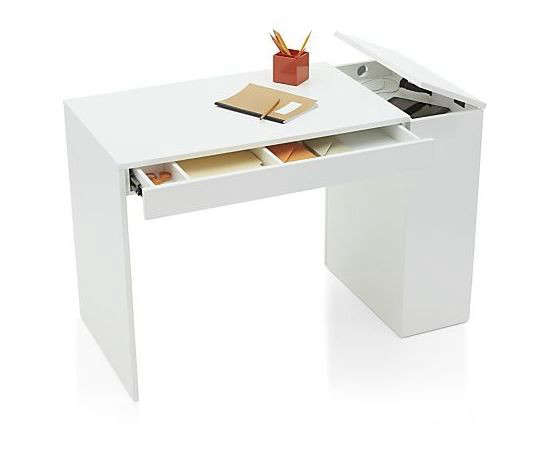 Above: The Treble White Desk from Crate & Barrel has a divided drawer and a side bookcase topped with a lidded charging station. It's made of painted and lacquered poplar; $499.
Above: The rustic precursor to the previously mentioned Desk Three, Another Country's Desk One is made of oak and has an indentation for pens and pencils, a center drawer, and a "cable tidy"; $1,870 from McNally Jackson Store. In the UK, Desk One is available from Another Country for £945. It's also made in chestnut with a black lacquered finish.
Looking for more work-space solutions? See our posts on Desks and Home Offices, including:
     • Longevity-Promoting Standing Desks
     • Trestle Desks
     • Wall-Mounted Desks for Children (and Teens)
     • 10 Ways to De-Clutter Your Tech Experience
     • Five Favorites: Desk Organizers in Natural Wood
You need to login or register to view and manage your bookmarks.