When Alaa Mendili moved from Montreal to Seattle to take a job as a creative director at a digital design studio, he packed lightly, arriving with only two suitcases and an air mattress. During a brief sublet in a Capitol Hill apartment, Mendili, like most residents of the neighborhood, became fascinated by the Egan House, a lone modernist statement built directly into the hillside.
After a friend of Mendili's passed up a spot on the Historic Seattle Foundation's rental wait list for the Egan House, Mendili himself was miraculously first in line. Designed by Harvard-trained architect Robert Reichert in 1958, the Egan House (named for its first resident, Willard Egan, a retired admiral of the US Navy) was the first of its kind in Seattle. The triangular building, as the foundation explains, "represented a shift away from traditionalist styles" and introduced the city to Reichert's expressive modernism.
Historic Seattle acquired
 the Egan House in 1998 and worked with the Parks and Recreation Department to repair the deteriorated exterior and gently update the interior. The renovations were completed in 2003, and since then the building has served as a rental for one lucky person or family. When Mendili settled in, he was surprised to discover a few mysteries: "There's not all that much information about the house, and there are odd things, like a door in the living room that doesn't go anywhere," he says. "I'm not sure if there was a balcony there that was removed or not." These riddles only add to the charm of living in an architectural landmark.
Photography by Michael A. Muller for Remodelista.
Above: Tucked into the hill, the triangular design is intriguingly hard to decipher. Thanks to the foundation, it has a new roof and support column for the cantilever above the entry.
Above: The front door reads "There's no place like home" in Swedish.
Above: The first of the three stories is a half floor with a washer-dryer, small bathroom, and dramatic staircase.
Above: Mendili accents the house with a few spots of color using objects such as this trio of artisan-made wooden toys. "The house is so standout that it doesn't need too much in it," he says.
Above: A small kitchen (along with the main bathroom and bedroom) occupy the second floor. Thanks to the lofted layout, Mendili says the kitchen is very sociable, and you can carry on conversations with people on the third floor.
Above: The foundation preserved the 1950s refrigerator inside of one of the kitchen cabinets; it's no longer functional and is now used as storage space. Overall the kitchen was kept true to its original design and appliances were only updated when necessary.
Above: White cabinets, a miniature fridge, and simple Ikea Förhöja Kitchen Island extend the kitchen into an L-shape.
Above: Mendili is the interactive creative director at Digital Kitchen (a Seattle studio that designs title sequences for HBO series, among other things). At home, he created a sign to hang on the bathroom's pocket door: "The thing about the house is that there are no locks on any doors, so I tried to fix a functional problem by alerting guests to when the room is occupied."
Above: The bedroom is just big enough for a queen-size bed and has very low ceilings, so Mendili keeps decor to a minimum: a vintage Pendleton blanket, a single wall sconce, and a wooden glasses rack sourced on Etsy.
Above: The reading sconce is Good Flock's Aurora Lamp; made from hand-turned wood, it can be mounted or used as a table lamp.
Above: At the time Reichert was designing the house, he was obsessed with two things: architecture and organ music. The staircases and metal gates partitioning off each lofted floor are reminiscent of pipe organs.
Above: The top floor is a triangular living room—"you lose about half the space because of the shape," says Mendili. Fortunately, he has minimalist tendencies and an appreciation for negative space: "Whether I'm designing a website or my own place, every decision has purpose; there is nothing there just for the sake of being there."
Above: Classic wool blankets are another unobtrusive way of adding color to the house. In the living room, a Hudson's Bay Point Blanket is draped over a Gus Modern Atwood Sofa.

Above: With an open plan that spans three floors, the house can be difficult to heat, but the original wood-burning fireplace helps in the winter months.
Above: The coffee table is made from oiled Sheesham pallet wood from Capitol Hill furniture store Area 51.
Above: Mendili's home office is furnished with Blu Dot's Medium Strut Table in black and the Real Good Chair in white powder-coated steel.
Above: A collection of design magazines are on constant rotation on a set of black floating shelves.
Above: Three evenly spaced air vents at the topmost point of the house allow for air circulation.
Above: A view of the Egan House exterior from below.
Above: The triangular deck was added in 2000; it's where Mendili entertains guests in the summer months.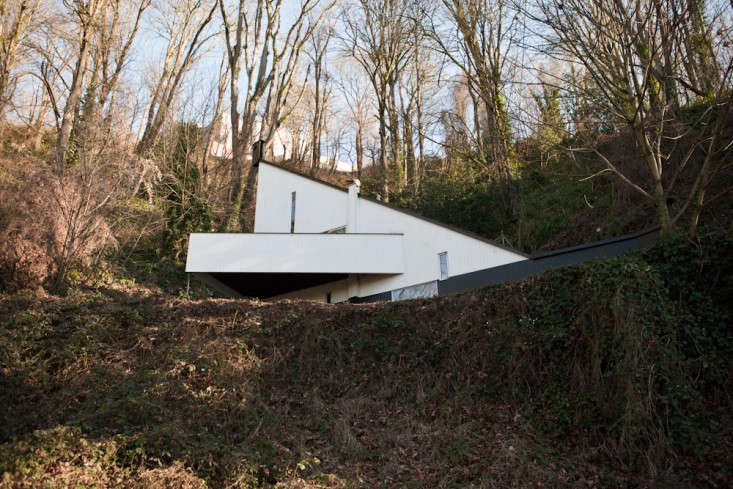 For more houses to explore in the Pacific Northwest, see our posts: A Coastal Retreat in the Pacific Northwest, Mountain Views Included and A Seattle Floating Home by Ryan Mankoski. And on Gardenista, have a look at a Year-Round Seattle Urban Garden.
N.B.: This post is an update; the original story ran on May 1, 2014.