Step into a London kitchen some afternoon and you'll likely find a set of proudly British kitchen mainstays. While we're prone to reach for reliable classics, what we find most interesting is the evolution of our favorite kettle, chopping board, or broom; that slight tweak that gets us rethinking our kitchens entirely.
A new guard of 20th century designers–Sebastian Conran, Corin Mellor, Jasper Morrison, and more–are retelling the story of the British kitchen, one that is infused with modern craft heritage combined with a tradition of clean and functional design.
Above: Designed by Stefi Orazi Studio, the Barbican Tea Towel celebrates the modernist architecture of London's Barbican Estates; $12 from Things You Can Buy (it's also available at twentytwentyone).
Above: From Robert Welch, who was recently tapped by British Airways First Class to design the airline's cutlery, the Pestle and Mortar is made of cast iron for €17 ($19) at Makers & Brothers.
Above: London designers Barber & Osgerby have a new tabletop line out for Royal Doulton. See more at Young Turks: Barber Osgerby for Royal Doulton.
Above: Salt and Pepper Mills from London-based Very Good & Proper are made of natural and stained beechwood with a ceramic grinder mechanism; £36 ($55) each at Very Good & Proper. For more peppermills designed in the UK, see our post 10 Easy Pieces: Salt and Pepper Grinders from Around the World.
Above: The David Mellor Knife Block is a modern solution to traditional countertop knife storage; $70 at Heath Ceramics. For more on David Mellor Design, see our post Ask the Expert: Corin Mellor Talks Flatware (Make That Cutlery).
Above: The Jasper Morrison Kitchen Utensil Set is a trio of flat shapes in wood–a spoon, spatula, and risotto server–for $20 at All Modern.
Above: Faye Toogood's Cuppa, a modern creamware teacup in editions of 150, is $96 at Table of Contents.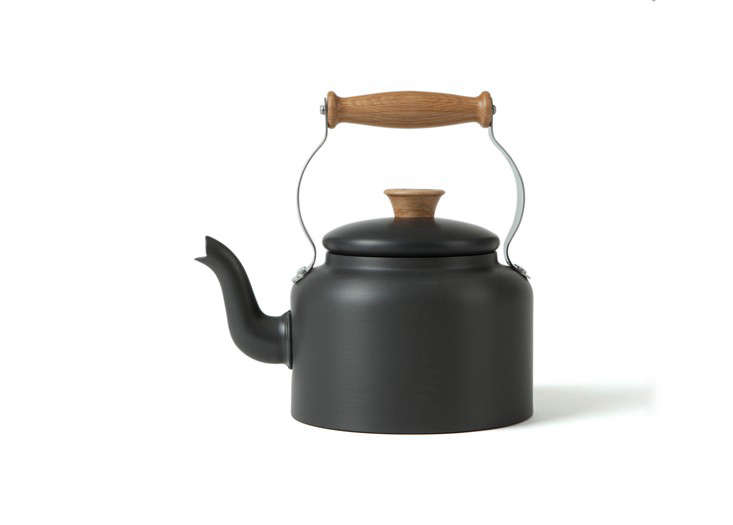 Above: A modification of the traditional English kettle, Another Country's hand-spun anodized aluminum Traditional Kettle with a British oak handle is £140 ($214). For more, see 10 Easy Pieces: Classic Teakettles.
Above: Designer Martino Gamper's Arnold Circus Stool is useful throughout the kitchen and dining room. Inspired by Shoreditch's Arnold Circus, the stool is used as the official seating for outdoor annual events. It is £59 ($90) in a variety of colors through Martino Gamper.
Above: From Hackney-based Hampson Woods, London Plane Boards are made from a London plane tree and finished with olive oil. Shown, from left: The Size 1 board (£35), Size 2 board (£45), and Size 4 board (£55).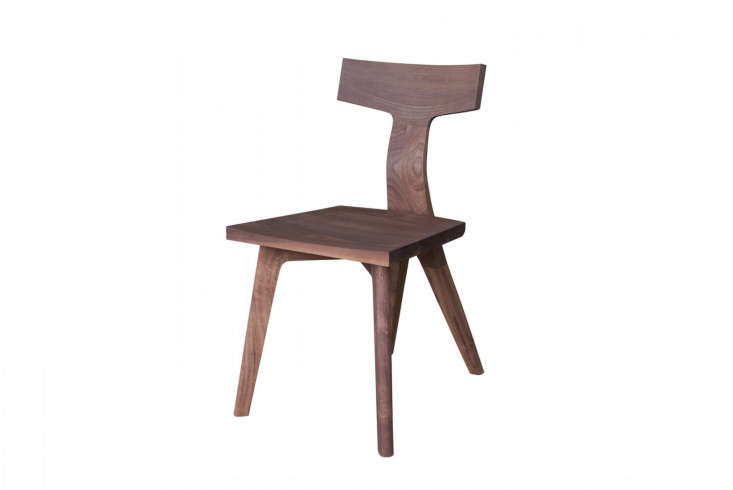 Above: We think Matthew Hilton's Fin Dining Chair could be the successor to the classic Ercol chair. It's available in American white oak or American black walnut; $1,125 at De La Espada.
Above: Turner & Harper is at the vanguard of domestic science design, we're coveting their Broom, made of soft hog bristle, oak, and powder-coated steel; £125 at Slow Down Joe. For more on the company, read Brushing Up on Traditions.
For more on the English kitchen, see our posts:
You need to login or register to view and manage your bookmarks.