My kids' bathroom is short on storage space, especially around the tub and shower. Where to stash clean washcloths and bottles of shampoo (my teens, it turns out, need a different shampoo for every occasion)?  I found the answer at a marine supply store.
Above: A cotton canvas water bucket (designed to draw up water over the side of boats) hangs on a hook adjacent to the tub and shower, putting washcloths within arm's reach. It works equally well for storing hairbrushes and shampoo. Photograph by Janet Hall.
Above: I sourced the practical–and washable–Cotton Canvas Water Bucket from Hamilton Marine. It's 9.5-inches high and 8.5-inches in diameter, and has a padded rim that keeps the opening from collapsing shut, making it easy to grab things from the bucket with one hand; $35.99. Photograph by Janet Hall.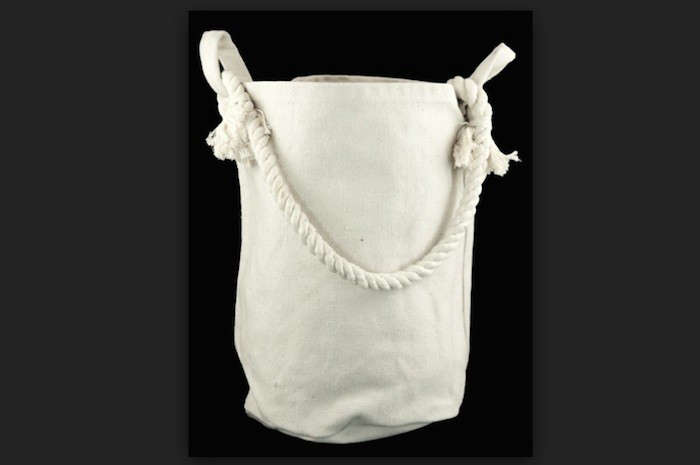 Above: Also used in camps in the Civil War-era, this Canvas Water Bucket has appealing rope handles; $25.99 at C&C Sutlery.
Above: Looking to add a dash of color? The Dartmouth Canvas Factory Water Bucket is available in 11 colors (including orange, shown here). It stands just over nine inches tall; £24.00 from the Dartmouth Canvas Factory in the UK.
Above: The Marine Tote from Clare Vivier is $165.
Discover more uses for our favorite everyday fabric: See all of our Canvas posts, including the Object Lessons: The Classic Canvas Tote, Canvas Storage Containers, a DIY Painted Canvas Tissue Cover, and Gardenista's Canvas Weekend Bags.
Go to Nautical Style for more seaworthy design ideas. And take a look at Gardenista's recent discovery: Collapsing Linen Buckets Made in the 1950s for the French Army.
N.B.: This post is an update; the original story ran on April 9, 2009, as part of our issue The Color of Spring.
(Visited 534 times, 4 visits today)