Artist and blogger Abbey Hendrickson of Aesthetic Outburst has two young kids, a full-time job (as executive director of the Tioga Arts Council in Upstate New York), and countless home improvement projects in motion. "My husband and I are firm believers that renovations don't have to come with a giant price tag," she says–and she means it: Her dining room pendant light might look like a Tom Dixon, but it's actually a $20 "giant and copper-ish" thrift-store score (and the price included some Breyer horses for her daughter).
Not long ago we presented the 1970s kitchen that Abbey and her husband, Phil, tackled themselves in their Owego, New York, farmhouse: See The DIY Kitchen Overhaul for Under $500. Their remodeled dining room, which is open to the kitchen, cost even less than that–and the results are equally impressive (scroll down to take a look at the Before shots). Here's the project, followed by sourcing suggestions for re-creating its casual-yet-pulled-together vintage look. For rock-bottom prices, however, you'll have to join Abbey on the thrift shop/Craigslist/Salvation Army circuit. "One of the best sources I've found is surplus school or government auctions," she says. "You can search online and find one near you. We've come away with so many good things from these auctions."
Room photographs by Abbey Hendrickson.
Above: The dining room is the Hendrickson family's daily gathering spot for meals and for art projects. Instead of tableware the sideboard shelves are packed with art books, and its cupboards hold paper, paints, and craft supplies. During the remodel, Abbey and Phil first sanded and stained the floor to match the kitchen's floorboards (newly revealed under a layer of vinyl). They then painted the room with Behr Ultra Pure White, "the cheapest paint we could find," but they report that it's yellowed a bit in the sun. The furnishings came together over time–Rachael Hetzel, "a super-handy friend," made the table–and the art on the wall is by Abbey.
Above: The window seat is topped with a cushion that Abbey stitched herself and then stuffed with three pillow inserts. She also sewed the gingham and striped pillows using yardage from Jo-Ann Fabric; the other throw pillows are from discount chain HomeGoods.
Above: The occasional table was dragged out of the family's barn and resuscitated with Rustoleum spray-paint in Charleston Green. Similar designs, many with marble tops, are easy to find on eBay by searching Eastlake Tables; they start at about $150.
Above: A circle of pressed pennies from arcade machines decorate the wall. Not coincidentally, Abbey is the author of You Are Awesome: 21 Craft Projects to Make You Happy.
Above L and R: The pennies are applied with a glue gun (and can be easily removed). The chair came out of Abby's grandparents' garage; she painted it red before applying a coat of gold spray paint.
Lighting and Furniture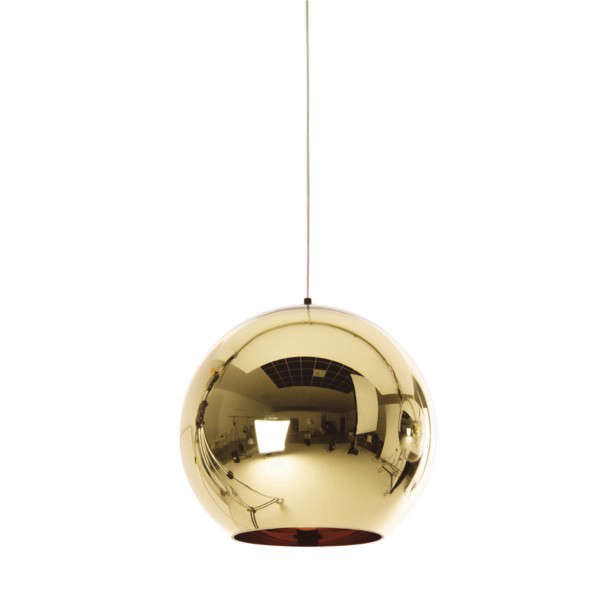 Above: The Tom Dixon Bronze Copper Shade Pendant light is $735 from Lumens.
Above: The adjustable-height child's chair at the head of the table is a Geuther Family High Chair. "It's withstood seven years of abuse and is still in excellent shape," reports Abbey. The same model is hard to come by these days in the US, but it's available on Amazon UK for £123.78 (US$200). A similar design to consider: the Stokke Tripp Trapp chair, shown here. In addition to natural wood, it comes in eight colors; $249.
Above: Two-toned Heywoodite school chairs made by Heywood Wakefield in the 1960 are used as indestructible (and stackable) dining chairs. Etsy seller Feigning Danish offers Heywoodite School Chairs in three color combinations for $65 each.
Above: An heirloom piece to consider: the Penn Table by Sawkille Co. of Rhinebeck, NY. Made of black walnut, it has a brass seam running between the two boards that form the top, and is also available in bleached maple; inquire about pricing. Alternatively, Abbey reports that she often spots great farm tables on Craigslist, eBay, and at rural auctions.
Above: For DIYers, 29-inch-long Mixed Maple Classic Wood Table Legs are $14.48 each at Lowe's. To get inspired, see page 52 of the Remodelista book for a desk table built in an afternoon from ready-made legs and other inexpensive materials at Lowe's. 
Accessories
Above: Serena & Lily's Zig Cotton Dhurrie from India is $895 for the 8-by-10-foot size.
Above: A Linen Pillow with Piping, in River Blue (shown), Collard Green, and Vermillon Red, is on sale for $19.50, marked down from $38, at Canvas Home.
Above: For making your own pillows: Gingham Cotton Print fabric is $4.99 per yard at Jo-Ann Fabric.
Above: For bench padding, LA's Hedge House offers Sur La Mer Mini Throwbeds in linen with down and fiber inserts; $175 each. For more examples, see our post on Hedge House.
Above: Abbey corrals kids' books in an old wood crate found at a local antiques store. Lucky Clover Trading Company sells Antique Gray Wooden Storage Crates for $15.50; they're also available in Antique Brown and Natural.
Above: For the pampered canine: German company Cloud 7's Sleepy Bed Stone Grey of organic cotton with leather handles is $220 from Petswag.
Above: Pressed pennies, also known as elongates, are sold by the lot on eBay and Etsy. The Tarnished Crown sells 30 Smashed Pennies for $10 on Etsy. Or make your own: You can find a penny smashing machine near you on Penny Collector.
BEFORE
Above: Painting and staining in progress–Abbey and Phil do all of their own remodeling.
Above: The dining room as it was.
Steal This Look is a weekly Tuesday column on Remodelista and Gardenista. Be sure to look at Abbey and Phil's DIY Kitchen Remodel. And, vintage hunters, don't miss our recent Editor's Picks: 10 Favorite Sources for Bargain Furniture.
Are dining rooms obsolete? Read Michelle's theory in Domestic Dispatches: The Death of the Dining Room. 
(Visited 500 times, 1 visits today)
Frequently asked questions
What is 'Steal This Look' on Remodelista?
Steal This Look is a series of articles on Remodelista that provide interior design inspiration by featuring real before-and-after home decor projects with details on where to purchase similar items for a new look.
Who is Abbey Hendrickson?
Abbey Hendrickson is a California-based artist, illustrator, and blogger who is known for her thrift store finds and DIY home decor projects. She runs the blog Aesthetic Outburst.
What is showcased in Abbey Hendrickson's thrift store dining room makeover?
Abbey Hendrickson's thrift store dining room makeover features secondhand furniture and vintage decor finds that she transformed with some DIY projects along with a few new purchases. She replaced the dining table with a thrifted one which she painted white and paired with mismatched chairs given a fresh coat of paint and new upholstery. The walls have a textured effect created with sponges. The space is decorated with a mix of vintage mirrors, artwork, and antique silverware.
How can I transform my dining room with thrift store finds?
To transform your dining room with thrift store finds like Abbey Hendrickson did, go thrifting for a dining table and chairs that have potential to be transformed with a coat of paint and new upholstery. You can decorate the space with vintage or secondhand decor finds like artwork, mirrors, and antique silverware to create a unique and personalized style.
Where can I find similar dining room decor items to Abbey Hendrickson's thrift store finds?
Remodelista provides sources for many of the items featured in Abbey Hendrickson's thrift store dining room makeover, including similar dining tables, chairs, and vintage decor items. Visit the article for details.