Brice and Helen Marden, one of the longstanding royal couples of the New York art world, divide their time between their city studios and an estate in rural Tivoli, in upstate New York. They also dabble in real estate–they have a house in Hydra, Greece, and own the lush Golden Rock Inn in Nevis. And so, when Tivoli's beloved old hotel and restaurant, the Madalin, went dark, they stepped up and bought it, transforming its Victorian B&B interior into a light, bright, art-filled clubhouse for locals and creatives. The Wall Street Journal likened the project to Martin Scorsese deciding to run a diner. 
The Madalin's transformation into the Hotel Tivoli was a family affair–the Mardens' photographer daughter, Mirabelle, joined brainstorming meetings (she's the one who suggested tinting the Douglas fir floors purple). And she paired her parents with her high school friend Laura Flam, an interior designer, who, with her colleagues at Reunion Goods & Services, orchestrated the overhaul. "The place is an extension of the Mardens' lives," says Flam, "They're into color and surprisingly open to risk." 
Photography by Ingalls Photography, except where noted.
Above: The Corner, the hotel's restaurant and bar, occupies the ground floor and the guests rooms are on the second floor. Midcentury Italian armchairs from eBay furnish the bar lounge. 
The interior of the hotel was largely preserved. Instead of major construction, the plan was to combat the gloom with a white and gray backdrop. But not just any gray: Brice mixed his own blend by doctoring an undisclosed Benjamin Moore gray with a bit of cadmium orange oil paint. The floors were treated with purple paint that was applied and then dragged to create a subtle finish. 
Above: Three of the five principals at Reunions Goods & Services, including Flam, got their start working for Roman & Williams. They were able to flex their muscles the most in the bar, which is clad in Fior de Pesco, a dramatically veined marble (known affectionately around here as ugly marble). Discovered at ABC Worldwide Stone in Brooklyn, it was cut locally. Brice found the vintage pink Murano glass pendant light at Skalar in nearby Hudson, New York. 
Above: "The marble has two stripes running across it, one fuchsia, the other purple," Flam told us. "We wanted each color to be showcased but not in an overly bookmatched way. On the bottom of the bar, you can see the fuchsia modeling, and the top is patterned in dark purple–it runs across it like a lighting streak. The rest of the restaurant is very calm. The marble is the big moment." The stools are Moroso's Around the Roses design. (To see more patterned marble, go to Beyond Carrara: 12 Splashy Marble Bathrooms.) 
Above: In the main dining room, a midcentury Sputnik light (which Brice also sourced at Skalar) hangs over a Jean Prouvé table and chairs. Note the Brice Gray on the window frames. The walls are a blush-colored plaster–"like Venetian plaster but not polished," says Flam.

Above: Moroccan tea glasses in the coffee station. Helen sourced the glasses and rugs in the hotel during her travels and also at Imports from Marrakech at New York's Chelsea Food Market.
Above: The restaurant opens off the entry hall, with stairs painted the same purple–Bistro Blue from Benjamin Moore–used to treat the floors in the bar and guest rooms.
Above: One end of the room has a red leather banquette lit with Alvar Aalto Bell pendants. After looking at "all the chairs in the world," says Flam, the team selected the stackable Cain Chair from Rochester, NY, design collective Staach: "It has very simple angles, it's comfortable, and the fact that it's made in New York won us over."
Above: Doors to the guest rooms have their original hardware, and each–now painted Brice Gray–has a hand-painted number on it. Photograph by Reunion Goods & Services.
Above: Each of the 10 rooms has a metal-framed Parsons Bed from Room & Board in a different color, plus its own bathroom. This room is called the Madeleine because Madeleine Albright stayed in it (in its previous incarnation) when she attended Chelsea Clinton's wedding in Rhinebeck. Photograph via WSJ.com.
Above: Paintings by the Mardens and their friends hang throughout the Tivoli. This one is by the late Rene Ricard. The table was one of several antiques found in the hotel and given a fresh look with Hollandlac Brilliant Paints from Fine Paints of Europe. The guest room walls are Benjamin Moore's White Dove (the top choice for an all-purpose white in our 10 Easy Pieces: Architects' White Paint Picks).
Above: The throw pillows and blankets are from ABC Carpet & Home. The windows have sheer roman shades plus a blackout roller shade that can be pulled down at night. (See why we're sold on shades in Remodeling 101: Simple Roller Blinds.)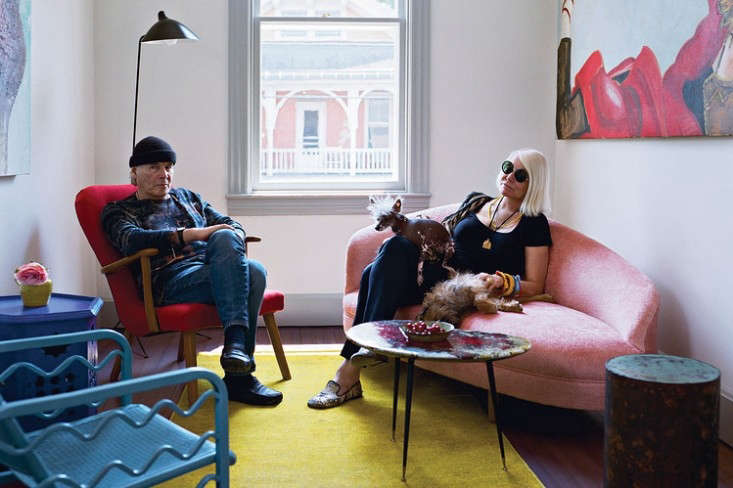 Above: Brice and Helen Marden in a second floor lounge (she's sitting on a chaise that they reupholstered in pink teddy bear fur). A portrait of Helen by Francesco Clemente hangs above her, and opposite one of her own paintings. Photograph via WSJ.com.
Above: The hotel is fronted by a porch and dining patio furnished with all-weather Lisboa Chairs from DWR. The designers made use of old iron fencing that the Mardens had in their garage and introduced a new metal hotel sign.
Above: Reunion Goods & Services also designed the hotel's coasters, postcard, and stationery, shown here, which incorporate drawings by Brice. Photograph by Reunion Goods & Services. 
Tivoli is about a two-hour drive (or train ride) north of NYC. Rooms start at $210 on weekends. For more details, go to Hotel Tivoli.
See more of Reunion Goods & Services's work in An Aspen Ski Bar Inspired by the National Park Service. Reunion recently merged with interior design practice Own Entity, whose work we featured in an Office Visit and Bathroom Roundup.
You need to login or register to view and manage your bookmarks.