It's no secret that one of our favorite clothing designers is Margaret Howell. Her understated, finely-tailored utilitarian clothing have been a mainstay of the UK fashion scene for more than 30 years. Americans may have yet to discover Howell's low-key chic, but the Japanese caught on early: this year marks the 30th anniversary of Howell's first boutique in the country, and she currently has almost 100 shops across Japan. Located in Tokyo's Jinnan-Shibuya district, her Tokyo flagship was designed by her longtime collaborator, William Russell of Pentagram Architects, and sports the same look and feel as his esteemed Margaret Howell shop on London's Fulham Road.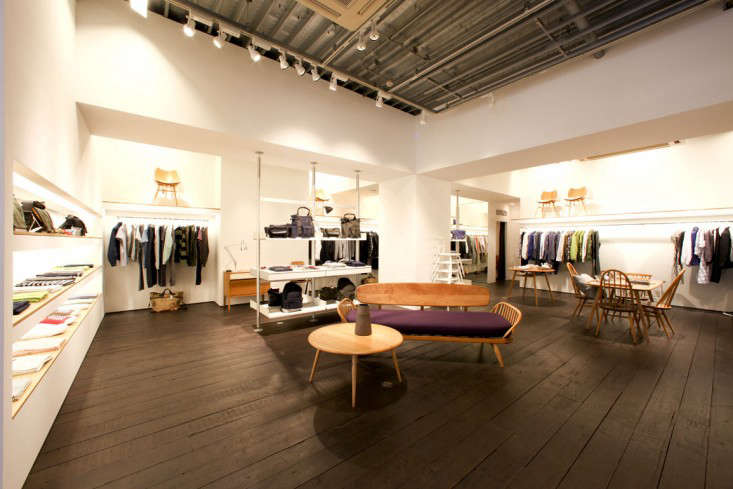 Above: The pared-down interior features a dark, rustic wood floor and designer William Russell's trademark continuous clothes rail along the perimeter.
Above: A champion of classic British design, Howell collaborated with UK company Ercol Furniture in the reissue of four designs from its archive, including the black love seat and stacking chairs shown here. The teapots are the classic Brown Betty from Britain. Photograph via Flickr.
Above: The stacking chair, a 1957 design, on display in white.
Above: In addition to fashion, Howell offers a small collection of pared-down tableware. Shown in the foreground are a set of five Concentric Trays by Asaf Tolkovsky. Photograph via Pentagram.
Above L and R: The shop has its own Margaret Howell cafe, which opens onto a terrace with outdoor seating. Photograph by UniversoTokyo.
Above: At the cafe, Brown Betty cookies and the house rhubarb jam.
For more on Margaret Howell, see Out of the Closet: The Essential Minimal Wardrobe Revisited, Classic Placemats from Margaret Howell, and the Margaret Howell key holder. For shop locations and a look at her latest lines, go to Margaret Howell. 
Intrigued by the classic furniture reissues? Read about Christine's obsession with the Ercol Chair.
You need to login or register to view and manage your bookmarks.