One of the best things about having friends who cook (apart from the obvious benefit of the great meals they whip up) is that you can learn so much from them. I have managed to add to my culinary skills over the years just from watching, or better still, cooking alongside such friends. When I received a copy of Heidi Swanson's latest cookbook, Near & Far: Recipes Inspired by Home and Travel, I was taken with the way she had divided the book into recipes from different areas of the world. Each chapter begins with a pantry list of relevant ingredients, and it got me wanting to know more about her batterie de cuisine and what little tidbits I could learn from her kitchen. Although she has shared plenty of her ideas over the years on her website 101 Cookbooks, I was angling more for a behind-the-scenes look. With that in mind, I swung by the San Francisco home she shares with her partner, Wayne Bremser. Not so surprisingly, there were some good takeaways.
N.B.: Win a copy of Near & Far by entering our Gardenista Giveaway contest.
Photography by Heidi Swanson.
Remodelista: Your kitchen is pretty simple and spacious. You don't have a lot of things in it, do you?
Heidi Swanson: Yeah, I like the kitchen as a blank slate; a place that evolves over time. I keep it as a neutral space that changes personality according to what's in season.
Above: A simple white space decorated with bunches of oregano, fennel in a vase, and a sprig of drying peppercorns over the window.
RM: Do you always have herbs on hand?
HS: I'll keep whatever herbs I pick up at the market out on the counter, and they change a lot throughout the year. A friend just brought me some fennel, which I'll use for cooking, and those are peppercorns hanging from the window. Sometimes there are four or five different bouquets around.
RM: Let's talk about your marble countertops. I think you launched the whole white-marble-as backdrop look that's so prevalent on cooking sites.
HS: The thing I get the most questions about is the marble. People are obsessed with the marble, and they seem really preoccupied with it being perfect. I don't do any sealing, as I like to have it as clean and chemical-free as possible. I do pastry here, and if I do get some lemon juice on the counters they'll get some etching but I don't beat myself up about it. There are two things I'm careful with, and that's saffron and turmeric. Even with micro-drops, you'll end up with yellow freckles. That's really the only thing that I'm careful with–and maybe red wine, but we don't really drink that much red. It's not the end of the world if there are some etching marks. I cook in here a couple of times a day and I like a kitchen that is being used–it's not meant to be a show kitchen.
Above: Heidi's preferred pots include copper saucepans (L) and a clay bean pot (R).
RM: Go-to pots and pans?
HS: Generally speaking, I am more of a fan of individual pots versus sets, and I try and buy individual pieces. I have a clay pot for beans that I picked up at Rancho Gordo (for something similar, see our post on Bram Clay Pots in Sonoma), and I love that it goes from the stovetop to the table. I mostly cook with de Buyer copper pans–they're super responsive and beautiful and I love cooking in them, but I'm not obsessive about polishing them; I like the patinas they develop over time.
RM: Do you like your Viking oven?
HS: I'm not an appliance geek; the Viking came with the house and it's been great. I expect appliances to do their job; I just want them to perform and work. I need it to be accurate and on point, which is really important when I am making recipes and testing. I do use a thermometer in the oven to double check the temperature to make sure it's consistent.
Above: Heidi's go-to culinary add-ins at the ready.
RM: You refer to this corner in the kitchen as "the neighborhood of tasty bits and treats."
HS: I have a few things around that allow me to throw together a quick-ish meal on a day-to-day basis. We are here in our kitchen a lot, but I also spend a lot of time in the Quitokeeto studio, so it's nice to pack a lunch and then have something left over for that night or the weekend. These are things that I can just add to a bowl of grains or a salad. I like these crispy shallots that I just made that I can throw on a salad or say, if it were spring and I brought some nice asparagus home from the market, I can quickly saute them, then flare them out with some toasted almonds and add a spice blend. I try to keep things around so I am not completely cooking from zero.
Above: Heidi stores her spices in glass jars with pink washi tape labels.
RM: Any spice wrangling tips?
HS: I like to store my spices in glass containers. It's better than a thousand spice baggies crammed in a drawer, but I do lose my battle with the spice situation. I pick up spices one at a time, so I've always got a bit of spice creep going on; bags of poppy seeds and sesame seeds, just whatever I've come across.
Above: Heidi keeps her knives out in the open, stored on magnetic knife racks that Wayne made. She likes the rack so much that she commissioned the Jacob May Bleached Maple Knife Strip, available on Quitokeeto.
RM: Knife obsession?
HS: This Nakiri Knife is a beauty, and I use it a lot. It's a Japanese hand-forged knife and I use it for vegetables. It's quite thin so I can't do a winter squash, and I steer clear of anything that may crack it, but it's great for so much. I'll wipe it clean as soon as it's done and put it aside. If I go somewhere, say to someone's cabin, I'll use the box it came in.
RM: You have quite a pile of chopping boards.
HS: Yeah, I use them for cutting boards and as serving boards, and I've accumulated a few over the years. There are some Jacob May boards and one from Nikole Herriott and some others I've picked up. I love all of them and use them in different ways depending on what I am doing.
RM: Do you have a specific board for garlic and onions?
HS: Ha, no way–that would never work here. I cook a lot with friends in this kitchen and I don't see communicating that vision to whoever is here. People just grab what they need.
Above: A pile of mismatched linens, fresh from the dryer.
RM: Do you have any preferred linens?
HS: It's a mixed bag. I'll pick some vintage linens up at the Alameda Flea Market, and my friend Chanda gave me some. I don't do matchy, and we use them, so they stain. If we sit down for lunch, I'll literally pull the linens out of the dryer and I'll fold them and put them right on the table; I'm definitely not ironing my linens.
Above: Less is more when it comes to dinnerware.
RM: What about plates and dishes?
HS: I keep a collection of hand-thrown bowls and market finds, but I don't have a lot of one thing. I do have enough to have people over. I am not into matchy-matchy, and I keep things for a long time. It's not about accumulating things–I only add it if makes sense. A lot of things come from people I know, people I have a relationship with, like the ceramics and boards and some of the ingredients. It's comfortable to be surrounded by these things and inspiring to work with them.
Above: A collection of beans and grains stored in jars, with one jar devoted to remainders.
RM: How do you typically store your food?
HS: For beans and grains, I try to buy in bulk and I will put each different one in a jar–I use mostly leftover jars that I save for this use. Sometimes I have some stragglers left in a jar, so I started dumping my leftover beans and grains into a single jar. When it gets full, I throw together a soup. In a perfect world, I would cook the different beans individually, but say it's a Sunday night, I just throw them all in together and cook until the one that takes the longest is done.
RM: What's in your fridge right now?
HS: Really? What's in my fridge? Well, there's some ancho chile relish and some orange tahini salad dressing.  I always keep a salad dressing in the fridge that I can chuck on a quinoa bowl, or at this time of year I will roast some cherry tomatoes down that I can then throw on anything from a frittata to a grain bowl. They're just good flavor additions. There's some nuts I had out on the counter, but since I am not going to go through them I popped them in the fridge. I'll do the same with grains. Yesterday I made some coconut rice. Since there's only two of us, I'll cook extra then freeze it and thaw out for lunch later. I'll do the same with beans. If I have vegetables that I am not using immediately, I'll prep them, then put them in a bag and use within a couple of days.
Above: Notes for an upcoming recipe lie beside a Nakiri knife next to the stovetop. The waffles are breakfast leftovers (made for Heidi's nephew, Jack) waiting to be turned into croutons.
RM: Do you always take notes?
HS: If I think I am going to develop a recipe, I do my best to make notes as I'm cooking. I never wait until after and try and reconstruct the process on paper. I also jot down things that resonate, like the great beet salad we just had, so I don't forget. I'll add little photos, too. Right now I'm developing a recipe for whipped green chile goat cheese, so I'm taking notes on that.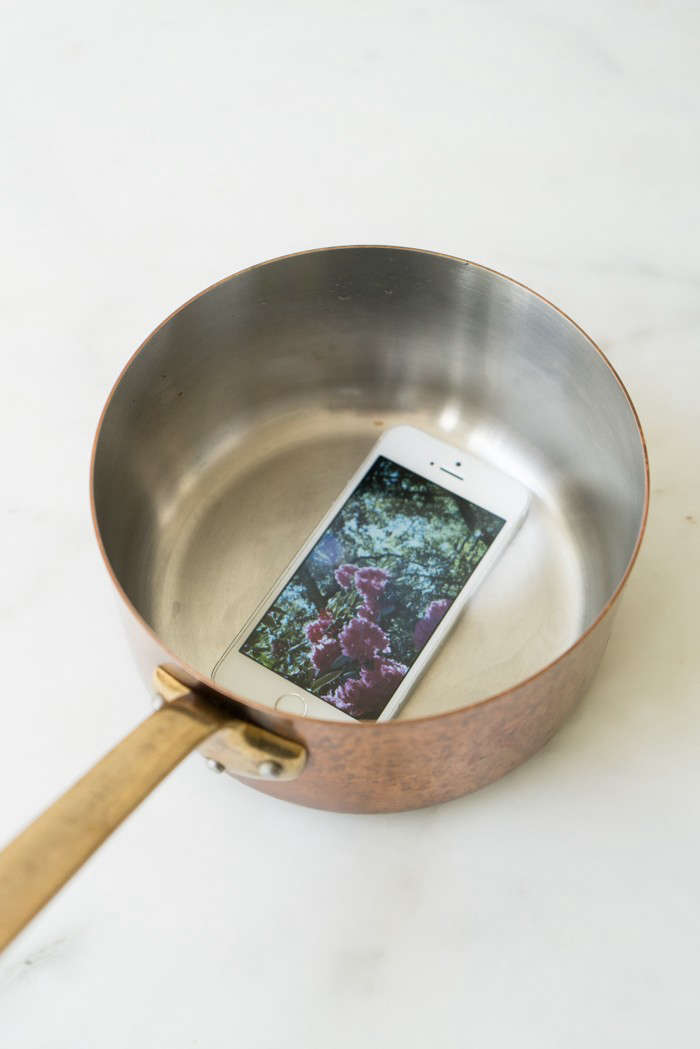 Above: A copper pan doubles as a sound amplifier for Heidi's iPhone.
RM: Any other kitchen tips?
HS: This might not be be very Remodelista, but if I'm here by myself I'll listen to a podcast. Kitchens can be loud, so I'll throw the phone into a copper pan and it acts like a speaker. When I'm at the studio, I'll use a ceramic bowl.
Above: Near & Far: Recipes Inspired by Home and Travel is the latest cookbook from Heidi Swanson and is available from Amazon for $16.49. We're giving away one copy to a reader; enter the contest on Gardenista here.
For more on Heidi, see our post on her prior book, Super Natural Every Day. To read about another food blogger/photographer, see our post on Beth Kirby's Kitchen Remodel.


(Visited 1,076 times, 3 visits today)
Frequently asked questions
What is Heidi Swanson's new cookbook called?
Heidi Swanson's new cookbook is called 'Near & Far'.
What type of recipes are included in 'Near & Far' cookbook?
'Near & Far' cookbook includes vegetarian recipes inspired by Heidi Swanson's travels around the world.
Where can I purchase 'Near & Far' cookbook?
'Near & Far' cookbook is widely available at bookstores and online retailers.
What are some of the secrets revealed in 'Near & Far' cookbook?
'Near & Far' cookbook reveals the secrets of the Swanson kitchen, including favorite ingredients, pantry staples, and cooking techniques.
Does 'Near & Far' cookbook include gluten-free recipes?
Yes, 'Near & Far' cookbook includes many gluten-free recipes.
Are the recipes in 'Near & Far' cookbook easy to follow?
Yes, the recipes in 'Near & Far' cookbook are easy to follow with step-by-step instructions.
What is the cooking style of 'Near & Far' cookbook?
'Near & Far' cookbook emphasizes fresh, healthy ingredients and simple cooking techniques.
Can I find tips and tricks for cooking and entertaining in 'Near & Far' cookbook?
Yes, 'Near & Far' cookbook includes helpful tips and tricks for cooking and entertaining.