Scandinavian contemporary kitchens are known for their pale, stripped-down allure. But this custom design by KBH Københavns Møbelsnedkeri (translation: Copenhagen Cabinetmaking) plays against type. Equal parts refined and homey, it's composed of fumed oak, dark stone, and patinated brass mingled with artwork and patterned tiles. A combination island/breakfast counter dominates the floor space. Look closely and you'll spot the world's chicest appliance garage. and there's a true hearth in the center of it all.
Photography by Line Klein (@linethiktklein), courtesy of KBH Københavns Møbelsnedkeri.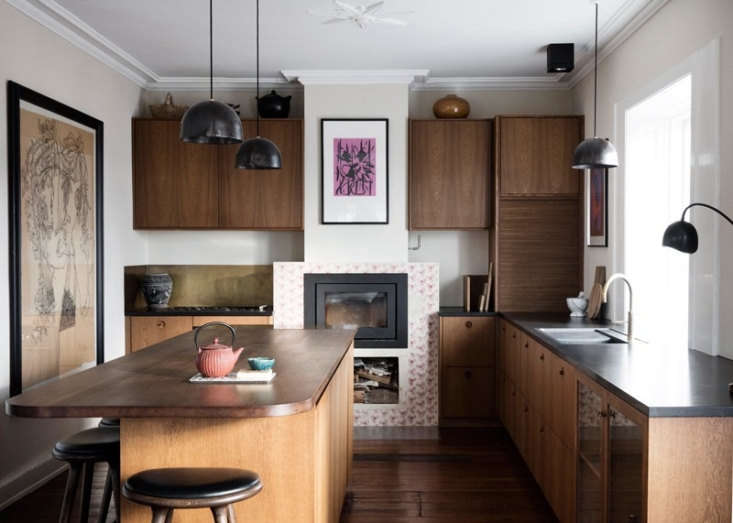 The couple worked closely with KBH: "We told them all of our dreams and needs, and they came up with different scenarios," says Rebecca. "Peter and I started collecting contemporary art when we met 25 years ago, and we have a bit of a fetish for fireplaces; the KBH team were extremely clever in making sure that everything was incorporated."
The domed lights are the KBH Lamp in gun metal. KBH was founded in 2006 as a small workshop devoted to applying traditional woodworking techniques to bespoke kitchen designs. The brand has since expanded to include a Copenhagen showroom and online furniture and lighting collection. A NYC showroom is currently in the works.
To see an impressive kitchenette by KBH Møbelsnedkeri, go to The New Nordic A-Frame.
The workshop's popular pivoting mirror is featured in Model/Design Ambassador Camilla Vest's Soho Loft (get the details in Steal This Look).
(Visited 155 times, 1 visits today)