Is it time to say good-bye to the obstructionist solid door and introduce some more light into your life? Consider French doors. These combination windows and doors create a sense of space as they flood rooms with sunlight. And new glass technologies mean that security and insulation concerns of the past are in many cases outdated. Read on to find out whether French doors are the answer for you.
Exactly what are French doors?
French doors, also known as French windows, are doors of varying sizes that are composed of panels of glass. They traditionally (but not always) come in pairs and are hinged, with either an in-swing or out-swing. They're used as both interior and exterior doors: They often link two rooms, such as an adjacent living and dining room; they also commonly provide access to balconies, patios, and gardens.
Who invented French doors?
No individual can take credit, but French doors have a history rooted in France. They're said to have been influenced by Italian Renaissance architecture and its emphasis on light and symmetry—a style that migrated to France after the Great Italian Wars of the 16th century. Aesthetics combined with a pre-electricity dependence on natural light and the increased availability of glass led to more windows—and an expansion of those windows into doors. Because glass was fragile and expensive, it was installed in small panes with mullions in between. The mullions and door frames were typically made of wood or wrought iron for structural stability as well as for looks.
What are the benefits of French doors?
In addition to adding a certain je ne sais quoi, the advantages of French doors include:
Providing a visual bridge between indoors and out, or between adjoining rooms.
Expanding your warm-weather living space by opening out to a patio, balcony, or garden.
Letting the sunlight in without letting warmth escape (and in the summer months, without letting coolness escape).
Expanding the sense of space in a room.
Bringing natural light into an interior room or hall that doesn't have windows.
Filling wide openings–and creating a flow–between rooms. And conversely, enabling adjoining rooms to be closed off from each other as needed, such as for noise or heating reasons.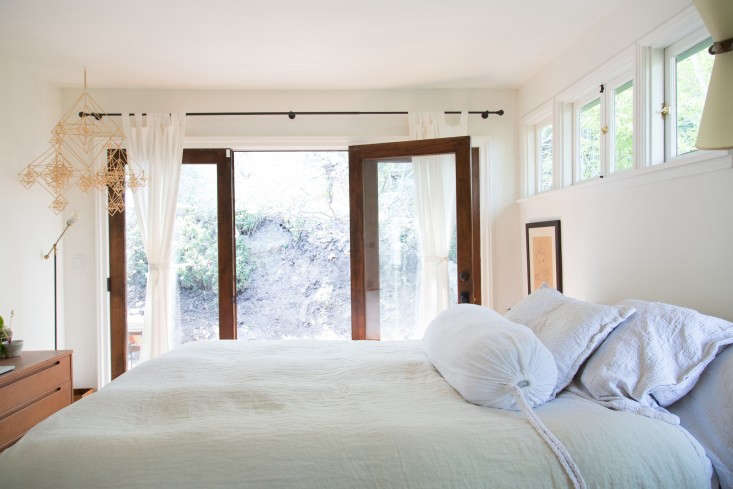 Are there different types and styles of French doors?
Originally differentiated only by their number of panes, or lights, French doors are available in myriad styles and materials, ranging from single pane (called one light) to 10-light styles (2 panes by 5 panes) set in frames made of wood, steel, aluminum, and even fiberglass. Clear glass is most common, but in settings where some privacy is desired, opaque glass may be used.
French doors are traditionally hinged. You can also find sliding, louvered (folding), and pivot French doors–there is some debate about whether these variations are really French doors, but regardless of semantics, they're options worth considering.
Where can I use French doors?
Exterior:
Introduced to provide access to outdoor living spaces, exterior French doors are most commonly used as openings onto gardens, patios, and balconies. Because of security concerns–visibility and easy break-ins–they have not historically been common for front doors. The advent in recent years of tougher and better insulated glass has changed that.
Interior:
French doors can be used effectively as dividers between linked rooms, especially in cases where privacy is not a concern. We've also seen French doors in nontraditional locations, such as in bathrooms as shower surrounds.
What types of French doors are available?
Wooden French doors
Interior French doors
Exterior French doors
Steel-framed French doors
uPVC French doors, a type of plastic
Narrow French doors
Any tips for designing and installing French doors?
Don't forget the door swing. French doors are available with either in-swing or out-swing fittings. Measure your space and plan accordingly.
Consider the glass. If your doors get direct sunlight, think about tinted or coated options that will keep floors, furniture, and art from fading. Opaque glass is a good option in settings where you want light with privacy. And for exterior doors, double-paned or low-E (low emissivity) glass, which is coated with a heat-reflective material, is recommended for insulation.
Source new exterior doors. While old French doors are enticing for their looks (and, in the case of reclaimed doors, use of recycled materials), keep in mind that for exterior applications, new doors have better security, insulation, and durability.
Make them weather-proof. Exterior French doors should be fitted with weather stripping to keep the elements out.
Measure your door size. Doors with standard opening sizes can accommodate pre-hung French doors with ease. Openings in older houses, however, are anything but standard and customization may be required. We recommend consulting a professional.
Consider the locks. Exterior French doors generally require a three-point system that locks the door to the head jamb and the sill for good security.
What about the cost and sources?
French doors are more expensive than standard exterior sliding doors and basic solid interior doors. That said, prices are as variable as each setting. It depends on the specific doors you're considering: French doors may be more affordable than high-end architectural pivot doors, for example.
In terms of sources, architectural window manufacturers such as Pella, Marvin, and Andersen offer a range of French doors. Reclaimed doors are available at architectural salvage suppliers. For metal French door sourcing, see Remodeling 101: Steel Window and Door Fabricators.
French Door Recap
Pros
Brings natural light into rooms
Increases sense of space
Creates a visual connection between indoors and out, and between rooms
Lightweight
Cons
Requires floor space for opening
Provides minimal privacy
More expensive than sliding doors or basic, solid interior doors
More windows to clean
For more remodeling advice, have a look at our previous Remodeling 101 posts. Considering doors, windows, and trim? See:
N.B.: This post is an update; the original ran on July 17, 2014, as part of our Bastille Day issue.