When Rony Vardi and Dwight Weeks first toured their townhouse in Brooklyn's Carroll Gardens, they were delighted by its sloping charm: "We said, all we have to do is add a dishwasher and straighten the stair," Vardi tells us. "Well, it turns out crooked stairs are not a small fix—they mean the house is sinking."
Wanting to stay in the neighborhood but to leave their tight rental behind, the couple—she's the owner of the popular Williamsburg jewelry boutique Catbird, he's an artist, and they have two kids—went ahead with what turned out to be a two-year gut renovation: The exterior of the house got shored up and the interior was entirely reenvisioned, open-plan living floor and garret addition included.
To get the job done, they hired husband-and-wife architects Anshu Bangia and William Agostinho of Bangia Agostinho, neighbors and fellow parents whose clean-lined designs and collaborative spirit felt just right: "We had very specific ideas about what we wanted, including that new stair," says Vardi. "They guided us every step, but let us use our own voices." As would be expected, what Vardi terms "major scope creep" defined the project—but without regrets: "We excavated the basement and built up: It was a case of us thinking, 'Well, we already have to do this to shore up the structure, why not do that?'" Among the achievements: a house that's not only built to last but to be fully lived in. Come see.
Photography by Pia Ulin, courtesy of Bangia Agostinho Architecture.
The downstairs, previously a studio with a dirt crawlspace, is now a duplex rental apartment occupied by close friends of the family who have young kids of their own. The new top floor addition is clad in standing-seam metal and has angled steel windows: "It serves as an architectural material break from the brick, and provides a sense of this as a secluded attic for living," says Bangia.
Vardi and Weeks took on the furnishing of the house themselves: "We wanted it be unfussy: not overly considered, just natural." The Hamilton Leather Sofa is from West Elm ("They kindly held it for us for a year"), and the Moroccan Poof is from John Derian. "Pretty much everything else we already owned or found along the way at the Brooklyn Flea," says Vardi, noting that layering vintage rugs is "so much more forgiving than picking one statement design." The Audubon bird print to the left of the front door was a long ago purchase: "It's what inspired the name Catbird for my store." The stacked suitcases hold "the kids' keeper art."
The couples' collection of thrift store portraits are joined by a vintage school map. (For similar botanical posters, see Nature Conservancy.) The draped Eames chair came out of Weeks's childhood home.
Set against a painted brick wall, the kitchen is composed of half-height Ikea cabinets with a combination of fronts from SemiHandmade (see Ikea Upgrade: The SemiHandmade Kitchen Remodel) and custom parts, especially on the work island. It's painted in Old Navy from Benjamin Moore.
The Bottom-Freezer Refrigerator is a Viking; note the pots-and-pans pegboard on the side of its custom enclosure. The appliance next to it is a built-in microwave. The range is a Viking.
Vardi's mother is a kitchen designer and the porcelain farmhouse sink came out of her garage. The satin nickel Pullout Faucet is from Rohl.
The white surfaces throughout the house are in Decorator's White from Benjamin Moore. And stair treads, like the ones in Paris, are painted pale blue—Benjamin Moore Blue Haze—which Vardi points out "show dirt slightly less than if they were white." On the bedroom floor shown here, the architects cleverly slotted a bookshelf into the stair wall.
Here, the painted wide-plank flooring is the original pine subfloor, "salvaged during construction, planed and grooved on site, and reinstalled," says Bangia. And, thanks to the extent of the interior teardown, they were able to install subfloor heating throughout.
Vardi said they had trouble finding a simple, outsized mirror—and then discovered they could order one from their local framer. The preserved original brick and glass shower are reflected here.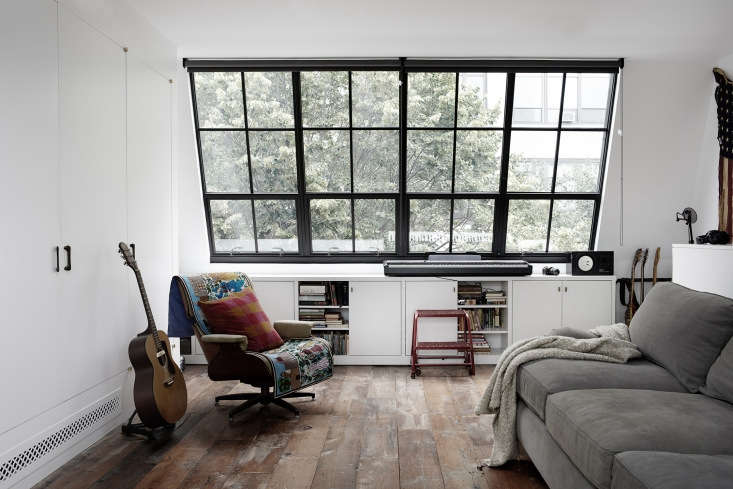 The room was a complicated, late-stage splurge that's in constant use—for practicing music, doing homework, making art, and more. The sofa doubles as the guest bed. The steel-framed window, another Paris inspiration, was made by Optimum Window.
The family's supplies, such as tools, batteries, and duct tape, are kept in classic metal school lockers found by Weeks; installed on their sides, they fit perfectly. (Find similar
Black Lockers
from Global Industrial.)
Why fake grass? "Because it's the greatest," says Vardi. "Five kids play here, it drains well, we have fewer mosquitoes, and no one has to mow." Read about the pros and cons of artificial turf in Hardscaping 101.
The tour continues: Here are three more of our favorite townhouse rehabs (the first is another by Bangia Agostinho):