This weekend we turn the spotlight on New York architect Lauren Rubin, a member of the Remodelista Architect/Designer Directory, who recently doubled her clients' living quarters by combining two studio apartments in a 1930s Art Deco building on the Upper West Side. Many of the original architectural features–including leaded glass windows, basket-weave parquet floors, tiling in the bathroom and kitchen, and a sunken living room–were still in place. Rubin's brief was to join the two spaces while saving as much of the Art Deco detail and charm as possible. Her results: a skillful intertwining of the existing with a new, modern aesthetic.
Photography by Alyssa Kirsten.
Above: Rubin created an open kitchen into the original sunken living room by removing a wall of what was previously a galley kitchen.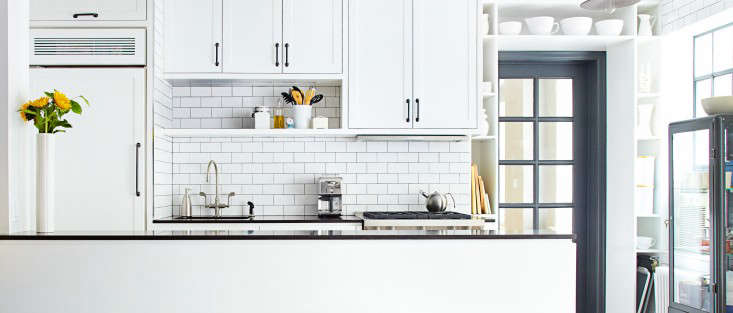 Above: In the kitchen, white subway tiles hark back to New York in the thirties. See Remodeling 101: White Tile Pattern Glossary for other ways to use white subway tiles.
Above: An Eames Lounge Chair anchors a light-filled corner. The leaded glass windows were scraped, repaired, and painted.
Above: A gray feature wall in the living room displays art en masse.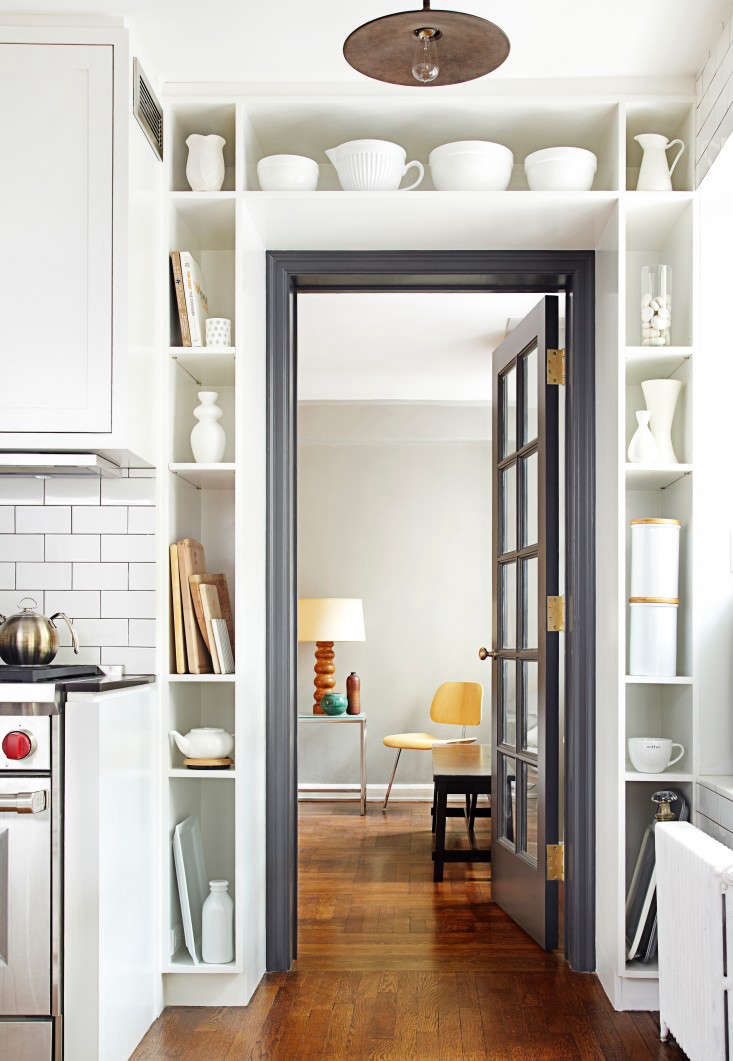 Above: Rubin inserted storage around the frame of the door to the master bedroom. The aged basket-weave parquet floors were in fragile condition and could only take a light sanding. Rubin then selected a dark stain to hide nail heads and imperfections caused by wear and tear. 
Above: In the master bath, white hexagonal marble floor tiles and white subway tiles reference bathroom detailing in the neighborhood's "prewar buildings"–those built before World War II.
Above: Rubin used small marble subway tiles to create a wainscot that wraps around the bathroom.
Before Photos
Above L and R: The original kitchen and bathroom.
Above L: Another view of the old kitchen. Above R: The sunken living room was previously used as a bedroom. 
Above: The floor plan details how Rubin combined two studios into a two-bedroom, 1,069-square-foot apartment.
Above: The existing conditions plan shows the two studios before they were joined.
For more New York living, see A New York Flat with a Glamorous View and The Architect Is In: Making the Most of Your Floor Plan. And on Gardenista, we're quite taken with The Spirit of Provence in a Walled Belgian Garden.
(Visited 47 times, 1 visits today)