From Mercedes to Miele to Montblanc, Germany is famous for its engineering—but in an increasingly globalized world, to be a German brand is not always to be manufactured in Germany. A notable exception is the wide range of precision-built kitchen systems that are still being made in Germany, some by companies more than a century old and applying the same techniques and workmanship as they did on day one.
Common in Europe but still a nascent concept in the US, kitchen systems make for one-stop shopping: Typically, a company designs a set of wall-mounted or freestanding cabinetry and workstations down to the minute details. Clients choose finishes from a set of options, then add any fixtures and appliances they want. Most components are built to order, since they're entirely customized to the dimensions of each space.
But custom means expensive, and the highest-end kitchen systems tend to cause sticker shock. On the other hand, a high-end kitchen compiled piece-by-piece can surpass the cost of a kitchen system in no time. To bring prices down, many companies now offer part-standard, part-custom solutions.
Here, in no particular order, are nine kitchen systems from German companies to know about.
1. Alno
Above: Founded in 1927, Alno makes its kitchens in Pfullendorf in the south of Germany. Established as a top-of-the-line brand, the company has expanded to include several lines at varying price ranges. Shown here is a combination of Alno's Natureline island in wild oak and Highline high-gloss white laminate cabinets, finished with Miele appliances and Corian countertops. The design is by Halcyon Interiors of London, a specialist Alno dealer. For showrooms across the US, visit Alno.
2. Bulthaup
Above: Family-owned since its founding in 1949, Bulthaup and its competitor Poggenpohl are arguably the premier names in German kitchen systems. Shown here is a b2 concept kitchen with a stainless steel workbench and oak cabinets. Though the system can have myriad configurations, it's made of three basic parts: the workbench (fitted with stovetop and sink), a cabinet for appliances, including fridge and oven, and a pantry and tools cabinet. For more from Bulthaup, see Kitchen: Bulthaup Workbench and Remodeling 101: Five Questions to Ask When Choosing Kitchen Cabinets. Visit the Bulthaup Dealer Search for showroom locations around the world, including New York and LA.
3. Eggersmann
Above: Eggersmann is a relatively small manufacturer with a production output of roughly 6,000 kitchens each year. Founded in 1908, it's the oldest family-owned kitchen maker in Germany. Since 2006, the company's look has gone increasingly minimalist, and it recently added closet systems to its lineup. Shown here is an Eggersmann kitchen in House Hamburg. Visit Eggersmann for dealers across the US.
4. Holzrausch
Above: Holzrausch is an interior design firm with its own manufacturing arm and a growing portfolio of modular kitchens. The Labsal handmade kitchen shown here is intended for cooking enthusiasts with small spaces (as well as for investors looking for a compact but luxe kitchen for high-rise housing). Other kitchens in the portfolio include the Childproof kitchen and Pythagoras kitchen designed to fit neatly under a pitched roof. For more from Holzrausch, see 15 Storage Ideas to Steal from High-End Kitchen Systems. There are no Holzrausch locations outside of Germany; contact the company to inquire about availability.
5. Next 125/Schüller
Above: Next 125 is a new high-end brand from established German kitchens manufacturer Schüller, which makes more than 100,000 kitchens each year at its factory in the Franken region. Shown here is an NX 902 kitchen of satin glass in matte Polar White. Contact Schüller for a dealer outside of Germany.
6. Poggenpohl
Above: Founded in 1892, Poggenpohl is the oldest kitchen company in the world and manufactures in Hereford, Germany. Now owned by a Swedish conglomerate, it distributes kitchens to 70 countries via 450 Poggenpohl design studios and is famous for its hardware add-ons and storage accessories. Shown here is a Pure kitchen from Goldreif by Poggenpohl, the company's most affordable line. For another Poggenpohl kitchen, see A Grand but Understated Flat in Paris. Visit Poggenpohl's Studio Search for showrooms across the US.
7. SieMatic
Above: In 1922, SieMatic began making kitchen "dressers," which were something like china hutches. It produced its first full kitchen in 1953 made of Japanese elm. Today the company makes three kitchen lines: Pure, Classic, and Urban (the last is being revealed later this year). Shown here is a kitchen from the Pure collection in a Paris apartment, with matte black lacquer surfaces and aluminum cabinet interiors. For an impressive SieMatic drawer (with designated places for spices, knives, flatware, and tools), see Mise en Place: Kitchen Tool Drawer Organizers. See another with a tarnish-resistant cloth lining in Domestic Dispatches: The Death of the Dining Room. Visit SieMatic's Showroom Search to find the US dealer nearest to you.
8. Warendorf
Above: Warendorf was created as an offshoot of Miele in 1973, and until 2010 was still branded as Miele Kitchens. A growing brand with three stores in Germany, Warendorf has distribution in 24 countries and recently collaborated with Philippe Starck. The Hidden Kitchen shown here (and featured in our post on Minimalist Concealed Kitchens) has an electric panel that hides all when not in use. In the US, Warendorf contracts with dealers in San Francisco, New York, and Hollywood, Florida.
9. Wiedemann Werkstaetten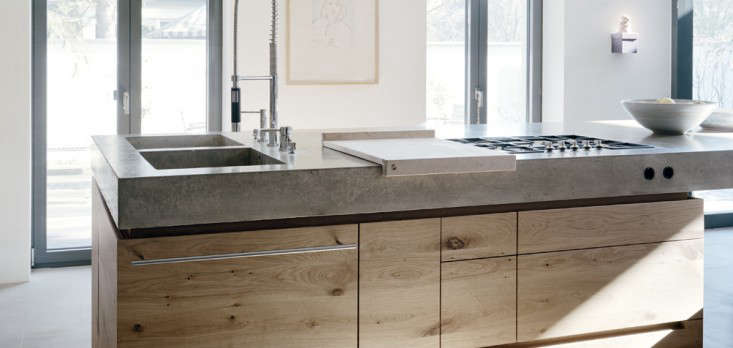 Above: Wiedemann Werkstaetten is a third-generation, family-owned company based in Munich. Now run by Georg and Lucia Wiedemann, the company also makes storage units, staircases, and custom architectural details. Shown here is the Beton Eiche P kitchen of concrete and oak (with cooktop knobs inset into the concrete countertop and matching benches that tuck under the cantilevered work surface). For more examples, see a Modular Kitchen Island by Wiedemann Werkstatte and A Kitchen Made from Eight Oak Trees. The company's showroom is in Munich.
For more European kitchen systems, see:
Finally, get more ideas on how to improve your kitchen storage and organization in our Remodeling 101 Guide: Kitchen Storage & Organization.
You need to login or register to view and manage your bookmarks.