Rising Danish fashion and textile designer Line Sander Johansen emerged from graduate school in 2012 with plenty of commercial interest in her work, but a disinclination to send her garments "out of the country for production far away, not having my hands on them anymore." Instead, she did the opposite: Using an antique Singer sewing machine and a needle and thread, she began working with fashion remnants, stitching together cast-offs into beguiling window panels, placemats, and pillows. Of her limited-edition production Patchwork Series she says, "I have a deep appreciation and interest in the abandoned."
Photography by Line Sander Johansen.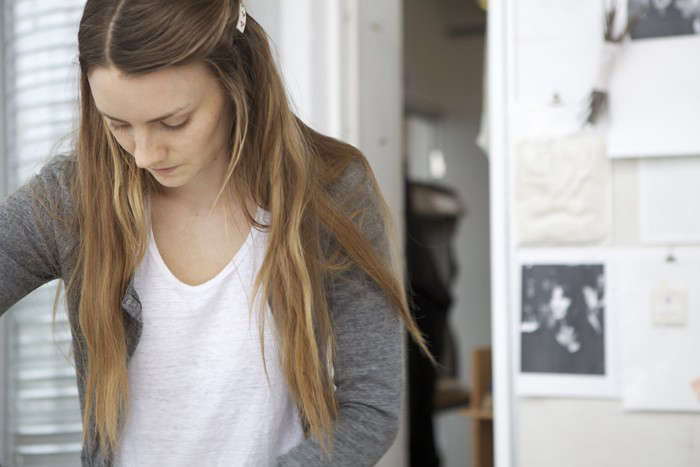 Above: Line in her Copenhagen studio. She grew up in the countryside in Denmark with dreams of becoming an artist and archaeologist who makes clothes. After studying fashion and working as an intern for Ann Demeulemeester in Antwerp, she went on to get an advanced degree in women's wear design and found her eponymous label.
Above: Line makes throw cushions out of organic cotton, hemp, and linen scraps using both machine and hand sewing; they start at $124 for the 25-by-50-centimeter size and, like all her designs, can be ordered directly from her; send a query via her website Line Sander Johansen. A similar group of Patchwork Pillowcases are $110 each at Anaí¯se, the first shop in the US to represent her work.
Line's "mendings" grew out of a project during her studies that she called The Replica Collection: The Allure of a Traveler, in which she turned fabrics collected from around the world into evocations of travel. "I incorporate scraps gathered around the world into big pieces that were then dyed and cut up to be sewn. What I really liked about it was the life that's lived in the scraps themselves, the layers of stories to be shown."
Above: Each piece in the Patchwork collection is signed, stamped, and numbered. 
Above: Line's Scrapwork Placemats, no two alike, are $50 each at Alder & Co. She suggests using them not just on tables but for "personal object arrangements" and as wall hangings.
Above: A translucent window curtain incorporates tea-dyed scraps. Line's curtains and window panels are made to measure and also work well as room dividers.
Above: Line's studio in Copenhagen–she's a one-woman band: "I do everything myself–the dying, the composing, the stitching, and the photographing." In addition to working with fashion remnants, she gathers fabrics during her world travels and has an archive of scraps from Japan, the US, and Europe.
Above: Last spring, Line spent a month in Los Angeles as the artist-in-residence in architect Lindon Schultz's downtown loft. Her presentation, Abandoned Display, is shown here. (Take a look at Schultz's loft in Studio Visit: At Work with Two Downtown LA Pioneers.)
Line's designs can be found at Anaí¯se, Alder & Co, and ABC Home & Carpet. She's currently also at work on a small fashion collection and often collaborates with other designers; go to Line Sander Johansen to see more.
Browse our Fabrics & Linens posts for more of our finds, including:
(Visited 256 times, 1 visits today)