At Shark Tooth on Atlantic Avenue in Brooklyn, owner Kellen Tucker has been collecting vintage and antique patchwork quilts and over-dyeing them in deep shades of indigo. When I first saw her handiwork, I couldn't decide if it was brilliant or blasphemous to turn all that multicolored work monochrome.
But on closer inspection, I realized that not all is lost in the dye bath. Nuances of color still manage to peek through and, in many cases, the hand stitching appears all the more prominent without the distraction of patterned prints.
Maybe best of all, instead of these quilts languishing in attics, their owners too bashful of their brightly colored spectacle to put them to good use, the dyeing process has made them modern once again. As Kellen says, the goal for this collection is to "restore the usefulness, and temper the kitsch."
Shop the whole collection at Shark Tooth NYC.
Above: An over-dyed floral quilt has a new dignity in a strong solid shade of indigo; $300 at Shark Tooth. Tucker uses only natural dyes, which, in addition to color, add softness to the textiles.
Above: Louise Nevelson would approve: the classic log cabin quilt pattern gets a modern makeover in indigo; $275 at Shark Tooth.
Above: A colorful starburst toned down with a light wash; $425 at Shark Tooth.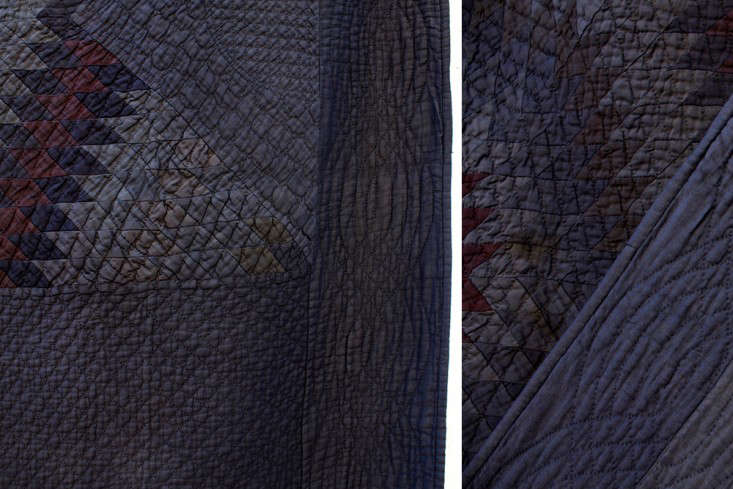 Above: Reds and greens and yellows, muted, but not gone.
See Over-Dyed Sling Chairs from Still and Co. for more experiments in super saturated furnishings. To embark on a natural dye project of your own see DIY: Black Walnut Tie-Dye Napkins on Gardenista.
(Visited 186 times, 1 visits today)