Last January, architects Annie Ritz and Daniel Rabin decided it was time to put their 1949 bungalow in LA's Silver Lake on the market. But first, to add value to the property and "give life to some ideas we'd been wanting to experiment with," says Ritz, they turned the house into a design project.
The two, who met in graduate school at the University of Toronto, had lived in their bungalow for three years and accumulated a familiar list of to-dos, from upgrading the baths to installing new windows. But more than anything, they wanted to remove the existing old Ikea kitchen and start anew. "And since we owned the house," Ritz tells us, "we decided to create a kitchen no client would ever ask for."
The gambit worked—the bungalow sold right away; the couple (whose individual résumés include working for Herzog de Meuron, XTEN Architecture, and Barbara Bestor) have recently opened their own firm, Studio Ritz Rabin; and the project was a finalist in the recent Remodelista Considered Design Awards 2017 in the Best Kitchen Space, Professional category. Come see why.
Photography by Lauren Moore, courtesy of Studio Ritz Rabin (@studioritzrabin).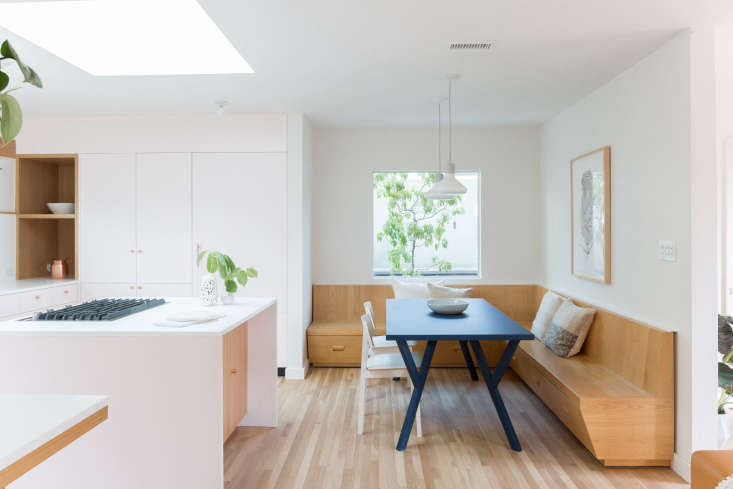 Working within the existing kitchen footprint, the architects introduced a prominent skylight over the island and anchored the breakfast nook with a large square window that overlooks a tree in a planter (lesson: create your own view). The built-in storage bench is the one existing element that they kept.
How to find the perfect shade of pink? "Our first try looked like bubblegum and the second round was too light," says Ritz. "Pink looks different throughout the day as the light shifts." After settling on A Touch Of Pink from Benjamin Moore, they subtly diluted it by mixing in 20 percent Benjamin Moore Atrium White, one of our Architects' White Paint Picks.
The bird's eye maple cutting board is an
Edward Wohl
.
Ritz and Rabin say they haven't done any more pink kitchens—"you can never do the same project twice"—but they currently have a pink dining room with a black-and-white terrazzo table and are designing a pink powder room for a client. "Friends and visitors don't always pick up on the color," says Ritz, "but they're drawn to these spaces. Pale pink just has a nice overall feel."
Pink has made inroads in quite a few kitchens of late. Take a look at 9 Rosy-Hued Kitchens from the Remodelista Archives.
For help on choosing the right paint color, see Expert Advice: The 10 Best Pink Paints.
You need to login or register to view and manage your bookmarks.