Founded by John DeForest, a native of Seattle who received architectural degrees from Yale and the Harvard Graduate School of Design, DeForest Architects is known for modern design that "plays well with others." Among the firm's projects: converting a certury-old auto warehouse into a church, developing a co-housing project in Honolulu, and bringing a modern edge to rural projects such as an organic farm in Iowa (see Architect Visit: Yum Yum Farm in Iowa). "We see ourselves as personal guides on great adventures in design," DeForest says. "We start by getting to know our clients through a series of homework assignments. Then we invite them to join in hands-on model workshops, mockups, and walkthroughs on site." Here's a look at DeForest's design process: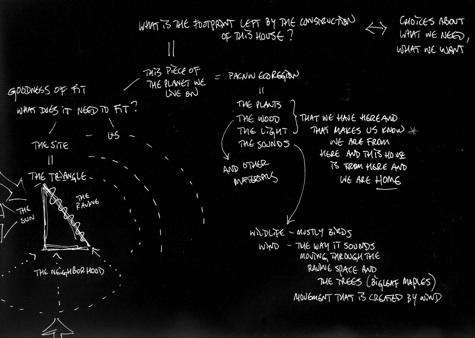 Above: DeForest Architects starts the process with a series of homework assignments for the clients. "This allows us to identify the core goals and personal inspirations and to really explore the potential of each project."
Above: DeForest's studio is anchored by a long kitchen table, covered with bins of model parts, material samples, and sketch paper to brainstorm with clients and colleagues during the ideation stage.
Above: The architects create a storyboard for each project to document ideas and inspiration.
Above: Model workshops give clients an opportunity to participate in the design process in three dimensions. Designers bring a pile of blocks to early design meetings, which makes it easy to discuss complex spatial relationships in an intuitive way.
Above: The architects create sketches to talk through ideas with clients and colleagues. "Our approach is driven by our desire to be innovative not only in what we design but in how we listen, learn, and work together."
Above: The architects create models and walkthroughs onsite to bring ideas to life.
Above: Project architects create a journal documenting the design process for every project, containing everything from the first "napkin sketches" and homework assignments through design and construction documents.
Above: The Yum Yum Farm in Iowa, a finished project by DeForest Architects.
(Visited 174 times, 1 visits today)