Before the advent of the stapler, documents were held together with thread, string, ribbons, and, in the case of legal documents, red tape. In 1879, American inventor George McGill came up with the McGill Single-Stroke Staple Press, which closely resembled a Singer sewing machine and loaded one staple at a time. But it did manage to drive that single quarter-inch length of wire through several sheets of paper before folding the wire at both ends with a thump-like push of the machine. By the 1920s, the stapler had been reduced greatly in size and with a spring-load action was able to hold many staples. As the 20th century progressed, the stapler took on more streamlined curves, which have given it an even greater air of efficiency as it continues to corral the papers on our desks. 
Five to Buy
Above: The Ace Pilot Stapler was introduced in 1938 by Chicago company Ace Fastener. This retro model, made of aluminum, is 6.6 inches long and 3.5 inches tall; $38 at Schoolhouse Electric. 
Above: The Folle 26 Stapler was designed in 1977 by noted Danish designer Henning Andreasen and is in the collections at the Museum of Modern Art and the Cooper Hewitt Museum in New York. Made of lacquered steel and iron, the stapler is 6 inches long and a mere 1.75 inches tall; $78 at Craft & Caro.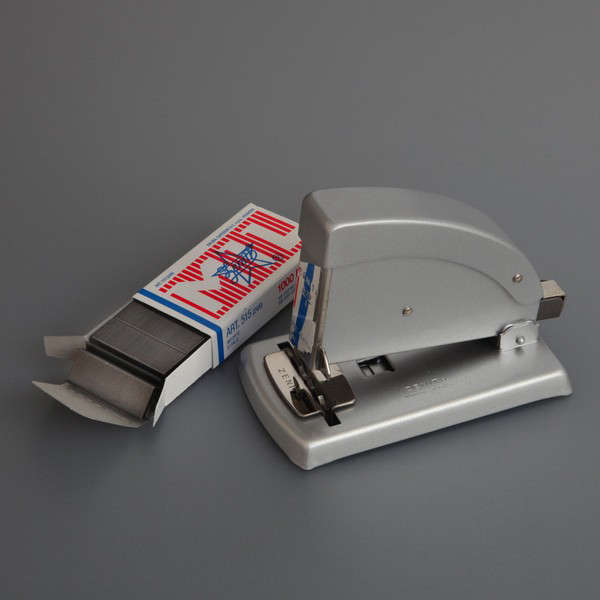 Above: The Zenith Stapler was designed in Italy in 1943 and took its inspiration from cars of the time. It's made of steel and enamel and is 10.5 centimeters long and 8.5 centimeters tall; £38 ($63), including a box of 1,000 staples, at Labour and Wait in the UK.
Above: Spanish company El Casco made its name in the manufacture of revolvers, but during the Depression it decided to add desktop accessories to its arsenal. Precision-made of chrome-plated steel, the El Casco Small Desk Stapler is featured in the Remodelista 100 in the Remodelista book. It's 4 inches long and 4 inches tall, and available in red or white at Kaufmann Mercantile for $109 (though it's temporarily out of stock). The El Casco Stapler in black and chrome is $116 via Trade Concepts on Amazon.
Above: Made in Sweden, this Stapler is Kiosk's choice for good-looking office efficiency. It's provenance is a bit of a mystery, but the duo behind Kiosk say that "based on our research, we would guess 1940s." Made of steel with rubber feet, the stapler is 7 inches long and 3.75 inches tall; $52.
Object Lessons columnist Megan Wilson is the owner of Ancient Industries and curator of the Remodelista 100, a collection of essential everyday objects presented in the Remodelista book. Watch for her column every Tuesday, and have a look at her past lessons on iconic designs, including two office favorites: the IBM Wall Clock and the Trusty Stainless Steel Tiffin Box. We featured her Connecticut shop in our post Purveyor of the Practical and the Timeless.
N.B.: This post is an update. The original appeared on September 2, 2014, as part of The Organized Life issue.
You need to login or register to view and manage your bookmarks.