In Mumbai, cars are stacked with household objects, buses are stacked with people, and bicycles are stacked with boxes; everywhere, things are piled precariously high and transported through the congested streets. No surprise then, that the stacked lunch box, or tiffin box, hails from this city. Since the days of the Raj, hot meals (or tiffins) have been delivered across the city by a complex but highly efficient system that relies on delivery people and trains and bicycles, rather than computers and trucks. After use, the tiffin boxes, with lids that double as plates, are collected and returned, thereby eliminating the packaging waste that comes with a takeaway lunch.
The tiffin box is usually made of steel and comes in several detachable spill-proof compartments. The lowest (and largest) tier is designed for rice, and the remaining two or three sections are used for separate courses. Because steel is a good retainer of heat, the meal can remain warm for up to two hours. A nice alternative to plastic, the tiffin box is gaining popularity outside India; here are five you might consider: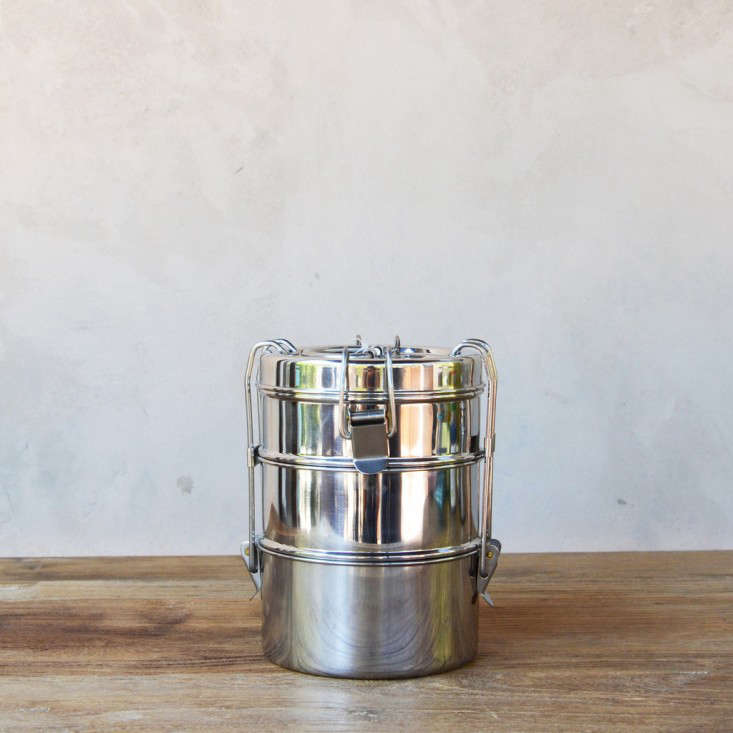 Above: The Three-Tiered Stainless Steel Tiffin Box, 6.75 inches high and 4.75 inches in diameter, is available at Green Tree General Store.
Above: The powder-coated Enamel Stainless Steel Three-Tiered Tiffin Box, 10 inches high and 5.5 inches in diameter, is made in India and available at World Market for $9.98.
Above: The tiffin boxes are attached by a series of latches and can be easily dismantled.
Above: The Hammered Steel Two-Tiered Tiffin Box, 5 inches high and 6.5 inches in diameter, is made in India and available at World Market for $9.99.
Above: The Four-Tiered Stainless Steel Tiffin Box, 16.5 centimeters high and 11 centimeters in diameter, is available at Toast for £24.00.
Object Lessons columnist Megan Wilson is the owner of Ancient Industries and curator of the Remodelista 100, a collection of essential everyday objects presented in the Remodelista book. Watch for her column every Tuesday, and have a look at last week's lesson on the Humble Cotton Cleaning Cloth.
Browse our 10 Easy Pieces and Domestic Science posts for more of life's essentials. And if you're a gardener, have a look at Gardenista's 10 Easy Pieces roundups on Trugs and Harvest Baskets and Kitchen Compost Pails, and more.
(Visited 179 times, 1 visits today)