We've been fans of Portland, Oregon-based Notary Ceramics—the project of ceramicist Sarah Van Raden—ever since she exhibited at our Portland Market a few years back. Since then, her vessels and artful flower frogs have popped up everywhere, well beyond the Pacific Northwest. But becoming one of the country's cult favorite ceramicists was not always the plan. Van Raden first took a pottery class in college, but didn't go near a wheel again until a decade later, when she signed up for a class at a local art school. After that, she was hooked: she saved up for a kiln and a wheel, transitioned from her job as a photo stylist, and cleaned out her basement to create a temporary studio.
It's the endless possibilities of clay that made Van Raden fall in love with ceramics, she says. The same can be said of her own house, a 1914 farmhouse in Portland. When she and her husband, Paul, found it, it was "old, not updated, charming, and in our very limited budget." But, as with a lump of clay, she saw the potential. About ten years after moving in, the couple (and their two daughters, Eloise (7) and Sylvie (5)) has just finished their latest project: a total kitchen overhaul. Join us for a first look at the quiet interiors—plenty of ceramics included.
Photography by Kris LeBoeuf, courtesy of Sarah Van Raden.
Above is the living room and entryway, with a custom oak coat rack made by Bruce Designs and a high shelf for Van Raden's collection of baskets, found at "antique stores and estate sales." Above the sideboard (found "at a barn sale in rural Oregon") is an antique chalkboard, a gift to Paul from an old bakery he managed. The couch is from Ikea.
Case in point: the open area in the foreground was once the dining room, before the couple turned a back mudroom into a sunny dining area. Now, there's breathing space left between living room and kitchen. The hanging light is actually a woven basket purse from Bali.
Note the dishwasher, now next to the sink. The concrete counters are by Coulee Concrete in Portland. (For more on the pros and cons of this countertop material, see Remodeling 101: Concrete Countertops.)
Above: Van Raden's ceramics mix with her collection of antique glassware, in shades of grey and green. At right, found artwork is propped on the concrete counter.
Van Raden has expanded since the days of working in her basement. "I worked out of my basement for two years, but last year I took the plunge and rented a large studio space about three miles from home," she says. Part of the space is a shop with Van Raden's own wares, and a few select goods she loves.
Remodeling a 100-year-old house has come with a few challenges. "We found that the joist beneath our kitchen had cracked and was about to give way during our latest kitchen remodel. We ended up having to shore that up, which was time consuming and expensive," says Van Raden. Besides that, she says, "The challenges have always been financial. We both have plenty of ideas and quite a bit of experience with light building projects."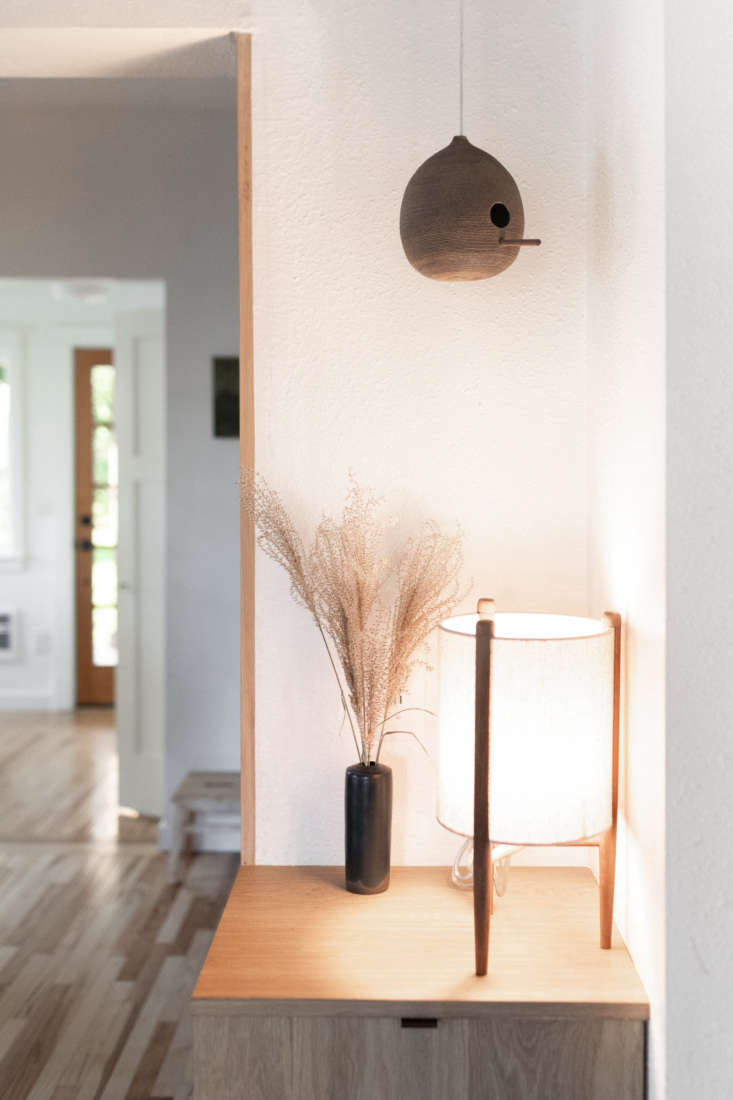 Not pictured are the couple's other recent projects: a walk-in closet and an attic playroom. "It's become the hub for every playdate," Van Raden says.
The couple opted for new subway tile and grey grout to keep the bath in line with the old house. "It's both affordable and classic while staying true to the period of our home," says Van Raden.
More ceramicists we love (and their own spaces):