"Most people know the Swan and the Ant as Danish chair classics, but what about the Penguin?" ask Egon and Erling Petersen. "During the fifties, this series of chairs by furniture designer Ib Kofod-Larsen sold more in the US than its better known Danish cousins." The Petersens specialize in making modern Danish upholstered seating, and have lately begun reissuing some classics, "models we think deserve a wider audience." Their small collection includes the Penguin, Kofod-Larsen's chair with the flipper-like arms in an open embrace.
A graduate of Denmark's Royal Academy of Fine Arts, Kofod-Larsen (1921-2003) was an architect best known for his furniture designs, including the teak-and-leather easy chair known as the Elizabeth, because Queen Elizabeth II snapped up a pair on a visit to Denmark. Kofod-Larsen's Penguin was introduced in 1953 by American furniture company Selig, and went on to become a best seller. Success spawned variations—there's a Penguin lounge, dining chair, and rocker—and then knockoffs; these days, you can even find a hulking interpretation of the design at Staples. But the Petersens are creating a Penguin for purists.
Above: Brdr.Petersens' Penguin chairs are sanctioned Kofod-Larsen reissues; they feature a curved wood back (with a veneer of oak, walnut, or teak) and leather-upholstered seats. Shown above: the Penguin Lounge Chair (left) and the Penguin Rocker (right). The chairs are sold in the US directly by importers Goods We Love (see New York's Secret Scandinavian Design Source).
Above: The dining version of the Penguin has more compact dimensions, but the same slightly tilted back, which embraces the sitter.
Brdr.Petersen make each chair to order using aniline leather or Kvadrat Hallingdal 65 fabric. The example on the left is in all leather. Goods We Love prices range from $2,088 to $2,600, depending on model, finish, and upholstery.
Above: The Penguin Rocker rests on stained or natural ash rockers. In the fifties, it retailed for $39.95.
Above: Twins Egon and Erling Petersen of Brdr.Petersen work in a converted farmhouse outside Aarhus, Denmark. They've been running their company since 1973.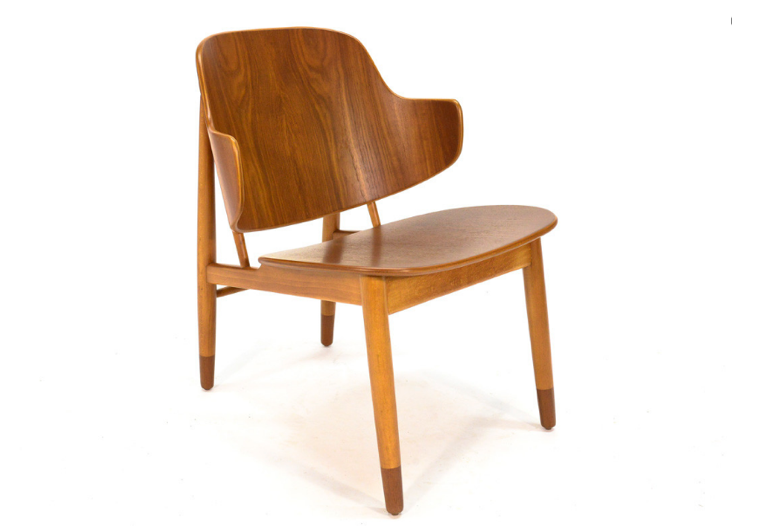 Above: Vintage versions of the Penguin Chair often turn up on 1st Dibs, Chairish, eBay, and Etsy, among others. Arroyo Artifacts of Pasadena is currently offering this restored Teak Shell Lounge Chair by Kofod-Larsen for $2,000 via 1st Dibs.
N.B.: The wood-framed vintage versions of the design (also sometimes referred to as the Shell Chair) were manufactured in Denmark by Christensen & Larsen in the 1950s. Selig's Penguins were assembled in the States from made-in-Denmark wood parts and an American metal frame—look for the Denmark sign under the seat.
Above: Vintage Kofod-Larsen Lounge Chairs of stained teak with original upholstery made by Christensen & Larsen; $2,800 at Wright Now in Chicago.
For more under-the-radar period finds, see 6 Great California Midcentury Designers You've Never Heard Of and Second Coming: 5 Family-Owned Midcentury Design Companies, Revived.
You need to login or register to view and manage your bookmarks.