Two centuries ago, using hemp to construct a house would not have sounded strange. Back then the crop, a relative of marijuana minus most of the THC, was used for so many things—such as fashioning rope, weaving textiles, and making paper—that property owners in Jamestown were required to grow 100 hemp plants for export to England.
In the 1930s, a campaign against the evils of marijuana took down hemp with it. The crop, a celebrated carbon sink that requires little in the way of pesticides to cultivate, is only just now reemerging and being put to old and new uses. Building with hemp is an eco-practice pioneered in recent decades in France and Belgium, and starting to take hold around the world. Its use in the building of this thoughtfully designed house in northern Israel caught our attention.
The solar-powered, net-zero structure is the work of Haifa-based architecture studio Tav Group. Founding partner and lead architect on the project, Maoz Alon, received the commission from his longtime friends Yoki Gill and Daniel Benozilyo, creators of the hiking sandal brand Source Outdoor, known for its environmental leadership. The couple wanted quarters that incorporate local, biodegradable building materials with best green practices, compost toilets and a gray water system included. "The design concept," says Maoz, "was to build a house as nature would have it, like a bird feathering her nest, treading softly on the earth and leaving the faintest ecological footprint."
Exterior photography by Yoav Etiel, interior photography by Yaeli Gabrieli, courtesy of Tav Group.
Yoki, Daniel, and their daughter, Miya, left behind a city apartment and first lived on the property in a pair of connected yurts. The house is in Ein-Hod, which has a complicated history and has been an artists' enclave since the 1950s.
Building the house, Yoki notes, cost approximately 20 percent more than standard construction, but in the long-run is "far more economical—and fun."
Asked about the crooked fireplace chimney, Maoz responds "It's a long story that can teach an architect some humility. First came the timber mason who took the liberty of distributing the wooden beams a little differently than what was planned. Then came the chimney mason who found a beam where the chimney was supposed to pass through. He vigorously started to saw the intruding beam—if it hadn't been for Yoki's alertness that might have ended up a catastrophe. The chimney man then came up with this twist in the plot, which we architects would hardly find conceivable. And lo and behold, it has become an attraction."
"The house's volumes and particularly the window sizes and orientation were
designed for optimal air flow," says Maoz. "Together with the thermal mass of the walls, floors, and partitions, good
isolation, and exterior shading, there is no need for artificial air-conditioning." "Humidity control via the 'breathing walls' is amazing," adds Yoki. "Year-round, the house is 20 to 25 degrees [68 to 77 Fahrenheit]."
Of the wood-framed windows, Maoz says: "they're a great solution—beautiful, durable, pleasant to handle, and insulating. But they're not common around here lately—we're in search of an able artisan for our next project."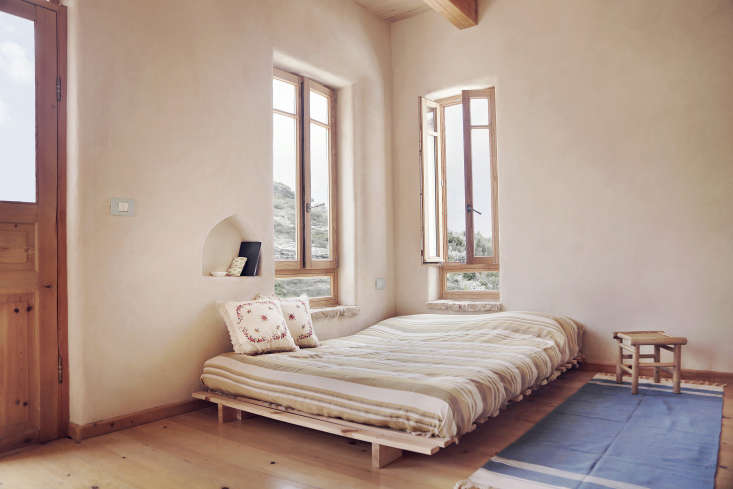 If you're interested in building with hemp in the US, check out Hempitecture of Ketchum, Idaho. In our new book, Remodelista: The Low-Impact Home, we feature a trailblazing hemp farmhouse  in Cambridgeshire, England. And for a fascinating deep dive into the history and uses of hemp, listen to Trace Materials, a podcast produced by The New School/Parsons Healthy Materials Lab.
Some more eco-minded ideas and projects:
You need to login or register to view and manage your bookmarks.