How to create a spacious, affordable—and memorable— kitchen in a small apartment destined to be rented out and then sold? Architects Ruth Mandl and Bobby Johnston of CO Adaptive in Brooklyn were still getting their firm off the ground back in 2014 when this commission came their way. They set out to make use of reclaimed materials—they dubbed the project The Recycled Content Apartment—and have since built an eco-minded practice around creative retrofits.
We think their solution for the kitchen still looks fresh and is filled with ideas worth considering. Movie industry apple crates as overhead storage and a transformer island, anyone? Join us for a look, action shot included.
Photography by Peter Dressel, courtesy of CO Adaptive.
Set in an 1868 Cobble Hill, Brooklyn, structure—at the time a new model of worker housing—the apartment had been modernized over the years and came with a worn-out galley kitchen. "We were engaged by a client who wanted to renovate the space as a rental income property with the eventual aim of selling it," explains Ruth. "She was interested in keeping the budget very minimal and in maximizing the overall spatial efficiency."
Thanks to the proximity of the existing window, the owner opted out of installing a range hood. Ruth says that though grime can build up in open storage, "especially over the cooktop," it's easy to access the inside of the crates for cleaning. "This solution is not for everyone: it works best to store cups, dishware, and sealed food containers like Mason jars that get regular use, and yes, there's some surface cleaning required."
The counter is stainless steel and has a backsplash of back-painted glass. one of CO Adaptive's go-to materials: "It has a clean aesthetic," says Ruth, "and though glass costs more upfront than tile, the installation is less labor intensive and therefore cheaper."
The exposed original brick wall is lined with Dino Sanchez Bracket Sconces with Philips LED A19 Soft White bulbs.

Above: To make the dual-function peninsula work, the architects designed the top to shift forward and back: when it's in "kitchen mode," the counter is flush with the storage compartments underneath. In "table position",  it has an 11-inch overhang on each side and can seat up to 11.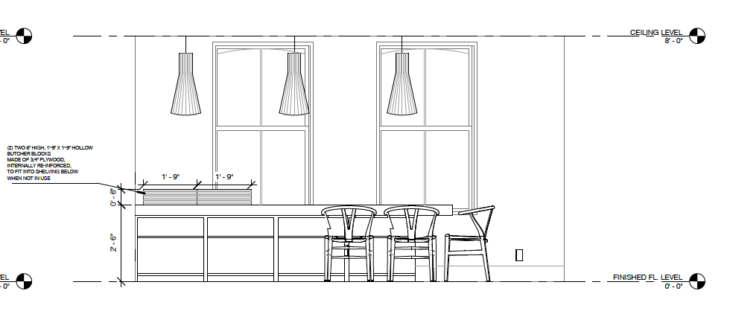 CO Adaptive aren't the one ones using crates as affordable kitchen storage: see Two London Creatives Shore Up a Tiny Beach Shack and Förstberg Ling's House for Mother.
For more ideas,  go to 13 Favorite Cost-Conscious Kitchen Remodels from the Remodelista Archives.
(Visited 303 times, 5 visits today)