When architects Eric Walter and Steve Mongillo, principals at Seattle-based mwworks, were in the planning phase of this family retreat on Whidbey Island, they met often with the owners to go over their designs. Many times, the clients' three adult children would attend—and, sometimes, even their teenage grandchildren.
Walter and Mongillo were unfazed by the unusual number of stakeholders who weighed in on their plans. The weekend home, after all, was to be for the entire family to use. And thankfully, there was consensus: What the family wanted was a design that was modest, low-impact, and respectful of the landscape outside its windows. Plus, of course, it had to accommodate their large group.
The two architects delivered with a series of three low structures that prioritize views of the forest on one side and a meadow on the other. The main building, which houses the public spaces (living, kitchen, and dining areas), is connected by a walkway to a wing of bedrooms; a separate bunkhouse for grandchildren and guests is just across a courtyard. (All told, the compound can sleep up to 20.)
"The project is designed to build memories and bonds for a large extended family for generations to come…. The senior owners set the project up so that regardless of what happens to them, the kids and their kids would always have the house to bring them together and continue building memories," says Mongillo, who worked with Dovetail General Contractors to bring his clients' dream to life.
Let's take a tour.
Photography by Kevin Scott, courtesy of mwworks.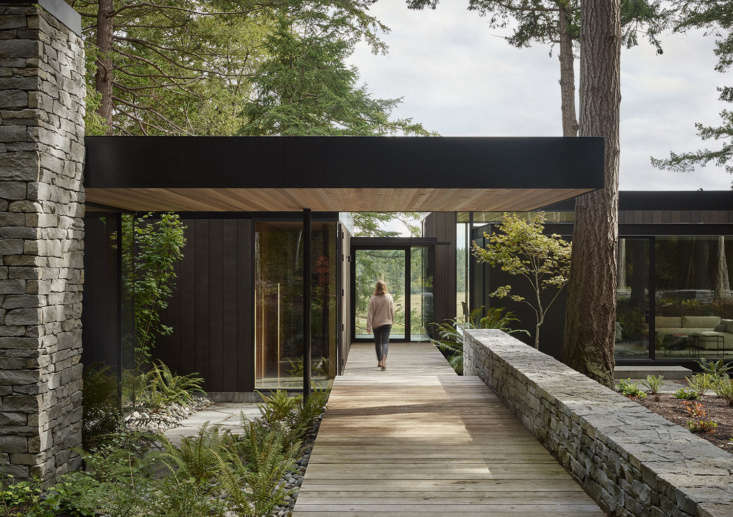 This isn't the first time we've featured a project by mwworks. Here's another one: A Puget Sound Cabin That Rests Lightly on the Landscape.
For more family retreats we love, see:
You need to login or register to view and manage your bookmarks.