Florence Lopez is a Paris antiquaire specializing in top-drawer 20th-century modernist design. She's also an interior designer with a background in fine art, who for a few special clients fully imagines spectacular settings for her furniture.
For model Natacha Senechal and family, she recently transformed a hospital-white, 1,400-square-foot loft into a color-blocked homage to pioneer abstract painter Josef Albers and a coterie of his designer contemporaries. Join us for a look around.
Photography by Philippe Garcia.
Above: Lopez (L) and Senechal (R) met when Senechal, her husband, and their two daughters were getting settled into their new place in a 1930s industrial building in SoPi (south of Pigalle, in the Ninth Arrondissement).
"Natacha knew my design work from friends, and after visiting my atelier she wanted to gather an eclectic mix of vintage furniture for her own place—but nothing pretentious," says Lopez.
Above: When Lopez began work on the project Senechal had gotten as far as laying a wood floor milled from old rail beams in the living room. Senechal admired the Cubist mantel Lopez designed for her showroom, so it was re-created here for the working fireplace and painted the same color as the walls, Off-Black from Farrow & Ball.
The salute to Josef Albers was an inspiration at the very end of the design process: "When I was 19, I was living in New York and passionate about modern art," says Lopez, who studied fine art in her native Bordeaux and often incorporates homages to favorite painters in her designs: See A Love Match in Paris. The armchair is a forties Gio Ponti newly upholstered in a woven wool from Kvadrat. Note the TV unashamedly mixed into the design.
Above: Lopez designed a stained pine "library desk" for a skylit corner of the room. The armchairs are sixties Italian. The ceiling and rafters are painted in Lopez's go-to white, Pointing by Farrow & Ball (she also likes the line's Off-White).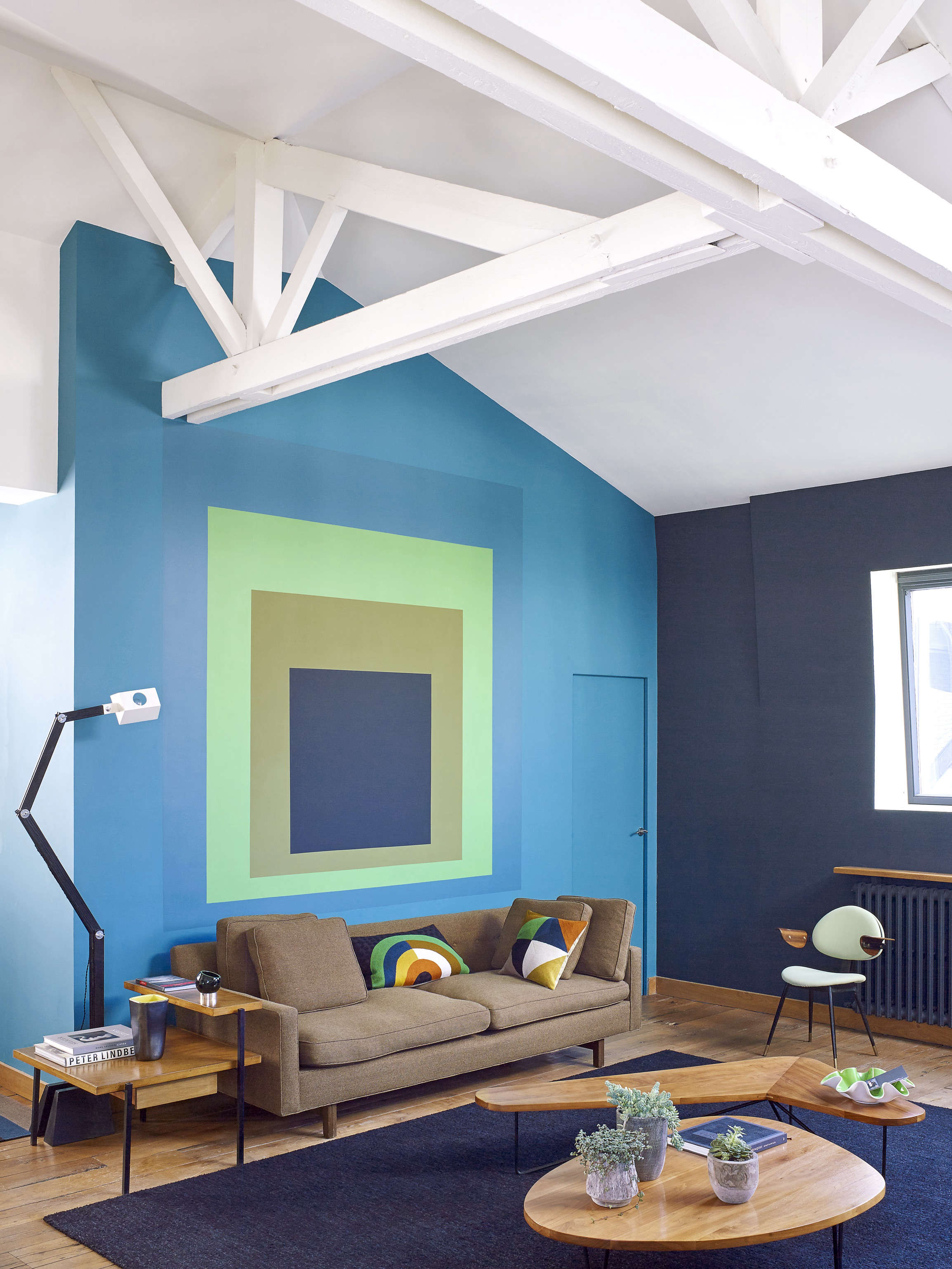 Above: Directly across from the fireplace wall, Lopez created a second, larger Albers-inspired Homage to the Square. She describes his work as "intemporal and fluid" and tells us that the two murals "create a mirror effect—difficult to get across in photos but they make the space feel bigger, even endless, like you could see your hand disappear inside these perspective paintings." The murals are the work of Lopez's painter, but she mixes the colors herself using a base and tints, a formula she keeps secret.
The sofa is an Edward Wormley classic from the sixties with original fabric and the embroidered pillows are by Lopez's friend Gabrielle Soyer of Lindell & Co. The set of fifties freeform coffee tables are rare pieces by American designer Luther Conover.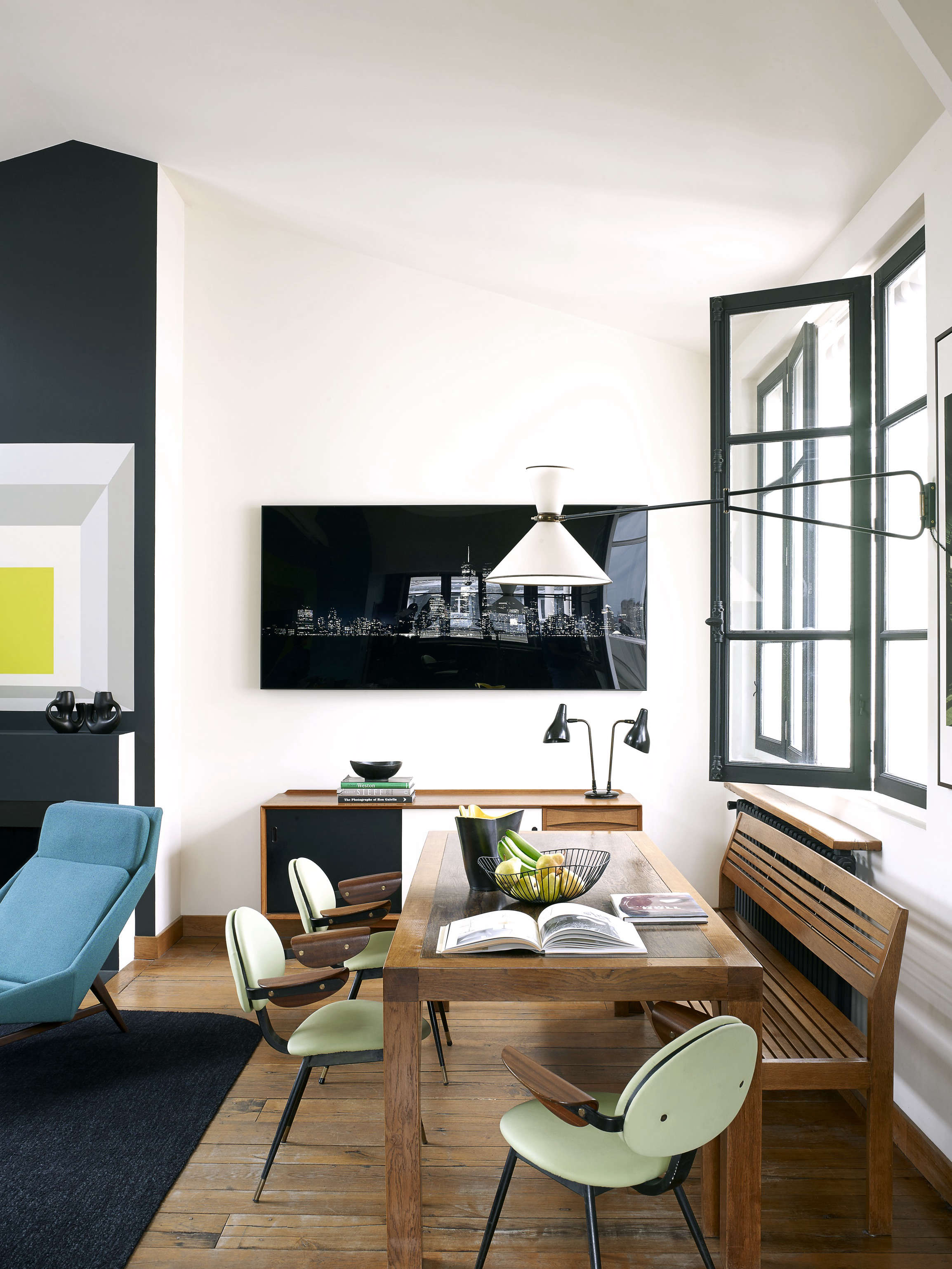 Above: Next to the fireplace is a dining area with a Lopez-designed oak table and bench and Carlo Molino chairs. The fifties swing arm sconce is by French architect-designer Pierre Guariche.
Above: A fifties two-toned Arne Norell sideboard was one of the first prized purchases for the loft. The double lamp is a thirties bakelite design by Gerald Thurston and the photograph of New York at night is by Winnie Denker.
Above: A bar opens the living area to the kitchen. Lopez fitted the space wth custom cabinets (in Farrow & Ball Off-Black) and slate counters. The rattan bar stools are vintage. The photo over the bar is from a series of American cars in Havana by Thierry Le Gouès.
Above: In the two-toned master bedroom, Lopez added a trompe-l'oeil homage to Ben Nicholson over the bed (that's right—what looks like a bas relief is paint). "I consider the art in the apartment as ephemeral," she says. "You can change it if you get tired of it."
The articulated lamp in the foreground is the Architect Standard Lamp, a signature Lopez design in pine with a cast-iron base and aluminum shade: "I found a 1950s architect's lamp and edited it." (Scroll up to see the light next to the living room sofa.)
Above: Instead of bedside tables, Lopez likes to use compact chests of drawers; the ones here are by George Nelson. The wall sconce is the Tulipe by Meljac of Paris; go to Beautiful Basics to learn about the line.
Above: The embroidered eye pillow and plaid blankets are Gabrielle Soyer/Lindell & Co. designs. The headboard is upholstered in a green-gray Kvadrat wool and linen. See more of Lopez's work in A Love Match in Paris: Liaigre + Lopez.
Explore a few more of our favorite French lofts:
(Visited 608 times, 1 visits today)