At our recent Remodelista Holiday Market in San Francisco, I was instantly drawn to French children's clothing line Les Petits Carreaux. The brand, founded by Stéphanie Ross and her Parisian friend and designer Alice Shamreiz, came about one sleepless night when Ross dreamed of a children's line that reconciles style and comfort–clothing with French allure and a San Francisco spirit.
"As a mother of a six-year-old boy, I am especially interested in children's lifestyle trends," Ross says. So last year, frustrated with the children's clothing options in the US, Ross and her business partner Shamreiz launched the first collection of Les Petits Carreaux. 
Ross had worked as an artistic and communications director in women's, men's, and children's fashion in Paris for 15 years, but after meeting her American husband and giving birth to their son, she and her family relocated to the Bay Area. Before their move, the couple began a yearlong overhaul of their Parisian apartment in the Eighth Arrondissement, near la Madeleine and Champs-í‰lysées. 
"We originally lived in one of the smaller apartments on the fourth floor. In 2010, our neighbors across the hall fortuitously asked if we would be interested in exchanging apartments. They were looking to downsize and we had a growing family, so the swap was a win-win," Ross says. "We were particularly thrilled to take over a larger unit that needed lots of TLC but that had all of its historical features intact: ornate moulded ceilings, wainscoting, stained glass in the entry hall, pointe d'hongrie hardwood floors [parquet flooring in a chevron pattern], fireplaces in the salon [living room], dining room, and bedrooms–a true rarity these days, as many Parisian apartments were modernized in the latter part of the 20th century, mainly by stripping out these features and reconfiguring interior spaces."
Ross's goal was to maintain the flat's integrity by preserving the historical architectural features while accommodating a modern lifestyle by incorporating built-in closets in the bedrooms, installing a contemporary German-designed kitchen, enlarging and redesigning the bathroom with high-end Italian finishes, and creating a small home office. 
Since moving to the US, the family tries to spend as much vacation time as possible in the flat, and when they are not in residence, they rent it out on a short-term, fully-furnished basis. Go to Homerental.fr to learn more. 
Photography by Marie-Claire Fresquet for Bel Ordinaire.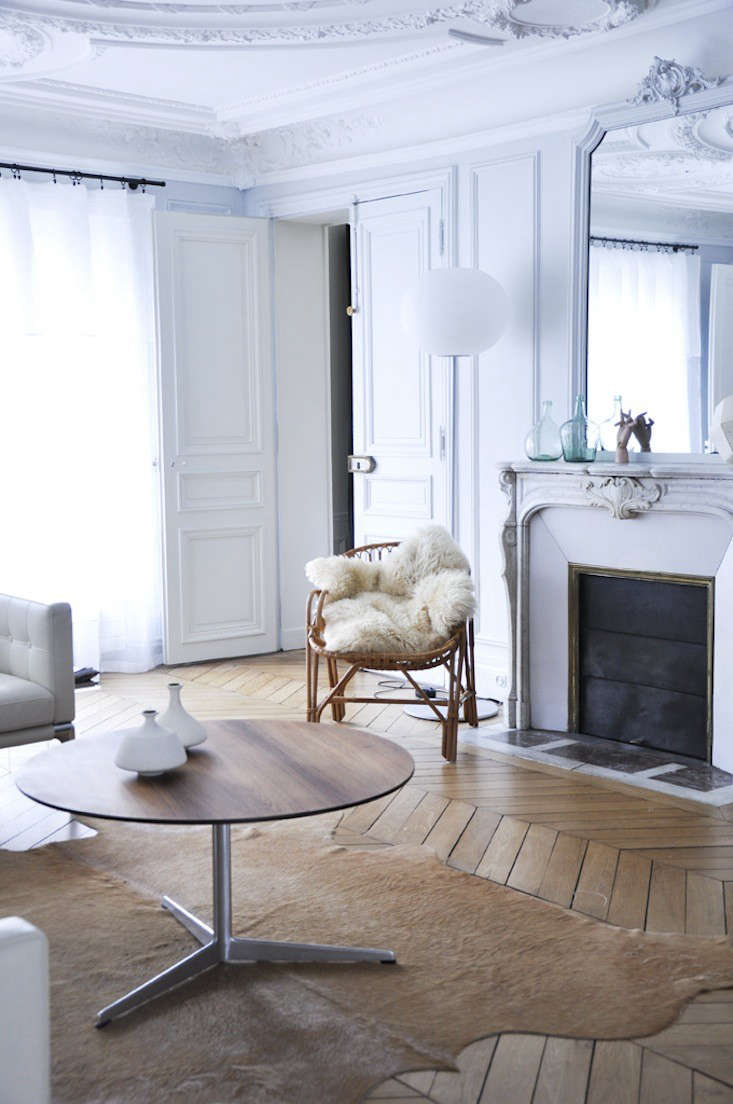 Above: The living room features one of the four marble mantles. The parquet flooring in a chevron pattern was restored throughout the home and the moulding was returned to its original splendor. The cowhide rug comes from Design Within Reach, and the floor lamp is a Glo Ball designed by Jasper Morrison for Flos. The rattan chair and sheepskin throw were sourced via Bel Ordinaire.  
Above: The 243 Volage Sofa and Armchair was designed by Philippe Starck for Cassina, and the original vintage 1960s Coffee Table is by Arne Jacobsen for Fritz Hansen. "Our living room ceiling is the only original left in the entire building; it was in bad condition so we needed to restore it," says Ross. 
Above: A Paper Globe from Geo-grafia, a vintage wooden hand from Luka Luna, vintage glass vases, and a vintage lamp sit on top of a marbled mantel in the living room. The building is an excellent example of 1850s Haussmannien architecture (named after Georges-Eugéne Haussmann, an interior city manager assigned by Louis-Napoleon Bonaparte, the nephew of Napoleon Bonaparte, to beautify Paris).
Above: French doors connect the living room and dining room. A Sapien Bookcase (sourced from DWR) holds a personal collection of design books bought in San Francisco. "I managed the interior design remodeling process and worked in collaboration with my friends at Bel Ordinaire for the decorative finishes and furnishings," Ross says.  
Above: The dining room features Tulip Chairs by Eero Saarinen for Knoll, accompanied by a harvest dining table found in Saint-Germain-des-Prés (an area of the Sixth Arrondissement of Paris). A Vase d'Avril by Tse Tse sit on top of the dining table, and George Nelson's Bubble Lamp Saucer pendant hangs from the ceiling. "I wanted to have the George Nelson lamps in different shapes all over the apartment," says Ross. 
Above: "The rocking chair in the corner is slip-covered in white fabric from Shabby Chic in San Francisco. I bought it when we had our son to rock him in his bedroom," Ross says. The black-shaded floor lamp is vintage from Bel Ordinaire.
Above: "As I didn't want anything on the wall, Bel Ordinaire designed a vertical fabric board that rests on the floor from a Christian Lacroix fabric," Ross says. The black wall lamp is handmade by a Parisian artist. 
Above: Another marble mantel with vintage glass vases on display. 
Above: "The kitchen was super old, so we decided to renovate it from scratch," Ross says. The contemporary kitchen comes from German company Poggenpohl. A built-in table is accompanied by striped stools designed by Ronan and Erwan Bouroullec for Magis. Ceramic plates by Mud Australia from Bon Marché adorn a kitchen wall. 
Above: "We wanted simple and chic curtains that allowed plenty of light into the flat," Ross says. The linen fabric is from Charvet Editions.
Above: The dresser was purchased from the Conran Shop in Paris. The chair is Polyprop, designed by Robin Day in 1963 for S. Hille & Co.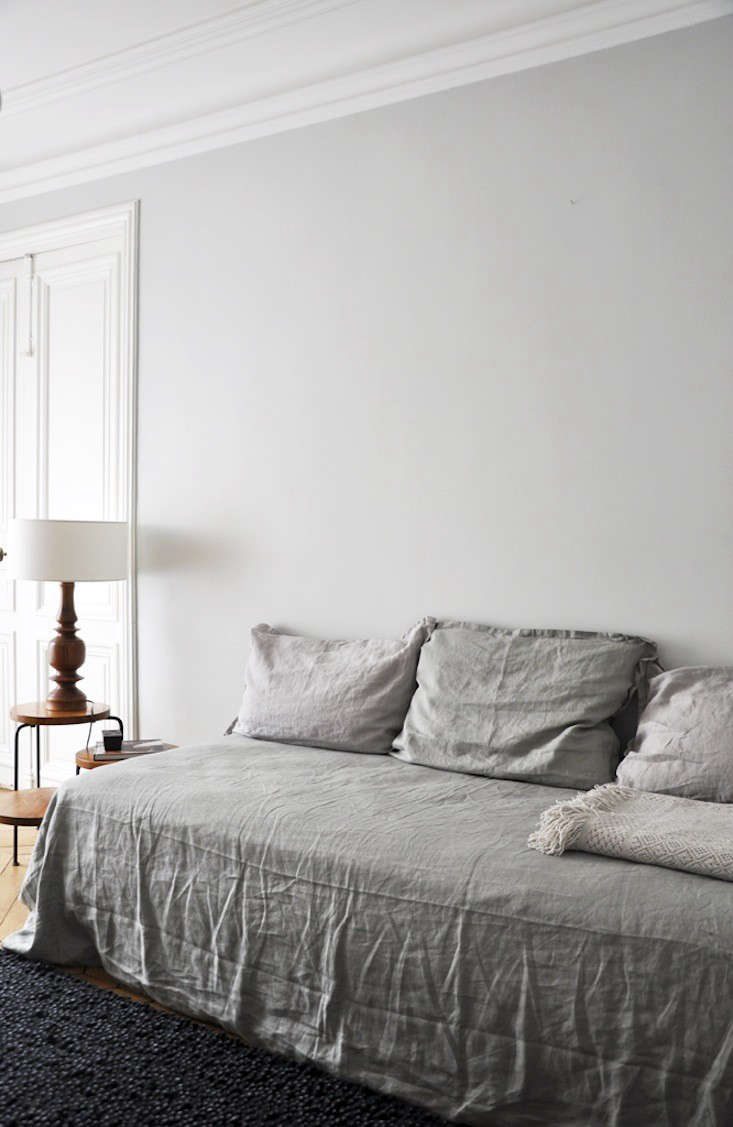 Above: The linen coverlet and pillows are from AM PM in France. The table lamp and side tables are vintage.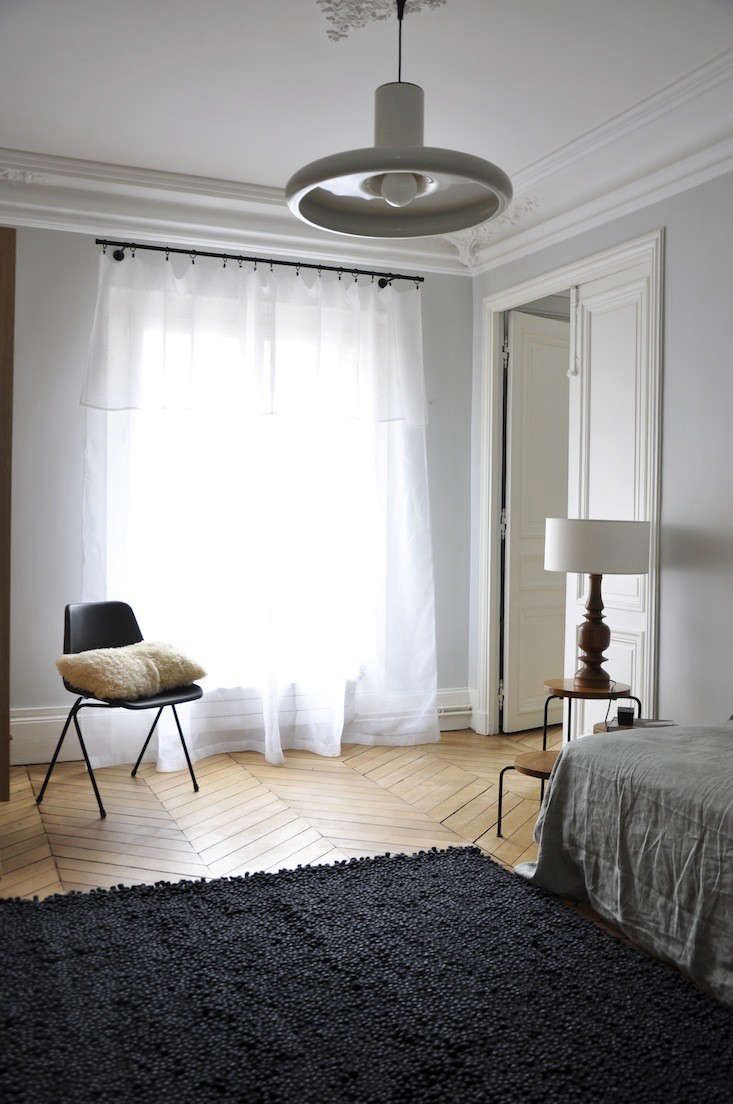 Above: This room was originally their son's bedroom, but when the family moved to San Francisco, they converted it to a guest bedroom. The black rug is from Zinc Details in San Francisco. The table lamp is vintage from Bel Ordinaire. 
Above: The master bedroom has another preserved marble mantel (the vases on top are by Habitat). The mustard-colored bedcover and the pillow in the vintage chair are from Lab Boutique. The clothes hanging on a rack were designed by Ross herself.
Above: The orange Eames Molded Fiberglass Chair with a wire base and the Quovis Table in sleek stainless steel are from DWR. The white bookshelves came from Ikea. 
Above: The hallway features a Ruban Noir coat hanger by Pa Design, a midcentury chair, and a white leather pillow from West Elm.
Linger with us in Paris:
You need to login or register to view and manage your bookmarks.