The of-the-moment canteen for the fashion set: Restaurant Clover is a low-key, monochromatic 430-square-foot restaurant with a mere 10 tables for two. Michelin-starred chef Jean Francois Piege wanted it this way, explains interior designer Charlotte Biltgen. "The concept was to create a very minimal and simple place," Charlotte says. "Jean Francois wanted the color to be on the plate; we didn't want the setting to detract from the cuisine."
Above: The narrow space is divided into zones; a tiled strip defines the kitchen area. The floors are made of reclaimed wood from SNCF freight wagons.
Above: The tiles, designed to mimic the look of Japanese raku ceramics, were made in a small French workshop. "I wanted the tiles to cover the walls like a layer of cracked parchment; almost like the crust of a loaf of bread," Charlotte says.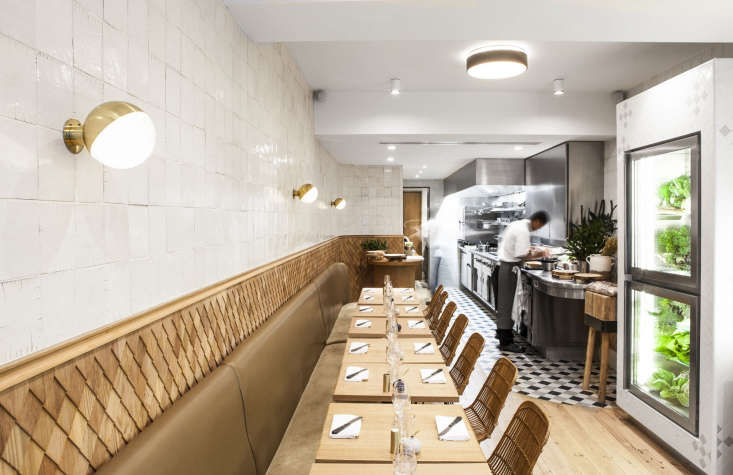 Above: The hand-braided Rattan Dining Chairs with black lacquered legs are from HK Living in the Netherlands ("very cheap and nice, says Charlotte).
Above: The day's produce is on view in the glass-fronted built-in refrigerator. "For the first time in my professional life, I tried working without color," Charlotte says. "The project is more about materials and texture and details."
Above: The shingle wood "frieze" is meant to mimic American shingle tiles. For a similar wall sconce, consider the Vega Brass Sconce from CB2.
Above: The lights in the interior are mostly vintage, sourced from the Puces de St. Ouen and bric-a-brac shops in Brussels. The Radiohuset wall sconces are by the Danish architect Vilhem Lauritzen.
Interested in more Parisian hot spots? See Expert Advice: 11 Under-the-Radar Parisian Dining Spots.
(Visited 176 times, 1 visits today)