As flattering as candlelight and equally atmospheric, New York artist Maureen Fullam's mirrors are made the centuries-old way, by hand applying layers of silver leafing to the back of a piece of glass. The process, known as verre églomisé or reverse gilding, involves three separate layers of silver leaf–"it's a crazy process; if you touch the pieces, they'll disintegrate, so you have to apply them individually with a special tiny brush made of badger hair," says Fullam. Intervals of drying, burnishing, and buffing are followed by antiquing, sealing, and framing. From start to finish, each batch of mirrors takes a week to complete. Call it hard-earned flash.
Photography by Don Freeman, unless otherwise noted.
Above: A collection of Maureen Fullam Mirrors at Egan Day in Philadelphia, including one in aqua glass. Sold individually, some of the designs have beveled edges or convex shapes; all are finished with blackened metal edges that form a minimalist frame. Inquire for details. Photograph via Egan Day.
Above: A custom 24-by-40-inch mirror at Chris Lehrecke in Hudson, New York. Fullam's studio is located in a nearby Hudson Valley town; she often works with architects and designers, and stands ready to take special orders; contact her at Maureen Fullam.
Above: An assortment of small mirrors at Chris Lehrecke; $350 to $500 each. A range of Fullam's designs are also available at August in Los Angeles, Alder & Co. in Portland, Oregon, and Patina in Nantucket, Massachusetts.
 Above: Mirrored coasters with beveled edges at Chris Lehrecke; $250 for a set of four circles or squares.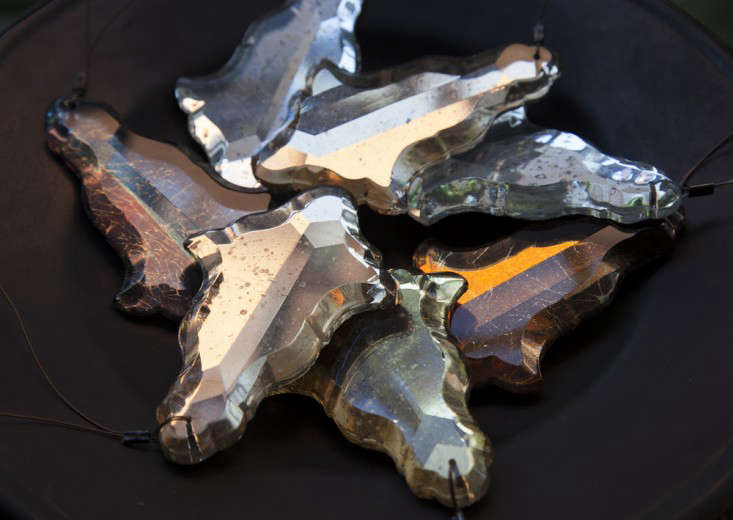 Above: Faceted crystal ornaments at Chris Lehrecke. Each is four inches long and has a wire hanger; inquire about pricing. Fullam's Silver-Leafed Teardrop Ornaments are at August for $125 each. To see more, go to Maureen Fullam.
 Ready to surround yourself with romantic mirrors? See:
(Visited 146 times, 1 visits today)