At home in Burgundy, France, Kendall Smith Franchini and her family have plenty of reasons to celebrate this holiday season. She and her mother, Marjorie Taylor, are about to mark the 10th anniversary of the Cook's Atelier, their cooking school in Beaune, France. They're also publishing their first cookbook, The Cook's Atelier, a recipe-filled chronicle of small-town life in the French wine region; it's out this April from Abrams. And thanks to Kendall's husband, Laurent Franchini, their Burgundy-accented kitchen boutique and wine shop is fully open in their headquarters and online—providing Marjorie and Kendall with the perfect excuse to prowl the local flea markets.
All of this, mother and daughter tell us, is the result of a long-shared dream for the two of them. "Kendall has been a Francophile since she was a little girl," says Marjorie, explaining that she herself as a 25-year-old single mom had apprenticed at a series of French restaurants in Phoenix, where they lived, "because I wanted to learn classic French technique." Marjorie became a pastry chef and co-owned a small Phoenix restaurant and cooking school. Nearly a decade later, to begin a new chapter, she spent six months in Burgundy working under Anne Willan at La Varenne cooking school. Meanwhile, after a formative high school trip to Paris, Kendall earned her BA—in French and art history—and went on to study viticulture at the Centre de Formation Professionnelle et de Promotion Agricole, the main wine school in Beaune, and to work for Berkeley wine importer Kermit Lynch. Together, mother and daughter set their sights on Burgundy as a place to sink their roots and create a business. All of that has come to pass, along with two children and a charming fixer-upper for Kendall and Laurent. Kendall invited us to have a look at her family's newly remodeled place and their Christmas festivities.
Photography by Anson Smart, courtesy of The Cook's Atelier.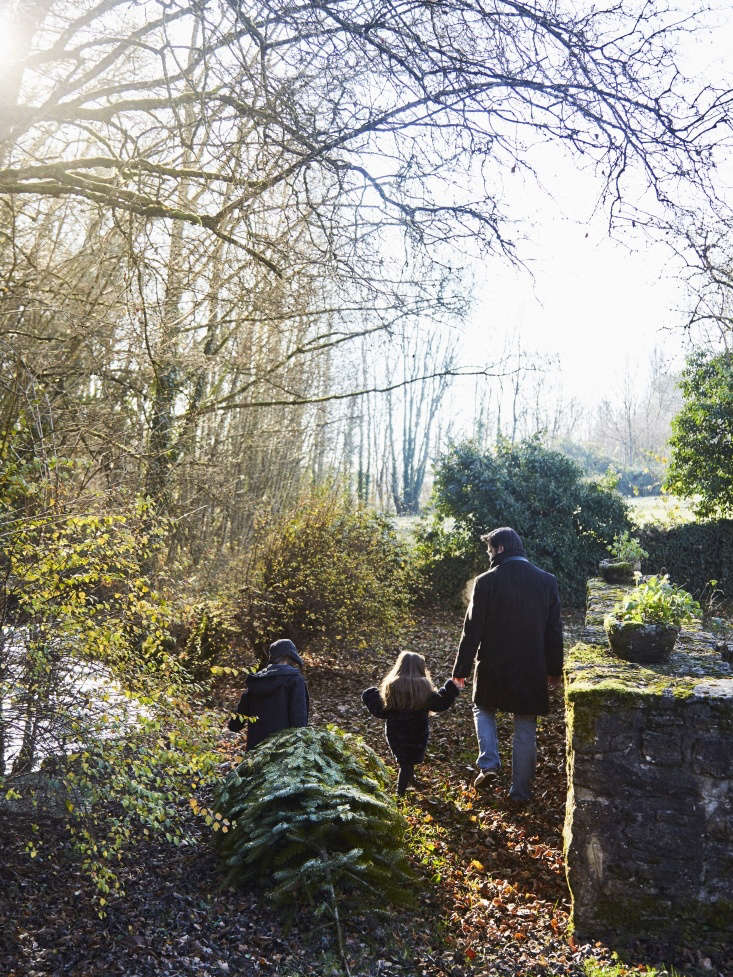 The artisan who made the Cook's Atelier wine racks was hired to build the iron stair—it leads to a work-in-progress attic space that has been designated the future master bedroom. The sofa is the
Stocksund
, $599, from Ikea (and if you like the turned wood legs, they're available as a
Stocksund
four-pack for $20). The coffee table is a tag sale trunk topped with a piece of marble from Laurent's grandmother. The unadorned Christmas tree communes with the pine clippings that decorate the dining area: "We like to keep things very simple," says Kendall.
Kendall and Laurent introduced new cabinets from Ikea and a farmhouse sink, but preserved the stone fireplace and exposed beams. The farmhouse dining table is paired with classic Tolix Marais A Chairs.
Kendall learned to cook from her mother, who is shown here making a béarnaise sauce to go with a côte de bœuf; both recipes are in their book. "We always serve fish on Christmas Eve and keep it very South of France for Laurent's family who visit: fresh oysters, sometimes a bouillabaisse,
often moules marinières. For Christmas, we'll do a rib chop like you see or wild game, such as a filet of venison. We like to prepare the meal in courses,
starting with a festive aperitif and ending with the thirteen desserts."
When they move their bedroom to the other attic, this space will be used as a kids' study room.
Go to
A Year in Burgundy: The Cook's Atelier in Beaune
to see our post about the school: Marjorie and Kendall offer daylong market tours and cooking classes, as well as five-day programs.
For more festive—and simple—decorating ideas, go to our Holiday Archive, including:
You need to login or register to view and manage your bookmarks.