Jesse James and Kostas Anagnopoulos, creators of the new housewares line Sir/Madam, have an uncanny ability to pinpoint everyday objects that have yet to be mined from the attic and turned into 21st century must-haves. Warning: you will soon have the urge to own a hymnal. Sir/Madam–named for the email salutation used by their workshop in India–make goods inspired by Jesse's memories of his grandmother's cupboards and by their own weakness for workhorse antiques (they turn flea market wooden spoons into kitchen bouquets).
Their new line was our favorite discovery at the recent Accent on Design trade show in New York. It's debuting here, and will be available in stores starting in mid-April. For details, see Sir/Madam and its umbrella company, Aesthetic Movement. Note that all prices listed below are approximate.
Above: To be filed under why didn't we think of that: beechwood plate rack modeled after church hymnals. They can also be used for displaying books and other objects. "They look amazing mounted in long rows," says Jesse, who adds "we left them raw for a bit of a Scandinavian feel, but they can easily be painted or stained." The large is 36 inches long and $160; the small is 24 inches long and $110.
Above: Where have all the great old wooden spoons gone? Jesse and Kostas have been amassing them from flea markets and barn sales for the last 15 years. They assembled 13 of their favorites and had them hand carved from beechwood by craftsmen in southern India. No two designs in the Baker's Dozen Wooden Spoon Set, shown here, are alike; sized for cooking and serving, the collection comes in a muslin bag and retails for $140 (retailers will be free to sell the spoons as open stock as well).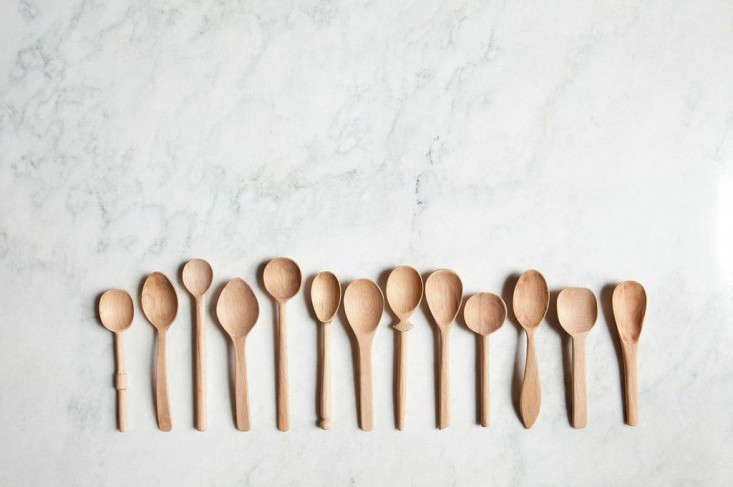 Above: Sir/Madam also offers a set of 13 small wooden spoons for spices, sauces, and desserts; $90 for the group.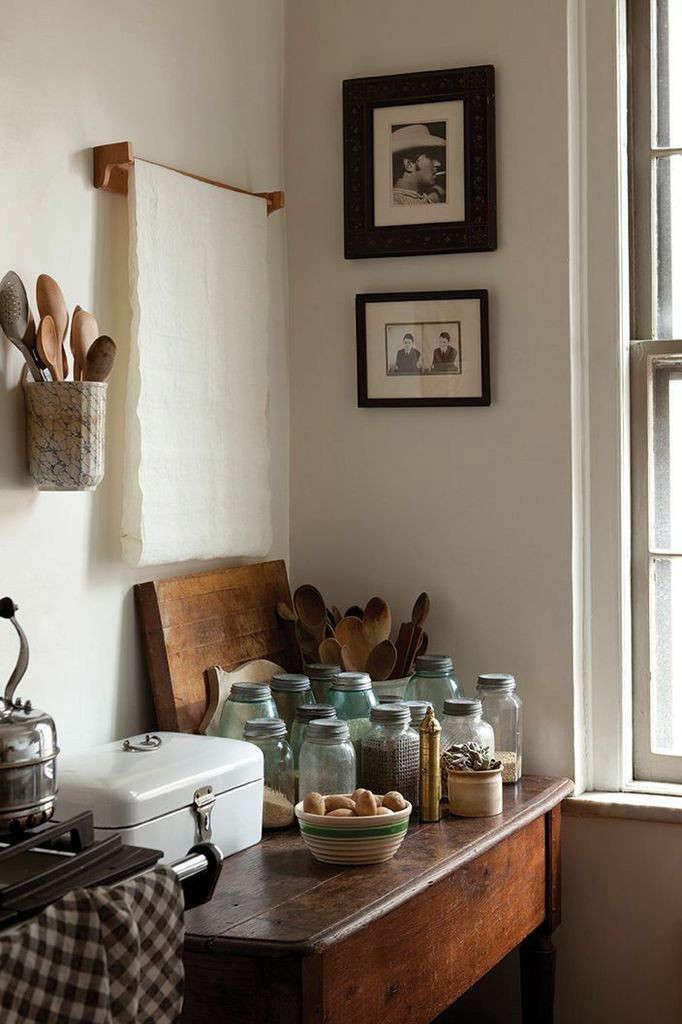 Above: Sir/Madam's Towel Bar & Looped Towel hangs in Jesse and Kostas's own kitchen in Queens, NY, where a sampling of their vintage wooden spoons are on display. The towel bar is inspired by a vintage piece the couple have used for years–as an alternative to paper towels and soggy dish towels; it's handmade in India of beechwood and comes with a looped linen towel for $110 (the towel can be easily removed and washed; a pair of additional towels is available for $65).
Above: Sir/Madam large and small spoon bouquets.
Above: Table linens and cafe au lait bowls are two more Sir/Madam specialities. Shown here, a Fellowship linen napkin (set of four, $75) and Vintage Deco cafe au lait bowl introduced in the fall (see Sir/Madam for sources).
Above: A sampling of bright linens napkins in subtle and bold stripes and checks.
Above: Vintage Stripe Cafe Au Lait Bowls are available from Mill Mercantile, $16 each. All Sir/Madam ceramics are dishwasher safe.
Above: Jesse and Kostas love eating oysters so much that they emblazoned a linen table runner with a list of varieties. Anthropologie offers their 72-inch-long Blue Point Table Runner for $78.
Above: An oyster feast served on Sir/Madam's Revival Tableware–modeled after British nursery china–at Mars, a new oyster bar in Astoria, Queens.
Above: First Jesse and Kostas started compiling a list of all the North American oysters they'd sampled. Soon the roster was expanded into "a full-fledge effort to compile the definitive index of these tasty little mollusks"–and applied to linen table runners and placemats.
Above: Sir/Madam's 41-inch-long Grand Aprons of linen and linen-cotton, worn by the gang at Mars oyster bar (that's Kostas on the far left).
Need to shop Sir/Madam's wares immediately? Have a look at Perfected Tableware from the Past, our post on the company's first collection, now in stores. And tour Jesse and Kostas's House in Upstate New York.
(Visited 433 times, 3 visits today)