Located in the Dolomite mountain village of Mareo, in South Tyrol, Italy, La Pedevilla was inspired by the traditional farmhouses (known as viles) of the region. Designed by brothers Alexander and Armin Pedevilla, of Pedevilla Architects, the house is an energy-efficient oasis with its own water source, geothermal heating, solar panels, and PV (photovoltaic) power plant. 
Photographs by Gustav Willeit via Yatzer.
Above: The architects used locally sourced timber (solid Swiss stone pine and larch) and Dolomite stone in the construction of La Pedevilla.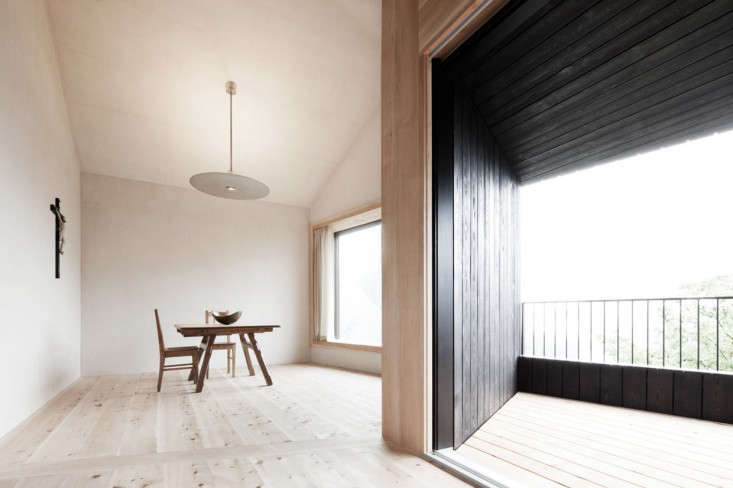 Above: The interiors feature a chiaroscuro effect; a mix of dark stained-wood surfaces and pale pine floors.
Above: Classic Tyrolean chairs add a traditional note to the otherwise spare living/dining area.
Above: Expansive windows overlook the drama-filled landscape.
Above: The architects kept the palette simple and serene.
Above: A slatted overlook on the second floor doubles as storage for books.
Above: A rope railing leads to the second floor. (Interested in your own nautical railing? See more, plus a DIY tutorial, at 10 Favorites: Simple Rope Stair Rails.)
Above: The second-floor study is lit by natural light that filters through the slatted interior window.
Above: A sitting area adjoins a bedroom.
Above: Bedrooms feature floors, doors, and furniture made of hand-planed Swiss stone pine.
Above: A mix of modern and traditional in the bedrooms (the Philippe Starck-designed Miss K Table Lamp is $355 from Design Within Reach).
Above: The bathrooms are streamlined and austere.
Above: Just a few necessities.
Above: A simple ledge in the shower serves as storage for bathing essentials.
Above: A mix of modern and vintage furniture animates an attic bedroom.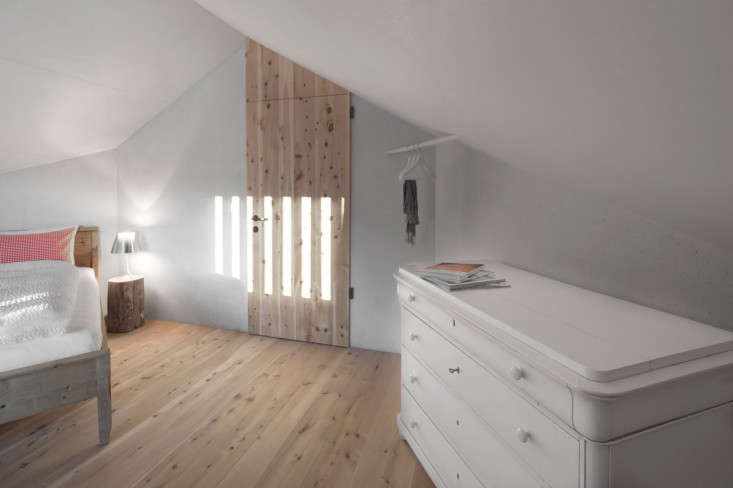 Above: Light filters through a slatted window in the room
Above: The attic offers its own a glimpse of the Dolomites.
Above: A view of the tiny village of Mareo. Go to La Pedevilla for booking information.
Looking to make your own house more energy efficient? Read Christine's recent Remodeling 101 post: A Solar Paneling Primer.
Tour another standout mountain retreat (also for rent) in A Ski Cabin by a World-Renowned Swiss Architect.
(Visited 258 times, 1 visits today)