Catherine Bailey and Robin Petravic, the owners of Heath Ceramics, have diligently preserved the legacy of Edith Heath and her midcentury pottery in Sausalito. However, when the plywood kitchen counters in the company's headquarters started to rot, there was not much that could be preserved. Bailey and Petravic wanted to maintain the centrally located kitchen as a hub (it serves as conference room, event space, and staff kitchen) but also wanted a space that was flexible, durable, and featured design qualities that reflected their own love of fine craft.
The solution? A modular kitchen from Seattle-based Henrybuilt's Viola Park line, featuring clean, simple lines with a midcentury vibe. The functional island on wheels allows for flexibility, and the blocks of color complement Heath's distinctive palette.
N.B. On Sunday, November 6, Remodelista will be moderating a talk with Corin Mellor, Catherine Bailey, and SFMOMA's Joseph Becker; for details, go to Heath Ceramics.
Above: Thin steel shelving serves as a display area for pottery.
Above: Vertically laid tiles serve as a kitchen backsplash (because the floors are sloped, horizontally laid tiles were not an option).
Above: Kitchen materials include rift-cut oak, PaperStone, and Corian.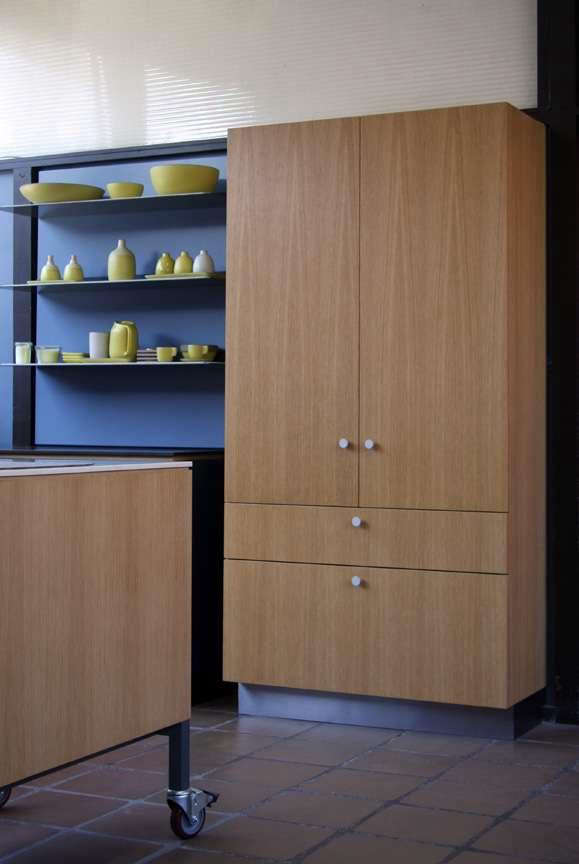 Above: The mobile island is made from oak with a pigmented lacquer front.