Derelict no more: When architects Emil Humbert and Christophe Poyet of Humbert & Poyet were tasked with renovating a ramshackle cabin in a prime waterfront setting on the French Riviera, they took inspiration from nautical design. Working within the existing footprint—a mere 48 square meters (approximately 516 square feet)—the two came up with a rustic-luxe reinvention of what they call the Cabanon (translation: Shed).
Formerly lacking not only windows but a viable roof, it's now an elaborately thought-out, two-bedroom hideaway that's so oriented to the water it feels like it could float.
Photography by Francis Amiand, courtesy of Humbert & Poyet.
Shown here, the dining table with built-in banquette and awning windows that offer prime views of the Mediterranean.
Exterior and interior are entirely whitewashed, which, Humbert and Poyet say, keeps the cabin feeling cool in the height of the summer. Note the ship-style under-the-seat storage, a detail incorporated throughout.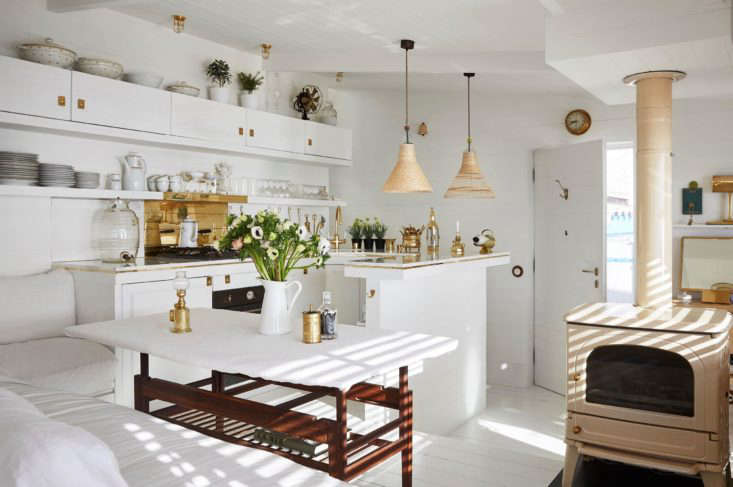 The flooring and wall paneling is marine-grade white larch painted with a brush finish.
Above, L and R: Golden accents extend to the range's brass backsplash/hood, an enamelware coffee pot, and a cachepot of flatware.
The pendant lights are Alvaro Catalán de Ocón's PET lamps made from recycled soda bottles: See Fantastic Plastic  and At Home with a Master of Recycling. The ship-style brass and copper lighting is the Docklight and Spreaderlight from Belgian company Tekna's Nautic line. The stairs double as another set of drawers (note the inset drawer pulls under each step).
Another detail borrowed from ship design (and a Remodelista favorite): the use of flush ring pulls for an economical use of space and a clean look.
Here are three stylish houseboats:
You need to login or register to view and manage your bookmarks.