Product designer Alvaro Catalán de Ocón is the genius behind the PET Lamp, a global project devoted to turning castoff soda bottles into artisan-made woven pendant lights: See Fantastic Plastic. Fittingly, Alvaro himself lives with his young daughter, Sofia, in a defunct lamp factory in Madrid that he repurposed as a colorful live-work space. Inspired by Freunde von Freunden's recent feature on Alvaro, we decided to pay him a visit.
Photography by Erea Azurmendi and Adrian Cano Franco via Freunde von Freunden.
Above: Alvaro and Sofia in front of Matadero Madrid, a contemporary art center near their factory.
Above: Triple Chimbarongo PET Lamps made by wicker craftsmen in central Chile hang over a table used for work meetings by day and dinners by night. The Eames Aluminum Chairs transformed with embroidery are part of Alvaro's Home/Office project.
The interior of the factory was in a state of ruin when the designer took it over and required an enormous amount of clearing out and shoring up. The timber ceiling struts were hidden under a flat plaster ceiling. "It's rare to find a lamp factory in Madrid," Alvaro, a Madrid native, told Freunde von Freunden. "In terms of redesign, I wanted it to be very flexible, to be able to adapt to many different projects and situations. And I wanted to keep the history of the space intact. I tried to keep it as open as possible and didn't build any proper walls."
Above: Canvas curtains (and a sliding wooden door with a Droog doorbell) divide the public and private parts of the factory. The living room features a painting by Alvaro's uncle Manuel Salina on loan from Alvaro's brother's gallery, Pintura Pintura. The sofas are Paola Navone's Ghost design from Gervasoni (available from Home Stories in Brooklyn Heights) and the leather chair is the classic PK22 by Poul Kjaerholm.
Above: Alvaro's modular Rayuela stools are clustered to form a coffee table that looks tiled. The wooden chair is by his friend Francesco Faccin and the Flos lamp is the 265 by Paolo Rizzatto–"like most of my furnishings, they were trades." The pillows are the work of Su Turno and Blanca Drake of Cucs.
Above: Bookshelves separate the living room from Alvaro's bedroom. The room's sliding door is shown on the left. Of the windows, Alvaro tells us: "I was very keen to preserve their wooden structure even though they don't have glass anymore. There are new windows behind that are nearly invisible."
Above: The cupboard was passed down from Alvaro's grandfather and is used as a bar. Its doors are made from carved wood cheese molds. The table is another piece by Francesco Faccin and a Rayuela stool holds a projector–"We don't have a TV because I prefer to watch films; my daughter and I project them directly onto the wall."
Alvaro made the collages when he was in college majoring in business management–and dreaming of becoming a designer. He later went on to study at Milan's Instituto Europeo di Design and graduated from Central Saint Martins in London in 2004.
Above L: Sofia's cabin-like room has a sleeping area and play loft. "It's a treehouse of sorts with an actual tree trunk that functions as column." Above R: A Manuel Salinas painting hangs over a display of wooden animals by David Medina and houses by Antonio Serrano, Madrid designer friends of Alvaro's.
Above: "I wanted a very open and light kitchen linked to the dining area. And I wanted the cooking utensils, plates, and cutlery to be visible and easy to grab," says Alvaro. He used birch plywood for the cabinets and counters; the metal shelves and hanging racks are from Ikea. Alvaro assembled the table using an old wooden top and Singer Sewing Machine legs, both Barcelona street finds, as were the collection of bentwood chairs–"two of them are original signed Thonets."
The dishwasher is located next to the sink and camouflaged by a plywood front. A fridge, range, and washing machine are tucked into a column at the end of the counter just beyond the photo frame.
Above: The stack of spattered and striped bowls are from an Easter visit to Nijar in the south of Spain, "an amazing region of folk crafts; it's where all the Spaghetti Westerns were shot."
Above: The cooktop is a Siemens induction plate. The counters have only an oil finish, "so over time, there will be stains and traces of use."
Above: The "clean office space" is hung with 21 examples from Alvaro's first PET Lamp collection, made in Colombia. He collaborates with weavers using their regional techniques, and these are the work of the Eperara-Siapidara people of Bogotá. The divided table is a Vitra design by Ronan and Erwan Bouroullec. Note the embroidered chairs: "The Aluminum Chair is a global product, sold worldwide with minimum variations. The Home/Office project offers the possibility of transforming the Aluminum Chair into a local product by local artisans," writes Alvaro.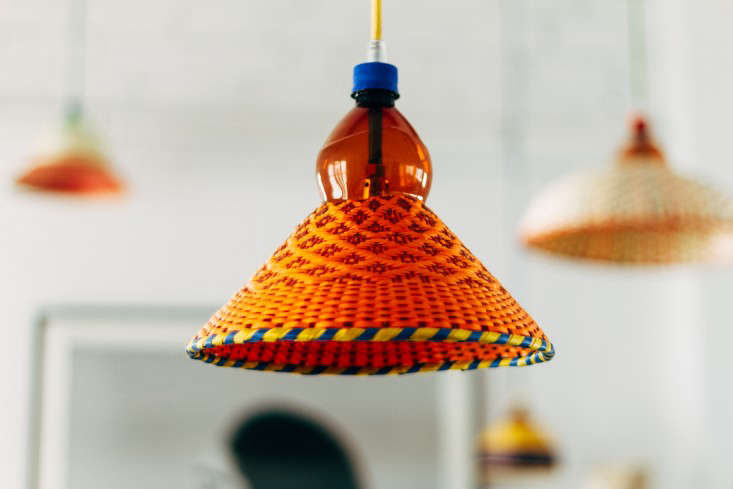 Above: A look at PET Lamp construction, colorful cloth cords included. Eperara-Siapidara designs start at €150 ($166.27).
Above: The lights are assembled in a workroom with a table built from a wooden shipping crate found in Alvaro's previous studio. Watch the making of it here, and see PET Lamps being created here.
Above: Lamp stock is stacked on existing shelves in the work room, and visiting clients can make their own selections. "Every lamp is different, so there's always a decision process." Learn more in our post Fantastic Plastic: Lamps Made from Recycled Soda Bottles, and read the full interview with Alvaro on Freunde von Freunden. Explore the full range of the studio's work at Alvaro Catalán de Ocón.
You need to login or register to view and manage your bookmarks.