We're filled with admiration for this project: a 2,800-square-foot retreat in the Pacific Northwest by MW/Works Architecture & Design. There's a lot to like: the compact kitchen, which opens onto a dining deck; and what may be the best indoor/outdoor bath we've seen (click through to see the photos).
Photography by Jeremy Bitterman.
Above: The living room features walls of glass, overlooking the forest.
Above: A trio of gray Tom Dixon Felt Lamps illuminates the living area; the perfect complement to the foggy Northwest water views.
Above: A contemplative corner, featuring shades of gray.
Above: In the kitchen, a sliding door can be opened onto an ipe deck area for plein air dining.
Above: The bedroom overlooks a wooded landscape.
Above: The bathing room is clad in weathered cedar.
Above: A soaking tub atop an ipe wood deck.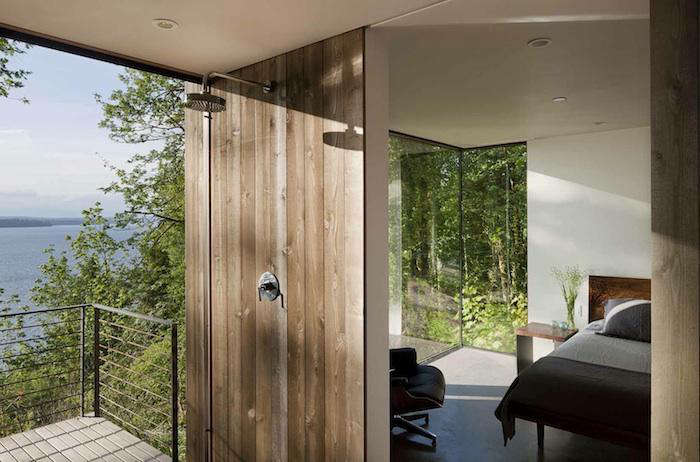 Above: An outdoor shower deck is located off the master bath.
Above: An ipe deck projects into the outdoors.
Above: A stainless steel bench includes storage space for firewood beneath.
Above: A concrete cantilever projects the living and dining areas into the forest.
(Visited 35 times, 1 visits today)