Architect Takashi Yanai's Los Angeles kitchen is the size of his clients' walk-in closets. A partner at Ehrlich Yanai Rhee Chaney Architects (and a graduate of Harvard's School of Design), Yanai, who was born in Japan and grew up in Santa Monica, oversee's the firm's residential projects: he's a master at designing clean-lined California dream houses that are all about indoor-outdoor living.
His own recently remodeled 1950s ranch house, while much more modest in scope, is a microcosmos of the Yanai sensibility: Japanese formalism meets barefoot LA. We discovered Yanai's place in Creative Spaces, the Poketo team's first book: see LA Noir: Takashi Yanai's Humble-Chic Bungalow. Today, we're returning to take a closer look at the kitchen and its lessons in spatial economics and understated style.
Photography by Ye Rin Mok, from Creative Spaces.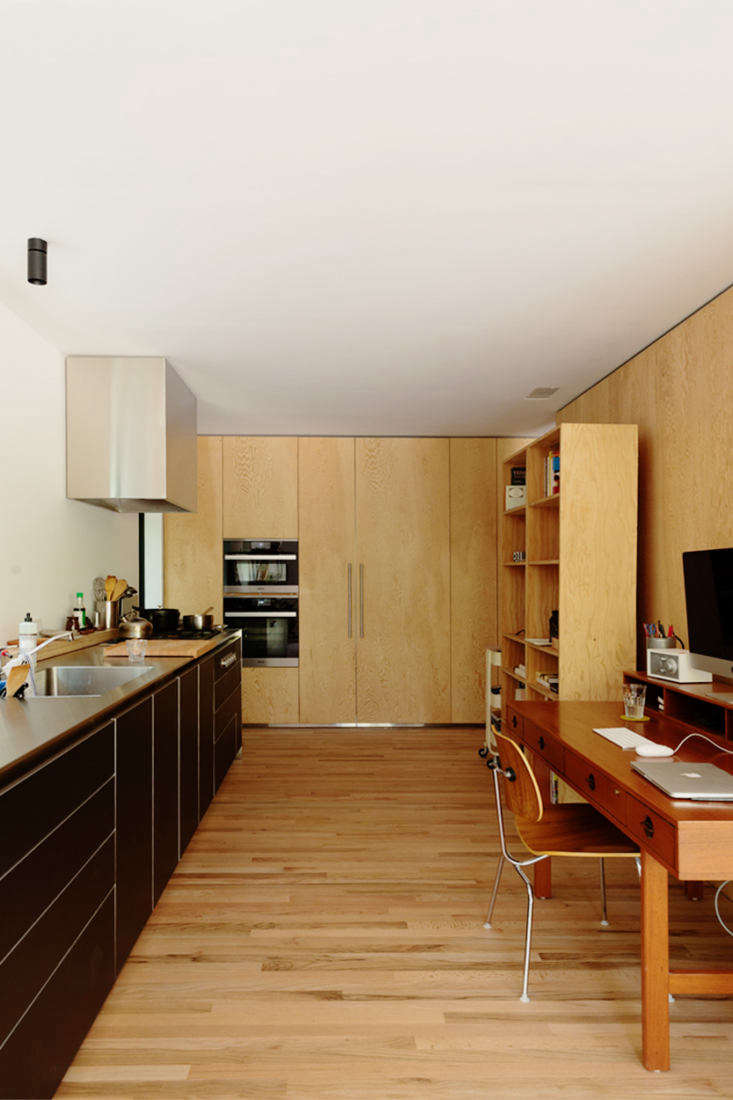 After stripping the living area to its bare bones, Yanai put up a partition finished with marine plywood that neatly divides the new kitchen from the living room. And in place of what had been a "tired suburban kitchen," he installed a single-sided galley using components from top-of-the-line German modular cabinetry company Bulthaup. Yanai combined these with a back storage wall of marine plywood, which conceals the fridge. And because the family was in need of a place to work, instead of building in a table or island, he added a bookshelf and desk—a Danish-modern teak flip-top design by Peter Lovig Nielsen—and turned the other half of the room into a study. Yes, there's also a dining table with a view (see below).