Architect Simon Astridge's client came to him in need of a simple, affordable kitchen for her and her partner's tiny North London apartment. A one bedroom newly converted from a studio, the space itself had its own not-exactly-simple challenges: the main room, a mere 5 by 4.5 meters (16 by 14.7 feet), had to incorporate in addition to the kitchen the couple's dining and living areas as well as their clothes storage: "The bedroom," explains Astridge, "isn't big enough for a dressing area." His solution? A down-home combination of plywood cabinetry and "cheap, effective, and honest" plumbing elements that add up to an elegantly understated all-in-one design.
Photography by Nicholas Worley, courtesy of Simon Astridge Architecture Workshop.
Above: Despite being "dark and horrible" as was, the apartment is set in a mid-19th-century building with original Georgian French doors and shutters intact, plus a salvageable wood floor.
Astridge designed plywood cabinetry for the kitchen and hired "a good joiner to insure clean finishes." The plywood is 18 millimeters (0.7 inches) thick and WBP-treated (water-boiled proofing), meaning it's water resistant. The metal open shelving in the living area is Vitsoe's 606 Universal Shelving System by Dieter Rams, which can travel with the client if she moves.
Above: The kitchen cabinets are paired with tall cupboards that hold the couple's wardrobe. Astridge's next big challenge? To figure out a way for the dining and living areas to peacefully coexist. Working with his client's sofa— a design by One Nordic Furniture Company, now known as Hem, bought in Denmark—he had a WBP plywood tabletop cut on site to match its dimensions. The two stand side by side like fraternal twins. As needed, the table can be pulled away to accommodate a party, and the sofa opens to become a double-sized guest bed.
Above: One of the kitchen's high/low charms is its wall-mounted brass faucet that Astridge combined with a clean-lined counter of reconstituted stone in a warm greenish gray. The backsplash is tadelakt, a Moroccan lime plaster that's waterproof and "has a depth and feel to it that matches the tones of the plywood and the worktop." (Learn about tadelakt and where to source it here.) The black metal open shelves cleverly incorporate hooks in two sizes.
Above: In response to his client's request for soft lighting, Astridge hung Original BTC Cobb Rise & Fall Pendants over the table and avoided spotlights: "indirect lamps, pendants, and LED tape were positioned to help create an atmosphere with less toxic levels of luminance." (Read about LED tape in 9 Smart Materials Every Remodeler Should Know About.)
Above: The lights have bone china shades.
Above: Intrigued by the homemade faucet? It's fabricated from piping and other plumber's staples sourced from Brass Electrical Accessories. For more, see Trend Alert: 15 DIY Faucets Made from Plumbing Parts. And find ready-made versions in The New Wave of Industrial-Looking Faucets.
As for the cabinet handles, they're brass fittings that Astridge discovered while exploring parts for the faucet: "We liked the tactility and comfortable feel of the hardware—and the price."
Above: The brass fittings are "not usually seen; they're used inside walls to fit copper pipes to the walls."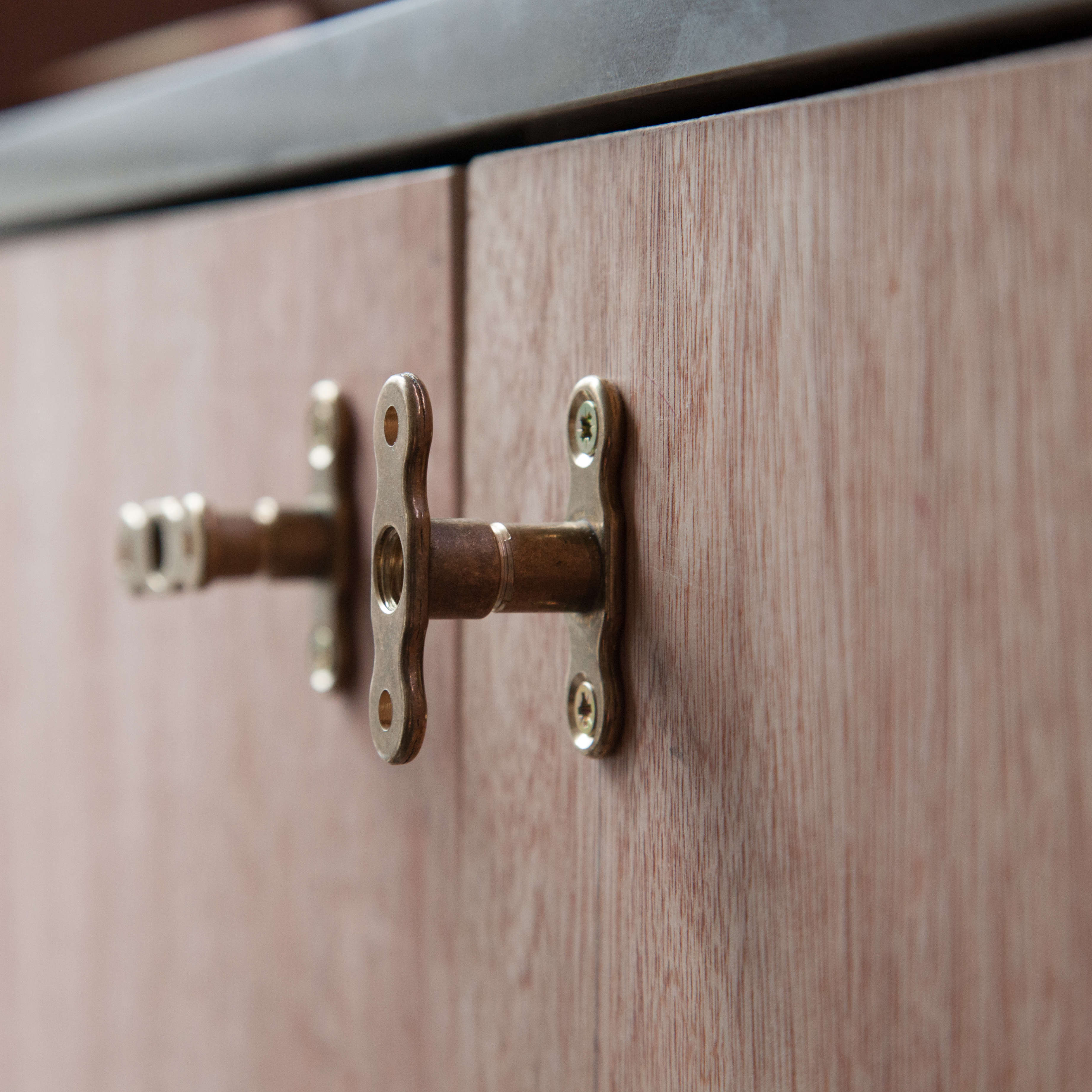 Above: In profile, the fittings are nicely knob shaped.
Go to the Plywood House to see another masterful Astridge remodel and explore more of his work at Simon Astridge Architecture Workshop.
Considering your own plywood kitchen? Take a look at:
(Visited 19 times, 1 visits today)