Lately, in the dark and cold of January in New York, I've been thinking a lot about tea. With the rush and busyness of modern life, we could probably all benefit from some aspects of traditional Japanese tea ceremonies, in which every detail—from the tea cups to the way guests are seated—is given a great amount of care and attention. This kind of tea drinking isn't about caffeine consumption; it's about slow, mindful preparation and quiet sipping.
How to incorporate a small, mindful tea ritual into the everyday? We asked Emily Erb and Anna Morton, the women behind the California tea company Leaves & Flowers, for their modern adaptation. Read on for their tips.
N.B.: Erb and Morton's preferred ritual, pictured here, is with matcha—a kind of green tea that is ground into a fine powder, then whisked, rather than steeped, in hot water—but their tips apply to any kind of tea you like. (Read more about matcha, and find Erb and Morton's recipe, on Gardenista in Matcha 101: How to Make the Best Tea.)
Photography by Daniel Dent.
Above: Erb and Morton's tea ritual begins by measuring out the tea—in this case, matcha.
1. Take time out.
The most important component of a tea ritual: Taking time out of the day to prepare, sit, and sip. Choose a moment (Erb and Morton suggest morning, "before the day begins," or late afternoon, but any time will do) for a daily tea ritual—even if it means scheduling it on your calendar. The benefits are many: "First and foremost, it is in this way that the tea was meant to be consumed. Taking time to honor the many skilled hands that produce the tea ignites a feeling of reverence and gratitude," Morton says. "Tea also enlivens your senses, and invites you to be more present."
Above: Tea begins with the most basic of ingredients: water. Erb and Morton advise using "water that is neither too high nor too low in mineral content."
2. Treat tea like a botanical.
A tea ritual is soothing and restorative for the mind and, when the ingredients are selected carefully, it can also be healthful for the body. Pair your tea selection with what's most needed that day. Fighting a cold? Consider "ginger, osha, boneset, astragalus, and liver herbs (since liver is connected to immune system) like burdock and milk thistle," Morton says. For relaxation, choose "tulsi, chamomile, passionflower." For focus, select from "rosemary, gotu kola, skull cap, and matcha." For warmth in winter, choose turmeric: "Our turmeric wellness tea ($17) is my go-to for the winter months," Morton says. "It is warming, fortifying, and immune boosting. It is also nice before bed with warm milk and a little honey."
When blending your own teas, restraint is key. "Have a direction: a particular herb or flavor or a medicinal focus. Keep it simple, with only three to five ingredients. And try to source the most potent, local ingredients you can find."

Above: Specialized matcha instruments include a small bowl, bamboo whisk, and tea canister.
3. Invest in beautiful implements.
In traditional Japanese tea ceremonies, the implements used for preparing the tea are as venerated as the tea itself. For the modern day, Erb and Morton suggest investing in five things:
A tea canister, for storing loose tea leaves. Leaves & Flowers suggests Kyoto-based shop 

Kaikado

for canisters and other tools.

A tea scoop. It might be tempting to use a table spoon, but having a designated tool for scooping loose-leaf tea is a small detail that heightens an everyday ritual. 

A borosilicate glass teapot. "This way you can watch the leaves open and unfurl, and see the color (or liquor) of the tea as it reaches its optimum steep time," Morton says.

A glass or ceramic pitcher. Morton pours the brewed tea from teapot to pitcher for serving. 

Small cups or bowls. Erb and Morton serve tea in small cups, preferably  hand-thrown ceramics: "The handmade element and earthen feel of ceramic ware adds to the experience of tea brewing and consumption." 

Above: For signs that matcha is fresh, look to the color: "the greener, the better," Morton says.
4. Refresh your tea drawer.
"Know where your tea is coming from, and its age," Erb and Morton say. "Some teas are meant to be aged, but most have a shelf life and begin to deteriorate in quality and flavor after one year." Weed through your tea drawer or canisters and discard gone-by leaves and teabags.
5. Use good water.
There are a series of tiny choices throughout the brewing process that are often overlooked. Start with the basics: water. "Water is a very important component and contributes greatly to the flavor and extraction of the tea leaves," Anna says. Opt for high quality spring water, rather than tap, and beware of water that has high or low mineral content.

Above: Matcha is whisked, rather than left to sit, in a small tea bowl.
6. Set a timer.
"I find people often forget to remove the tea bag from the water once the tea is brewed, and ruin a cup of tea by over-extracting the leaves, resulting in a bitter or astringent flavor," Morton says. "Traditionally, tea leaves are meant to be brewed for a short period of time in a small amount of water, and then brewed again and again and again. Adopting this practice will have you drinking the ultimate cup of tea on the regular"—and getting more out of your tea leaves as well. Consult Leaves & Flowers' comprehensive brew guide for how long (and with what temperature water) to brew each type of tea. That said, "there are nuances and subtleties to every tea," the duo says. "Experiment to find the best results."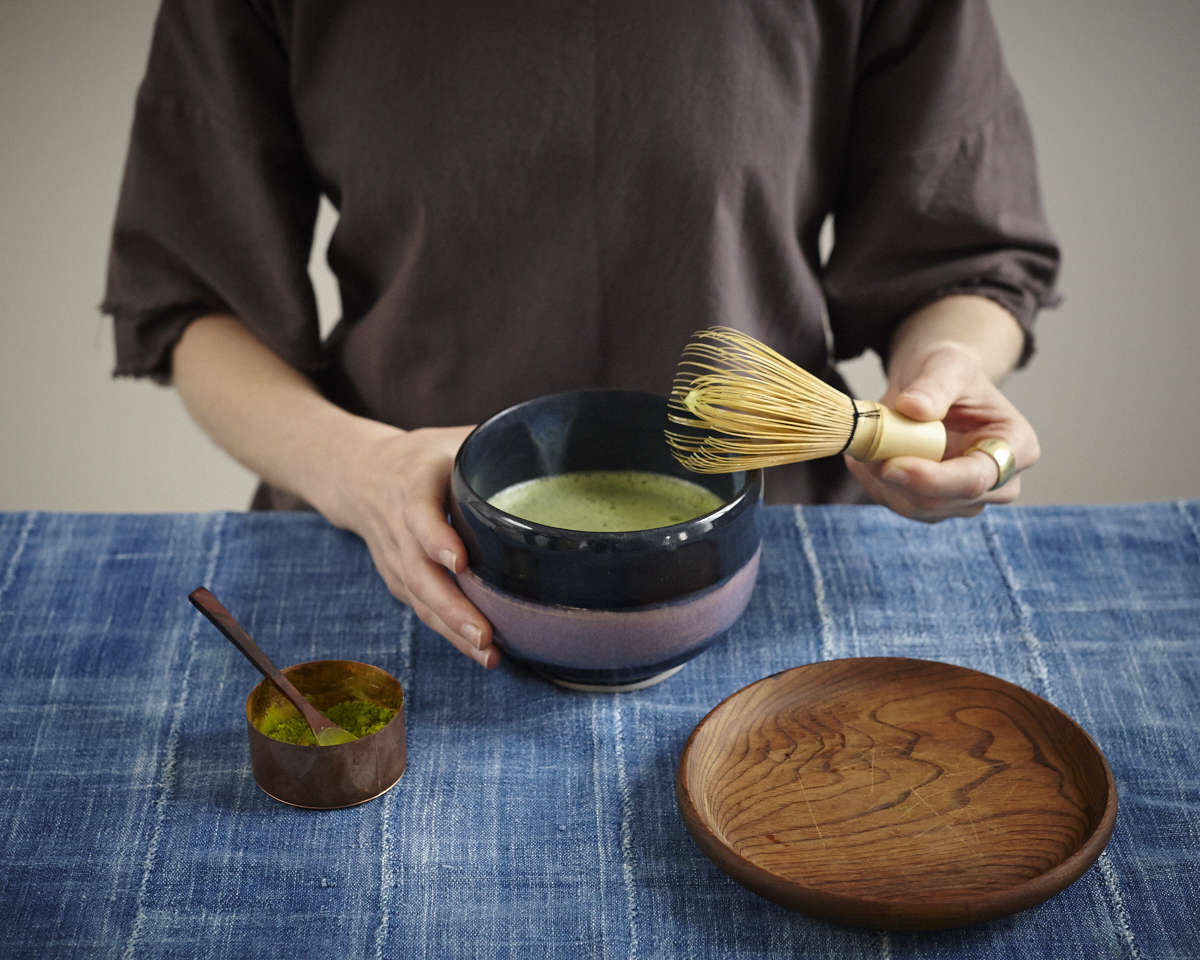 Above: Erb and Morton lay the table with a blue cloth. We like the idea of using traditional indigo-colored boro cloths; see Design Sleuth: The Japanese Boro.
7. Choose a place.
Consider your surroundings: "Similar to a memorable dining experience, each component—from lighting to tableware—adds to the overall experience," Erb and Morton say.  Set the table with a good cloth and tea bowl, even for a solo tea ritual. For tea among friends, set out small treats. "In traditional Japanese tea ceremonies, a sweet (wagashi) is often served before or after to balance the tannic flavor of the tea." 

Above: The preparation of the tea is as much a part of the ritual as drinking it.
8. Sip in silence.
In contrast to how we often drink tea or coffee—while getting ready for work or driving—a tea ritual is a time to remove yourself from noise. "I enjoy silence while preparing tea, especially if I'm alone," Morton says. "I also highly recommend preparing tea outdoors, for yourself or with friends. Whether you are camping, on a day hike, or just in your garden, being in nature absolutely enhances the experience of drinking tea."
Above: The borosilicate Pink/Gray Glass Teapot is $46 from Leaves & Flowers.
9. Make it a routine—even at the office.
While it's harder to take the same amount of time and space for tea during the workday, Erb and Morton suggest an amended version. "Keep a small teapot, pitcher, and teacup at your desk, or even an electric kettle," they say. (They like the Hario Buono Electric Kettle, $67.50; or see our post 10 Easy Pieces: Electric Kettles.) To avoid messy loose leaf tea, "Make your own teabags by buying empty tea filters, like those from Finum, and bringing them to work with you." Even a few minutes can be restorative in the middle of a busy day.
Above: The bowl of tea, ready to be enjoyed.
There's no better time than midwinter to incorporate tea into your everyday. For more tea inspiration, see our posts:
(Visited 172 times, 1 visits today)
Frequently asked questions
What are some tips for making the perfect cup of tea?
Some tips for making the perfect cup of tea include using fresh, filtered water, steeping for the appropriate amount of time, and using the appropriate amount of tea leaves or tea bags.
What types of tea are best for different times of day?
Green and white teas are great for mornings, oolong is good for afternoons, and herbal teas are perfect for evenings.
What are some ways to make tea drinking more of a ritual?
Some ways to make tea drinking more of a ritual include selecting beautiful teaware, setting aside a specific time for tea each day, and incorporating mindfulness or meditation practices into tea drinking.
How can I add flavor to my tea without adding sugar?
You can add flavor to your tea without adding sugar by using natural sweeteners like honey or stevia, or adding herbs and spices like ginger or mint.
What are some health benefits of drinking tea?
Some health benefits of drinking tea include improved cognitive function, boosted immune system, and reduced risk of chronic diseases like heart disease and cancer.