Months ago, I spotted an indigo patchwork quilt hanging in the home of Swedish stylist Lotta Agaton. It looked to me like an abstract painting, and I've been wanting one ever since. The textile, I've since discovered, is a Japanese classic called a boro.
Several online searches led me to the man to talk to: Stephen Szczepanek, a Brooklyn collector and dealer specializing in antique Japanese folk textiles.
"Boro is a term that describes patched and mended fabrics," explained Szczepanek. Japanese boro textiles (usually clothing and bed covers) were sewn from rags and patches of indigo-dyed cotton during the 19th and early 20th century. The rural population of Japan couldn't afford new clothing and had to literally make ends meet by patching together discarded cotton rags. Japanese families repaired and recycled everything from fisherman's jackets to futon covers, handing them down for generations. During Japan's industrialization in the early 20th century, the patchwork practice faded and a lot was simply thrown away–"they reminded people of poverty and hard times," says Szczepanek. But now, almost a century later, boro have made a comeback, this time as decorative textiles.
Above: The inspiration: A Japanese boro patterns a wall in Lotta Agaton's Stockholm living room.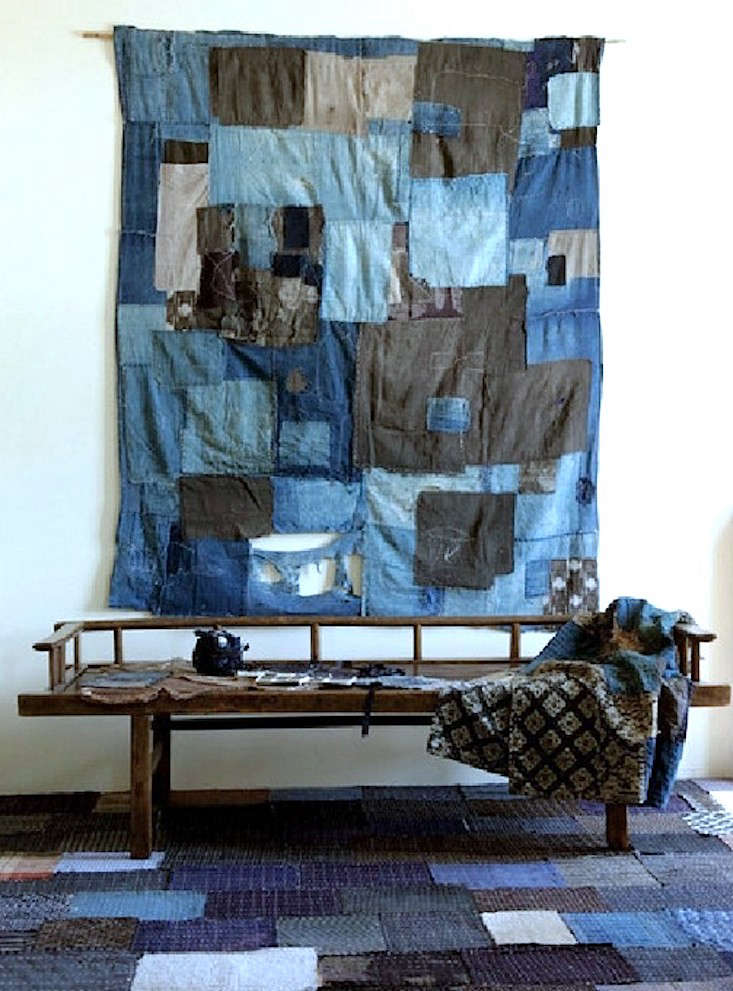 Above: A wall-hung quilt at Sri, the by-appointment gallery and online store that Stephen Szczepanek runs out of his Brooklyn apartment. 
Above L and R: More examples from Sri. Boro, which translates as "tattered cloth," is most commonly found as futon covers, quilts, and fisherman's jackets. 
Above: Last year, Domaine de Boisbuchet, a 19th-century French chateau owned by design curator and collector Alexander von Vegesack, presented some of Szczepanek's Japanese textiles in an exhibit called "Boro: The Fabric of Life." 
Above: Richard Ostell, one of our favorite New York designers, has a few Antique Japanese Boro available at his online store, starting at $250.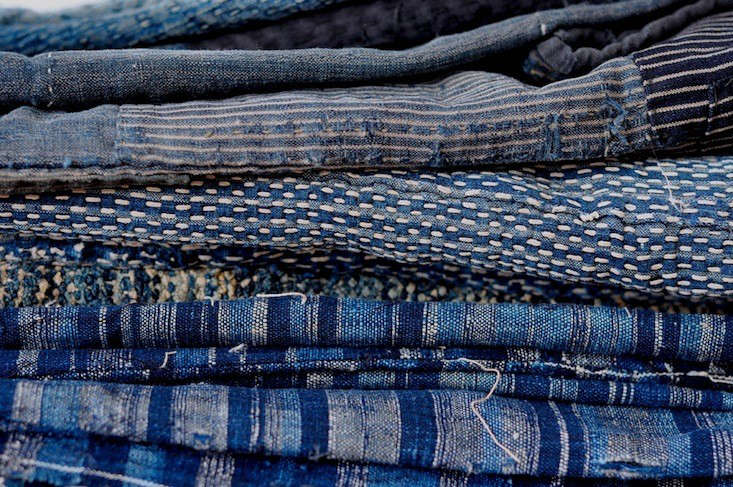 Above: Japanese textiles can be sourced via 1st Dibs and Etsy. Boro prices range from $200 to $8,000, depending on quality, condition, and size. Photograph via Domaine de Boisbuchet.
For more Textile Inspiration, browse our Photo Gallery. And see all our Design Sleuths.The latest include:
(Visited 402 times, 1 visits today)