For those who prefer a rapid boil for tea and pour-over coffee, we've combed through all the electric tea kettles on the market to find the 10 best (and most attractive).
Above: Designed with aesthetics in mind, Krups' Silver Art Collection features high gloss chrome and contrasting natural wood elements. The BW600 2-Quart Electric Kettle with Stainless Steel Silver Housing has a 360-degree rotational cordless base and the kettle has an outside water level indicator, an automatic and manual shut-off, and anti-scale water filter; $71.99 from Amazon.
Above: Designed by Wiel Arets for Alessi, the Hot.It WA09 Electric Kettle is made from 18/10 polished mirror stainless steel; the inside, handle, and lid are made of thermoplastic resin. Available in white (shown) or black for $205 from Alessi.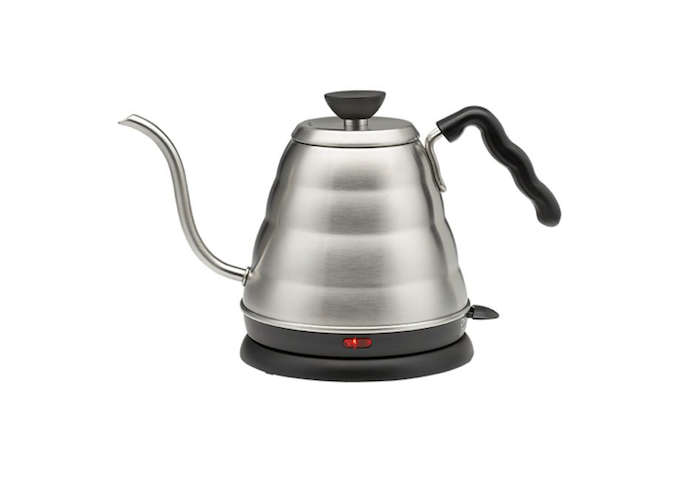 Above: The go-to kettle for San Francisco coffee shops Blue Bottle and Ritual Coffee is the Hario. It's electric counterpart, the Hario Buono V60 Power Kettle, has the same design but comes with an electric burner: the long, narrow spout assures precise pouring, has a removable cord, 18/8 stainless steel kettle, and boil-dry protection; $84.95 from Crate & Barrel. Made in Japan.
Above: Bodum's Bistro Electric Kettle, available in cream (shown), lime green, red, or black, has transparent, double-walled glass that is both heat- and acid-resistant borosilicate glass (a.k.a lab glass); €129 from Connox. Alternatively, the Bodum 11451-913US 17-Ounce Electric Water Kettle is made from BPA-free plastic and stainless steel with a similar shape for $39.95 from Amazon.
Above: For a classic look, Cuisinart's RK-17 Traditional Electric Kettle is cordless and finished in stainless steel with a nonslip handle and anti-splatter spout. While the model is discontinued through Cuisinart, you can still secure a few from Overstock (link above) or Amazon for $59.99.
Above: The Breville Variable-Temperature Electric Kettle has five preset brewing temperatures (green, white, black, and ooling tea, French press, and boil) and a "hold temperature" feature to keep water at the selected temperature for 20 minutes. The kettle is brushed stainless steel, has a safety shut-off feature and removable scale filter; $129.95 from Sur La Table.
Above: Dualit's Cordless Jug Kettle (shown in white) has a rapid boil concealed element and laser-cut lime scale filter inside and water indicator outside; made from stainless steel with plastic handle and design elements; $109.99 from Target.
Above: The Cuisinart CPK-17 PerfecTempt 1.7-Liter Electric Kettle is cordless with a concealed heating element, made from stainless steel, and has a blue backlit water window; $83.99 from Amazon.
Above: The Dualit Architect Jug Kettle is of commercial quality with a stainless steel body and interchangeable, screw-on colored panels to customize the kettle with. The kettle has a cordless, 360-degree base and a blue water level indicator light on the side; £79 from Lakeland.
Above: The Breville Crystal Clear Water Boiler is made from German Schott glass for durability, is BPA free, and has a safety auto shut-off and boil dry protection for unwatched pots; $99.99 from Zappos.
Prefer the stovetop method? Shop our previous post: 10 Easy Pieces: Classic Tea Kettles for more.
(Visited 45 times, 1 visits today)