A couple of years ago, we posted on the apartment of David Rager and Cheri Messerli, who had just relocated from New York to the 9th arrondissement of Paris. I recently visited them at their personality-filled Parisian flat, which includes mementoes from the west coast of California (where they both grew up) mixed with newer finds.
Since moving to Paris, David and Cheri have been successful designing restaurants and bars in a style completely unique to the typical Parisienne. Rager's background and current practice in branding and graphic design has led him to projects like Ten Belles, Les Néréides, and the Broken Arm, and, working with Messerli, designing Candelaria, Glass, and Le Mary Celeste, under the name Weekends.
The first project that the couple worked on together was with their friend's Ecology Center in California. When I ask Cheri about the California-Paris connection, she says, "We are definitely more inspired by where we are from than we ever were before and we try to bring that to Paris as much as we can." That's when I began to notice the rocks, driftwood, sculptures by a San Francisco artist, and ceramics from LA set throughout the house.
Photography by Alexa Hotz for Remodelista.
Above: A graceful stairway leads to the couple's apartment.
Above: Cheri's go-to resources are Emery et Cie "for the paint, tiles, and lighting" and Magasin Sennelier, a classic art supplies store on the Left Bank.
Above: Cheri and David at their long dining room table.
Above: Confetti System's Neutral Tassel Garland made from tissue paper and mylar hangs over the mirror in the living room.
Above: The kitchen, made up of raw concrete and exposed beams, opens into a tiny corner studio where Cheri designs her jewelry collection.
Above: David and Cheri's apartment came fully furnished, and they've delicately integrated their own style into the framework. To lighten up the original dark burgundy velvet pillows, Cheri made cases from various striped fabrics. Watercolor linens, hand made by Cheri, that once functioned as tablecloths now cover the living room sofa.
Above: Paper cranes, a vintage task lamp, and driftwood collected from the shores of the west coast of California.
Above: Bookshelves in the dining room shelter not only books and magazines but ceramics, dried flowers, found objects, and collections.
Above: A garland of turkey feathers in the doorway.
Above: A birdhouse by ceramicist Stan Bitters; currently available through Totokaelo's Art-Object in Seattle.
Above: Jonathan Adler's Utopia Teapot and a bowl of avocado pits saved for future houseplants.
Above: A small garden of succulents set into the skylight window.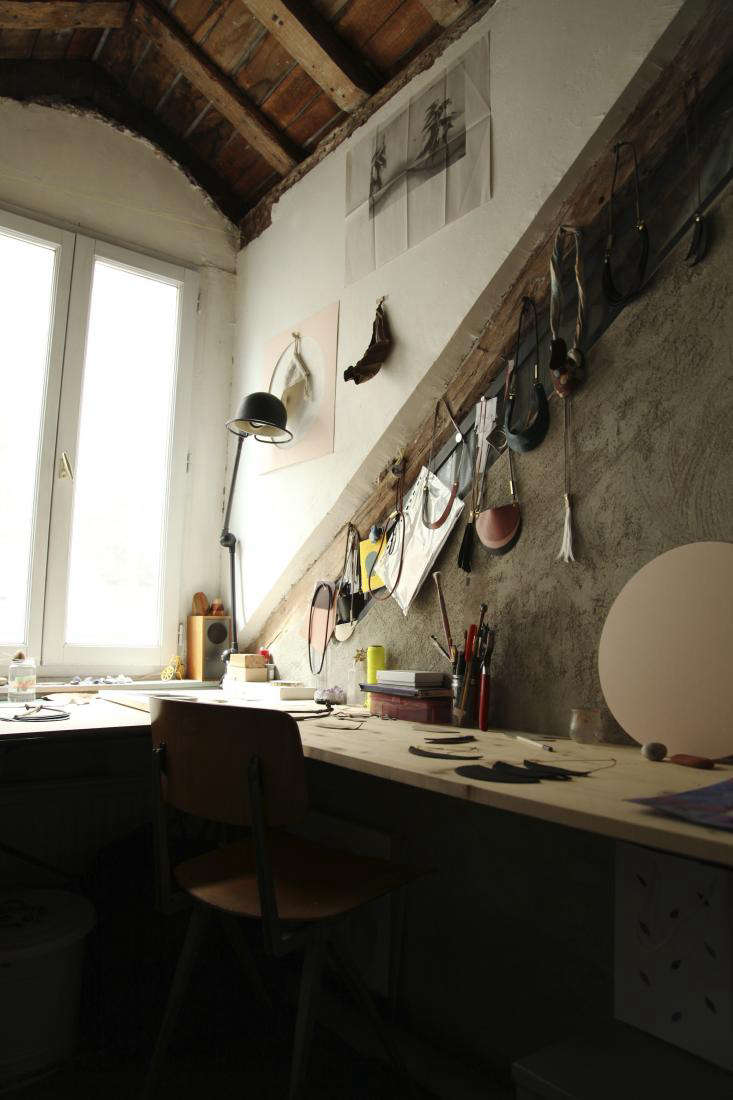 Above L: When Cheri first started designing the watercolored fabric, she drew inspiration from Memphis artist Peter Shire's splatter paint pieces. "I had the idea for it but then I was just making too many things for our wedding so I did it really quickly but really liked the way it turned out," says Cheri. Above R: In the very corner are small wooden sculptures from Key & Kite in San Francisco.
Above: Avocado pits ready to sprout on the corner desk.
Above: Patterns and hardware for Cheri's upcoming collection.
Above: In the back of the kitchen, you can see the hand-forged nails jutting out from the exposed wooden beams.
Above: The couple's nook of a bedroom with a mix of linens and blankets: watercolor by Cheri and a Hudson Bay Point Blanket.
Above: Illustrated birds attached to pieces of driftwood once functioned as name tags at David and Cheri's wedding and now as decor in their Paris home.
Above: Scout, the namesake of Cheri's work, gazes out the living room window.
Before we visited David and Cheri in person, we spotted their apartment online in 2011; see our first post on the couple's home in House Call: David Rager and Cheri Messerli in Paris. For more house visits from my trip to Paris, take a look at our Travels with an Editor: Paris series.